Coconut Almond Banana Cookies were inspired by some vegan breakfast cookies I saw at a local coffee shop.  They are spherical shaped, chewy, vegan, macaroon-like cookies made with coconut, almond flour and bananas.   In addition, there's a little coconut sugar to kick up the sweetness, baking soda and chocolate chips -- for obvious reasons!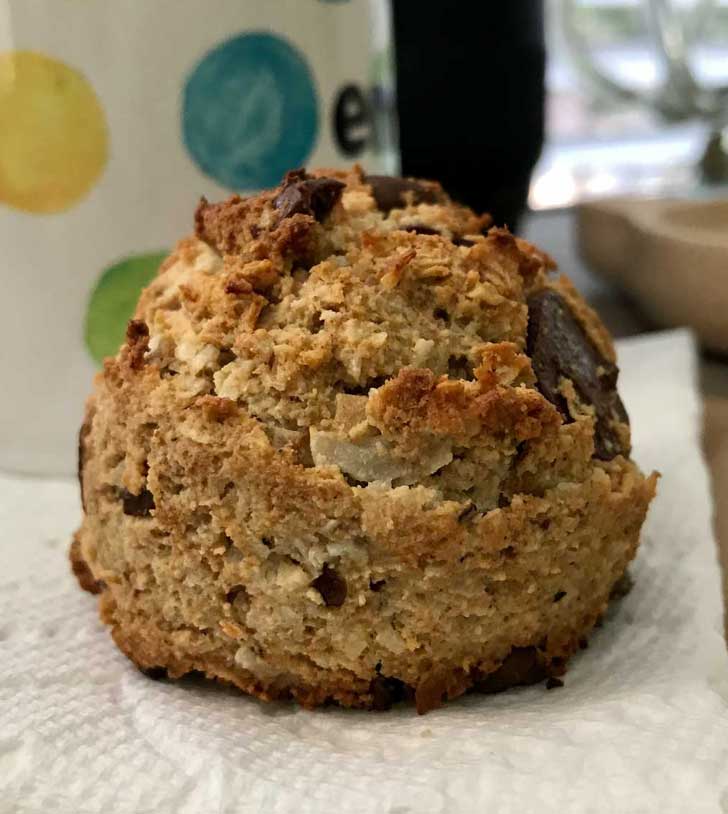 Coconut Almond Banana Cookies are super simple, but there are some key points when it comes to the ingredients. List is below.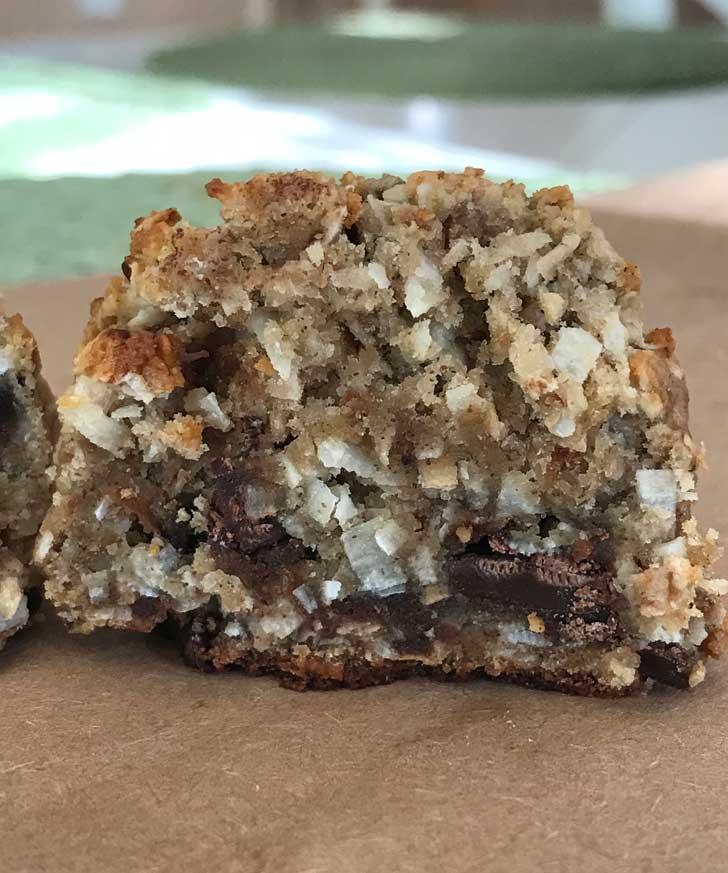 Coconut Almond Banana Cookies Ingredients
Almond Flour – I use very fine almond flour and measure by weight.  Almond meal should work too, but if you substitute be sure to measure by weight and not volume.  Because they are made with almond flour, the cookies are rich and filling.
Banana – It needs to be extremely ripe and pureed to almost a liquid. If your banana is super ripe, soft and almost black you can just mash it into puree.  If it's ripe but still kind of yellow, you may want to use a blender or Nutribullet.  One very large ripe banana should give you plenty of puree to work with. When adding to the batter, it's best to measure by weight.
Baking Soda or Baking Powder – I tested with both and liked the results.  With baking soda you get a browner cookie with chewy edges. Baking powder makes a slightly paler cookie with a lighter interior.  Interestingly, baking powder is not Paleo and baking soda is.  That's something I just found out.  I'm not sure these cookies are actually Paleo anyway.
Chocolate Chips – Milk and Dark or both great.  You can also use chopped dark chocolate, though that may cause a little spreading. 
Coconut – I've been using grocery store brand unsweetened flaked coconut which I toast at 350 just until it starts to brown (takes about 3 minutes).  I then let it cool and crush it a bit before using.  So again – it's best to measure by weight.
Recipe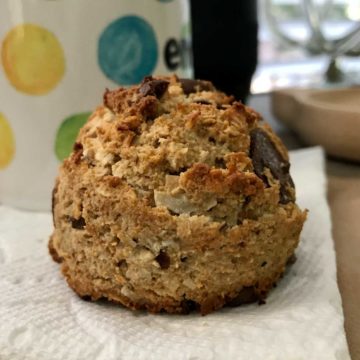 Coconut Almond Banana Cookies
Chewy vegan breakfast cookies with sweetness from banana, coconut sugar and chocolate chips.
Ingredients 
1

cup

almond flour, slightly generous

(120 grams)

4

teaspoons

coconut sugar

¼

teaspoon

baking soda or ½ teaspoon baking powder

Pinch

of salt

optional – or you can sprinkle a little on top

6

tablespoons

pureed extremely ripe banana

80 grams, 1 very large banana

⅔

cup

toasted unsweetened flaked coconut

toasted (40 grams)

¼

cup

semisweet chocolate chips or chopped dark chocolate
Instructions 
Puree the banana in a blender or Nutribullet. If you mash it, you'll need to mash it very well. It should be smooth and almost fluid.

In a mixing bowl, mix together the almond flour, coconut sugar, baking soda (or powder) and salt. Stir very well so that everything is evenly distributed.

Add the 6 tablespoons of banana and stir to make a soft dough, then stir in the coconut and chocolate chips. The dough should be easy to scoop into balls that hold together. If for some reason it is too loose, add more almond flour. If too dry, add more banana.

Using a large cookie scoop, scoop out 5 big spheres of dough. For smaller cookies, use a smaller scoop or use a tablespoon and just shape into 10 balls. The dough should hold together and be really easy to work with.

Bake on a parchment lined baking sheet at 350. Large ones should be done in 15 minutes (though I like to bake them up to 18) and small ones are done in 12. You can eat them warm, but they're great when completely cooled. I like them cold right out of the freezer. They freeze quite well.