I came across Chai Spiced Sugar Cookies in my "Food Writers' Favorite Cookie" book. The original title was Crispy Indian Spiced Sugar Cookies, but most people recognize these spices as chai, so I changed the title. The cookies are just as I expected, fairly thin, very crispy with a strong cardamom flavor. Next time I might try them with 1 ½ to 2 teaspoons of McCormick's new chai spice instead of the spice mixture. I haven't bought any, but I saw it in the store the other day and it seemed like a good ingredient to have around.
Also, chill time is six hours, but I chilled mine for an hour. The dough wasn't firm enough to slice neatly, so I just cut off chunks, shaped them into balls and pressed them into circles.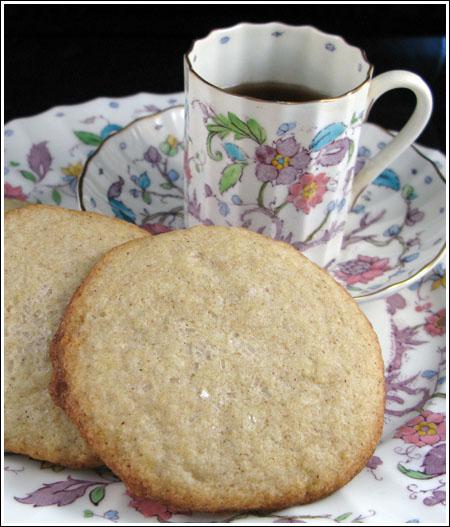 Crisp Chai Spiced Sugar Cookies
1 ¾ cup all purpose flour (224 grams)
2 teaspoons baking powder (10 ml)
¼ teaspoon salt (1.25 ml)
1 teaspoon cardamom (5 ml)
½ teaspoon ginger (2.5 ml)
¼ teaspoon cloves (1.25 ml)
8 tablespoons butter, softened (114 grams)
1 cup granulated sugar (199 grams)
1 teaspoon vanilla (5 ml)
1 large egg
2 tablespoons milk (30 ml)
1 tablespoon lemon juice (15 ml)
1 teaspoon lemon zest (5 ml) – lemon extract works too, use 1 tsp.
Sparkly sugar or extra sugar for topping
Dough needs chilling, so no preheating oven quite yet.
In a bowl, thoroughly stir together flour, baking powder and salt. Stir in spices (cardamom through cloves).
In a mixing bowl, using an electric mixer, beat butter until fluffy. Beat in sugar and vanilla and beat for another 2 minutes. Add egg and beat for 30 seconds. Beat in milk, lemon juice and lemon zest.
With a mixing spoon, stir in the flour mixture. When mixed, dough will be slightly soft. Dump it onto a sheet of waxed paper and shape it into a log of about 12 x 2 inches.
Chill dough from 1 to 6 hours (see note)
Preheat oven to 375 degree F. (190 C)
Cut into ¼ inch slices. If you chilled the dough for the shorter period, it might be too soft to slice neatly. If this is the case, cut off quarter inch thick slices, roll them into balls, then press into neat circles (This is how I did it). Arrange on cookie sheet about 2 inches apart, sprinkle with sparkly sugar and bake for 10-13 minutes.
 Makes about 3 ½ dozen