Well, here we are, halfway through another Monday (at least in North America). I hope everyone had a good weekend. We stayed around the house, played a lot of Uno and Texas Hold 'em, took my mom to Luby's, took down the Christmas tree, watched movies…..all in all, pretty relaxing.
Today's not too frantic either, so I (surprise!!!) baked some cookies.
I wanted to try a peanut butter spin-off of the Super Small Batch Giant Chocolate Chip Cookies and came up with this one for giant peanut butter cookies. It worked very well on the first try. Again, this is a cookie you want to pack with add-ins. All I had were peanut butter chips and salted peanuts. Next time, I might throw in some Reese's cups and/or broken Nutter Butters.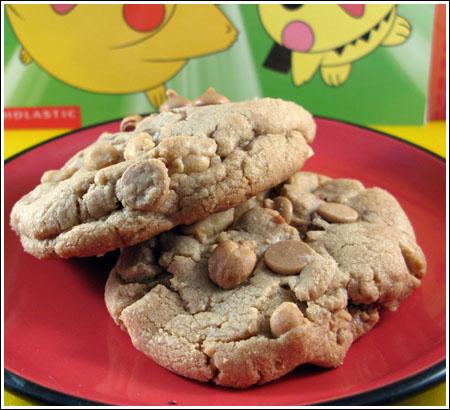 The recipe is actually a very simple one bowl recipe, but I was kind of detailed so it looks long.
Super Small Batch Extra Large Peanut Butter Cookies
4 tablespoons very hot melted unsalted butter
1 cup powdered sugar
1/2 cup lightly packed light brown sugar
1 large egg
1/2 cup peanut butter (regular or natural type)
1/4 teaspoon vanilla
1/4 teaspoon baking soda
1/4 teaspoon salt
3/4 cup all purpose flour
1 teaspoon water (optional)
1/2 cup peanut butter chips
1/4 cup lightly salted peanuts
Reece's Pieces or peanut butter sandwich cookies (optional)
In a bowl, stir together hot butter, powdered sugar and brown sugar until smooth. If still very hot, let cool for about a minute, then stir in egg. Beat with a spoon until egg is fully mixed then stir in vanilla, baking soda and salt. Stir in peanut butter. Add flour and stir just until mixed. If dough seems too dry (falling apart), add the water.
Stir in peanut butter chips, salted nuts and if you have some around, broken peanut butter sandwich cookie. Shape dough into a fat log of about 6 or 7 inches log. Chill for 1 hour. Cut log into 6 equal pieces (each should weigh about 3 ½ oz). If chunks of cookies and chips fall out, just stick them back onto the cut pieces.
Place cut pieces, which should look like thick (over an inch) hockey pucks) about 4 inches away from each other, 4-6 to a sheet, on an ungreased (I use insulated) cookie sheet. Bake at 325 degrees F for 18 to 20 minutes, rotating pan halfway through.
Remove from oven and arrange a few more chunks on top – the candy will melt and adhere to the cookie. Cool on cookie sheet for 3 minutes, then transfer to a wire rack to continue cooling.
Let the cookies sit around for a while to set.
Makes 6 cookies