This recipe called Giant Sugar Cookies gives you soft sugar cookies perfect for topping with your choice of sprinkles. What makes the recipe special is the combination of butter & oil, confectioners' sugar and cream of tartar. All of these things come together for a cookie with an interesting soft (not cakey) texture and crisp edges.  Here's a picture of the texture to give you an idea.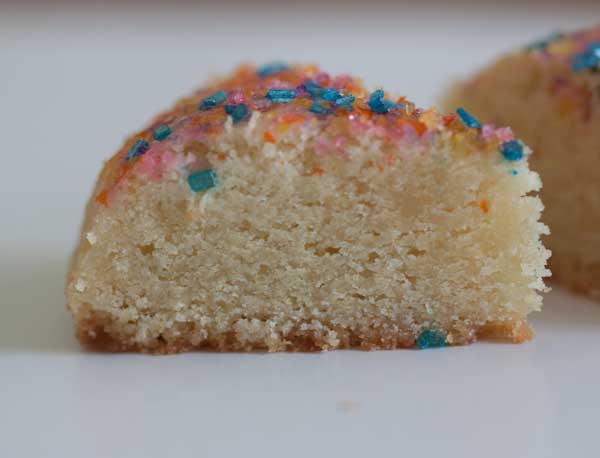 It's a flexible recipe, and I've played with it over the years by using different weights of flour. The weight of 1 cup of flour varies from kitchen to kitchen depending on how much moisture the flour has absorbed and how heavy handed a person is while measuring, so the only accurate way to measure flour is with a scale. Still, most people use volume so I've tested this recipe with a "light" 2 cups (250 grams) and a more heavy handed 2 cups (280 grams) and liked the results of the 280 gram version better.  In this case, that's the cookie on top.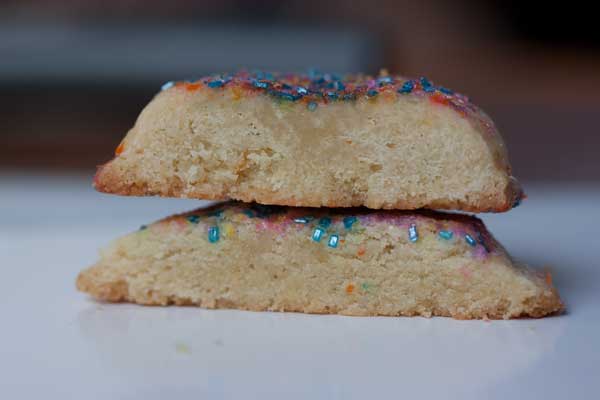 And here they are again side-by-side, with the cookie on the right being from the 280 grams flour recipe.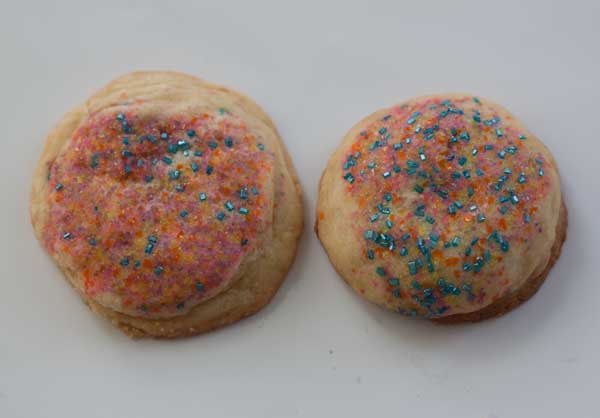 For the oil, the new buttery coconut oil taste particularly good here (and is what I used in the top photos, hence the yellow hue). Also, the orange and lemon are optional, but I like adding a really small bit of each just to round out the flavor. I try not to add so much that the cookie tastes like a citrus cookie. It's supposed to be vanilla with just a hint of orange (and lemon).  The cookies in the bottom photo were made a while back, and for that batch I used regular vegetable oil.  I think olive oil would be fun to try as well.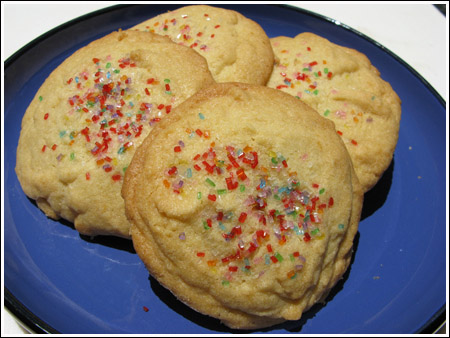 Giant Sugar Cookies
2 cups all purpose flour or bread flour (250 to 280 grams)
1/2 teaspoon baking soda
1/2 teaspoon cream of tartar
1/2 teaspoon salt
1/2 cup (8 tablespoons) unsalted butter (120 grams)
1/2 cup canola oil or buttery flavored coconut oil (100 grams)
1/2 cup granulated sugar (100 grams)
1/2 cup powdered sugar (55 grams)
1/2 teaspoon each – vanilla extract and fresh lemon and/or orange zest (optional)
1 large egg (50 grams)
Sprinkles or sparkly sugar
Whisk flour, baking soda, cream of tartar and salt together in a medium bowl.
With an electric mixer, beat the butter, oil granulated sugar and confectioners' sugar until light and fluffy. Beat in vanilla, lemon zest, orange zest and egg, and beat for another minute, scraping sides of bowl.
With a mixing spoon or heavy duty scraper, stir the flour mixture into the butter mixture until well mixed.
Turn dough onto a clean surface and divide into 12 equal size mounds. Chill the mounds of dough for about 20 minutes, then shape into neat balls. Press down slightly so top and bottoms are flat or leave as balls.
Preheat oven to 350 degrees F. Line a baking sheet with parchment paper or foil (no need to grease).
Dip tops in sparkly sugar and arrange 3 inches apart on baking sheets. Bake 1 sheet at a time for about 12 to 15 minutes (will vary) or until edges are browned and tops appear set.
Arrange 6 cookies on the sheet and bake at 350 for about 15 minutes.
Let cool for a few minutes on the baking sheet, then transfer to a wire rack and let cool completely.