Oatmeal Cinnamon Chip Muffins is a recipe from one of my very old and well loved cookbooks, Glamour Magazine's Gourmet on the Run. My aunt gave me the book back in the '80s as a graduation present. It may be from the '80s (the copy sure reflects it), but the recipes are all very appealing even today. I guess the book was branded "Glamour" but the editors behind the scenes were from more culinary publications. I'm not really sure, I've just always been impressed with how much this little book has to offer.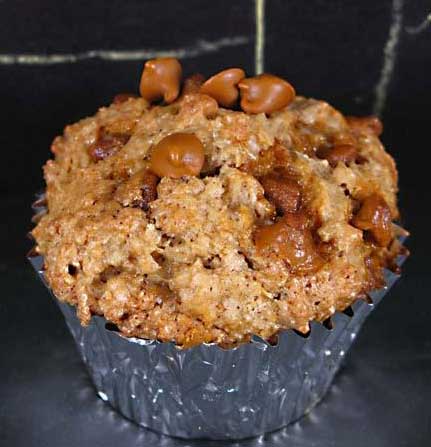 Six Oatmeal Cinnamon Chip Muffins
This is a small batch recipe yielding six muffins. I sometimes fill the muffin tins a little higher and make five. The cinnamon chips are perfect with the oatmeal, but the muffins are good with all flavors of chips or just berries and nuts. It's a pretty versatile recipe. The one in the photo below was made with fresh blackberries.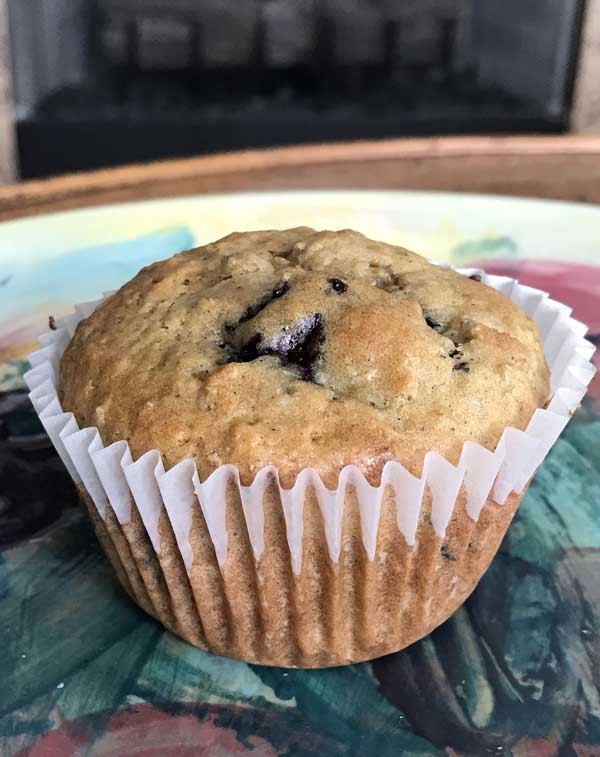 The muffins aren't too sweet, so just about any sweet add-in will make them perfect.
Recipe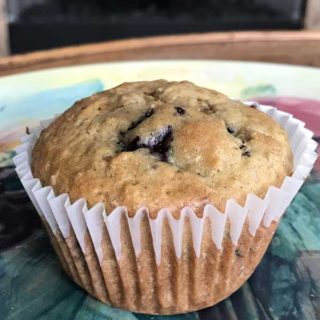 Oatmeal Cinnamon Chip Muffins
I've named these Oatmeal Cinnamon Chip Muffins, but they are actually perfect for any kind of add-in -- peanut butter chips, chocolate chips or even berries.
Ingredients 
½

cup

boiling water

⅓

cup

rolled oats

2

tablespoons

28 grams butter, cut up

¾

cup

98 grams all purpose flour

¼

cup

packed light brown sugar

½

teaspoon

baking powder

½

teaspoon

baking soda

¼

teaspoon

salt

¼

teaspoon

cinnamon

1

large egg

½

teaspoon

vanilla

¼ to ⅓

cup

cinnamon chips

or use chocolate chips
Instructions 
Preheat oven to 400 degrees F. Line 6 muffin cups with paper liners.

In a large microwave-safe measuring cup combine boiling water, oatmeal and butter. Let sit for 20 minutes.

In a medium size mixing bowl, thoroughly mix flour, brown sugar, baking powder, baking soda, salt and cinnamon.

With a spoon, beat the egg and vanilla into the oatmeal mixture; stir oatmeal mixture into dry ingredients just until mixed Stir in cinnamon chips. Batter will be thick and kind of gummy.

Spoon into muffin cups. Bake 18-20 minutes. Note: If muffins seem to be browning too quickly, throw a sheet of foil over the top to shield.

Let cool slightly. Remove from pan.
Notes
You can skip the chips completely and use fresh blueberries or blackberries.