Fat free desserts are less popular than they used to be, but there's still a place for them. Or at least if they taste good! I particularly like this Oil-Free Chocolate Banana Cake because I can eat a little of it in the afternoon without filling super full. I wouldn't call it a healthy cake since it has sugar (which it needs to lock in the moisture), but it's definitely ligher than some others even with the optional Chocolate Tofu Frosting.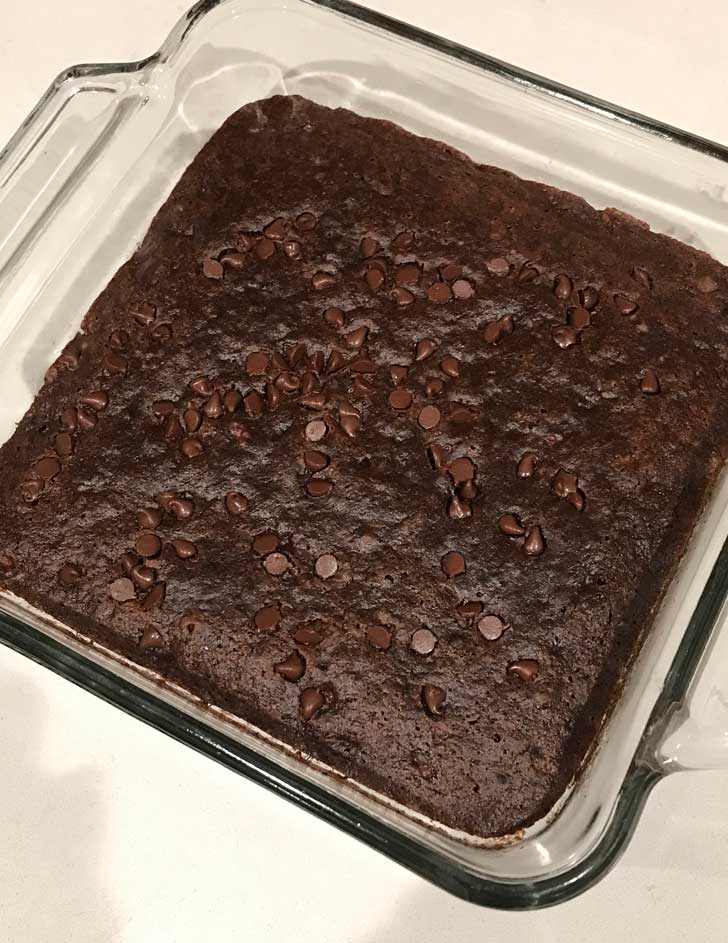 8-Inch Pan Size Oil-Free Chocolate Banana Cake
The original recipe is from an old fat free baking cookbook, but I've made minor changes and scaled it down to fit an 8 inch square pan. Sometimes I frost it and serve it straight out of the 8-inch pan, but now that we are empty nesters I've been doing weird things like cutting out shapes and stacking them to make miniature layer cakes. Here's a little 5-inch cake covered with a Chocolate Tofu Frosting.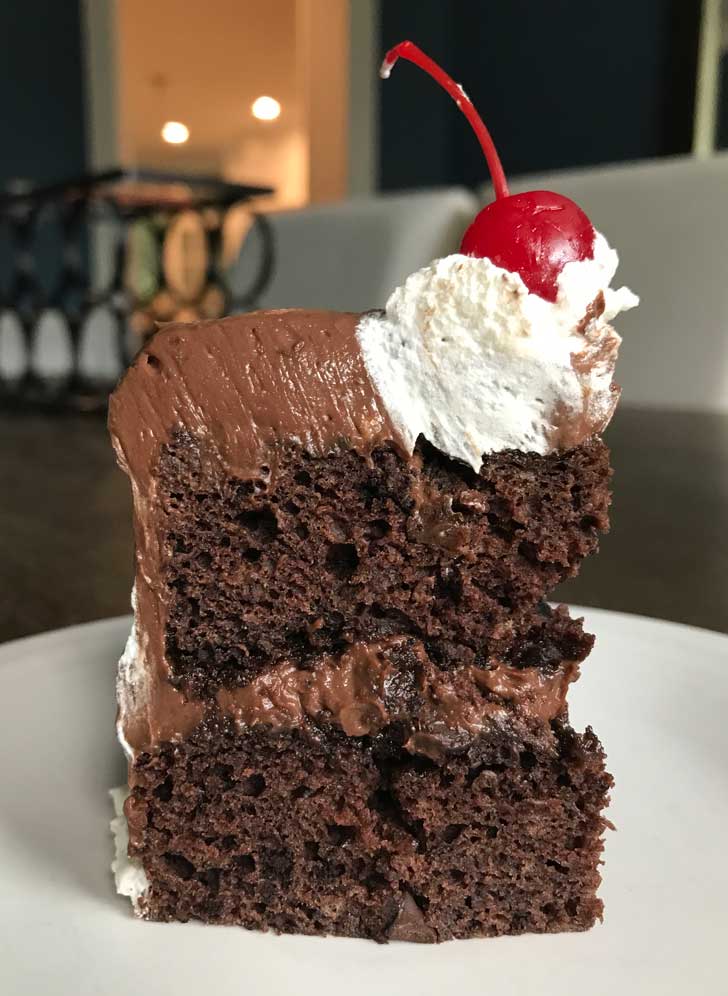 And here it is again with Tofu Peanut Butter Frosting.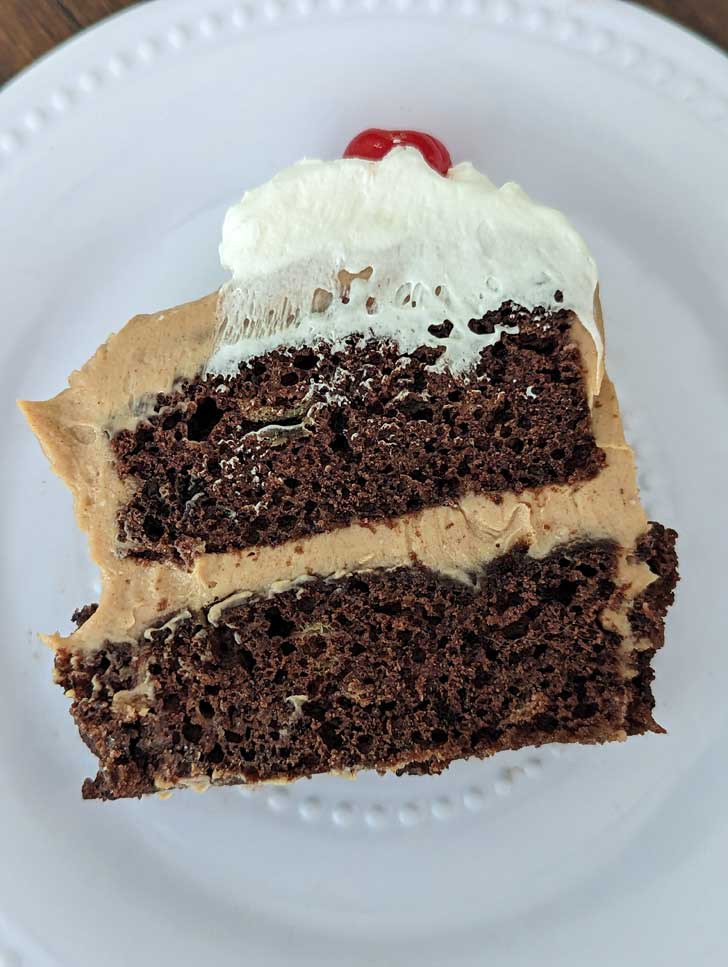 Surprisingly Delicious Tofu Frostings!
Even if you're not interested in the Chocolate Banana Cake, I recommend trying the chocolate frosting on something. It is smooth and creamy like a buttercream, but not slick and fatty. You can taste the tofu, but barely. The Tofu Peanut Butter Frosting is also pretty good. It's basically a half batch of Recipe Club's Tofu Peanut Butter Pie made as frosting. The chocolate flavored one is slightly better than the peanut butter frosting, so I recommend trying that one first. Also, I used shelf-stable Mori-Nu Extra Firm Silken.
Here's the Chocolate Banana Cake recipe. I've included the Tofu Chocolate Frosting recipe as well, but if you want to keep the fat level down you can make the cake without it. The chocolate chips add a little richness, so I recommend keeping them in.
Recipe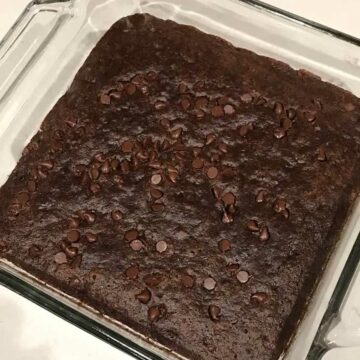 Chocolate Banana Cake
An almost fat free chocolate cake recipe designed for an 8 inch square pan.
Ingredients 
1

cup

all-purpose flour, measure with a light hand or weigh

(127 grams)

¼

cup

unsweetened natural or Dutch process cocoa powder

(20 to 24 grams) Dutch weighs a little more

1

teaspoon

baking soda

⅛

teaspoon

salt

2

large

very ripe bananas (about 190 to 220 grams weight after being peeled, but okay to use a little more if you love banana)

¾

cup

sugar -- don't try to reduce it (the first time!) because it helps keep the cake moist.

(150 grams)

1

large

egg white

1

teaspoon

vanilla extract

¼

cup

whole milk soured with a teaspoon of lemon juice or use ¼ cup buttermilk

⅓ to ½

cup

miniature chocolate chips (adds some richness)
Chocolate Frosting
1

cup

semisweet chocolate chips (6 oz)

(170 grams)

2

tablespoons

almond milk or dairy milk if not vegan

1

tablespoon

maple syrup

⅛

teaspoon

vanilla
Instructions 
Preheat oven to 350 degrees F. Grease an 8 inch square pan and line with a piece of parchment.

Mix together the flour, cocoa powder, baking soda and salt and set aside.

In a mixing bowl, mash the bananas. If you weighed them, you won't need to measure the volume, just mash 180 to 190 grams of peeled banana. Add the sugar and beat by hand until well mixed, then beat in the egg white and the vanilla.

Add the buttermilk and the flour mixture and beat by hand just until blended. Batter will probably be a little lumpy. Stir in about half the chocolate chips (if using, and I recommend using).

Spread batter evenly in the pan. Sprinkle with the remaining chocolate chips.

Bake for 25 to 30 minutes or until cake appears set. Let cool and serve by itself or frost with your favorite frosting.
Tofu Chocolate Frosting
Melt the chocolate chips in the microwave using 50% power and stirring ever 40 to 60 seconds. Set aside to cool slightly.

Puree the tofu (or use tofu that's alreay been pureed) and put it in a mixing bowl. Whisk in the milk, maple syrup and vanilla. Make sure that this mixture is room temperature and not too cold.

Whisk melted chocolate (okay if it's just slightly warm) into the tofu mixture. Add vanilla.

The frosting will be pretty thin at this point, so cover the bowl and chill for an hour or until it is thick enough to spread. You can check it every so often and give it a stir. If you have a large pastry bag, you can fit your pastry bag with a tip, pour the icing into the bag, prop it up in a glass and chill the glass with the frosting filled pastry bag until frosting is thick enough to pipe.