My White Chocolate Raspberry Chiffon Pie was endorsed by Better Homes and Gardens Test Kitchen! Well, sort of. I entered this into BHG's monthly contest (Theme: Chocolate Syrup). It didn't win and it didn't get published, but it made their honor role. They sent me a framed certificate and a stack of hole-punched recipe pages designed to fit in the Better Homes Gardens New Cook Book.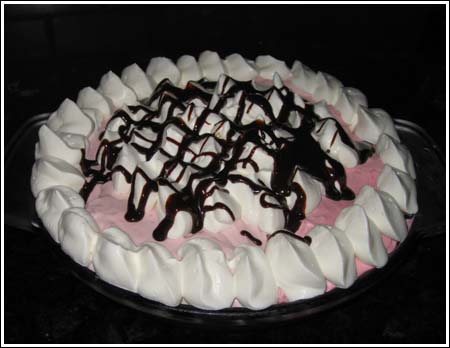 The test kitchen made some changes to the technique. The version below is my original version combined with some of their changes so technically I guess this version below isn't exactly endorsed….but you'll manage. If you have problems, you can let me know in the comment section. I've added a few notes at the bottom.
Updates/Notes
Looking back at this recipe, I think the reason it only got honorable mention might be due to the crust. The brownie crust tastes good, but the filling is so good it would work well with an easy Oreo crumb crust.
Raspberry Chiffon Pie
Brownie Crust ¼ cup butter
½ cup granulated sugar
¾ cup chocolate-flavored syrup
2 eggs
½ cup all-purpose flour White Chocolate Raspberry Filling
3 cups whipping cream (divided use)
4 ounces white baking chocolate (I use Baker's brand for this)
10 large marshmallows or 70 grams worth of small marshmallows
12 ounces frozen raspberries, thawed and drained (will test with fresh at some point)
⅓ cup powdered sugar
2 ½ teaspoons vanilla extract
2 tablespoon chocolate-flavored syrup (garnish)
Raspberry Chiffon Pie Directions
Preheat oven to 325 degrees F. Grease bottom only of a 9 inch pie dish. I use glass, but I think metal would work too.
In a mixing bowl, beat butter together butter and sugar, then beat in chocolate syrup and eggs. Add flour and stir just until combined. Pour into pie dish and cook for 30-35 minutes or until top appears set and toothpick inserted comes out clean. Set on a rack and let cool completely.
Meanwhile, in a medium saucepan, heat and stir ¼ cup of the whipping cream, the white chocolate and marshmallows over low heat until completely melted and smooth. Remove from heat and cool completely (See Note About Microwaving).
Puree undrained thawed raspberries in a blender and push through a sieve using back of a spoon. Throw away solids. Stir strained raspberry puree (should be between ½ and ¾ cup) into cooled white chocolate mixture.
In a chilled, very large mixing bowl, whip remaining 2 ¾ cup cream, powdered sugar and vanilla with an electric mixer on medium speed until soft peaks form. Transfer 2 cups of the whipped cream to a medium bowl; cover and chill until ready to serve. Fold raspberry mixture into remaining whipped cream until well combined. Spread raspberry mixture over cooled brownie layer in pie plate. Cover and chill at least 4 hours;
When ready to serve, whisk the reserved 2 cups whipped cream until soft peaks form. You only need to do this if it's droopy. Dollop or pipe over the raspberry layer. Drizzle with remaining 2 tablespoons chocolate syrup.
Makes 8 servings.
Notes on Recipe
Piping: Snip ¼ inch off the corner of zipper bag and pipe whipped cream decoratively around sides and in center of pie. Drizzle chocolate syrup over top and garnish with reserved fresh berries.
Using Cool Whip: This recipe may be made with Cool Whip. To use Cool Whip, omit powdered sugar and vanilla and substitute a 12 ounce tub (approximately 5 cups).
Note about Microwaving. I've had problems using high power when melting white chips, but using 50% power works very well. In a microwave-safe mixing bowl, combine white chocolate, marshmallows and ¼ cup of the cream. Heat at 50% power for 1 minute; stir well to distribute heat. Repeat, microwaving at 50% power and stirring every 30 seconds until mixture is smooth.