Our house smells amazing right now thanks to this Apple Spice Loaf.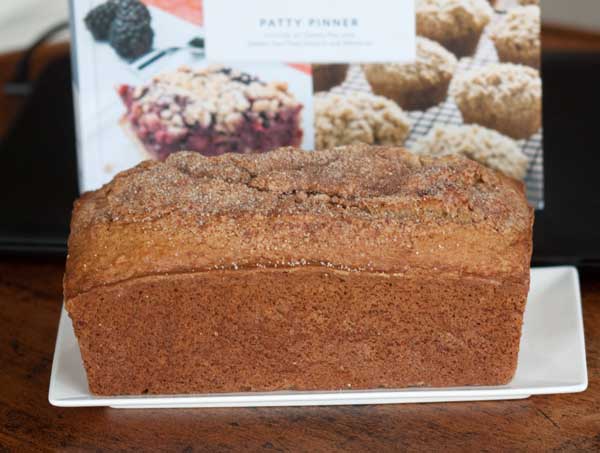 The recipe is from Patty Pinner's book Sweet Mornings: 125 Sweet Breakfast and Brunch Recipes, and as the title implies, it is all about breakfast.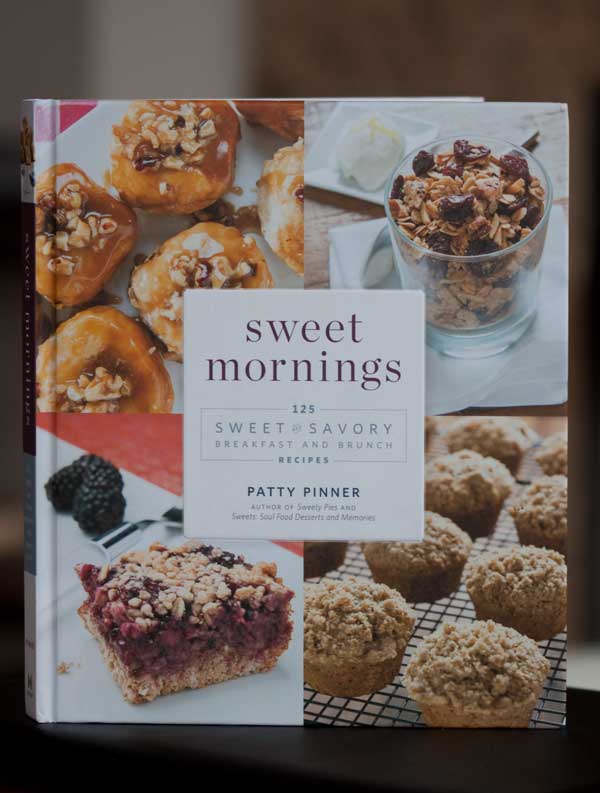 Sweet Mornings Book
Served up with a memory or two, Patty Pinner shares the recipes her aunts and grandmothers held close. Judging from the content of the book and what I've read about Patty, she comes from a long line of sweets lovers. Recipes are mostly sweet, but there are a few savory dishes thrown in as well. Titles that caught my eye include Stuffed Pecan Pie French Toast, Miss Earline's Rhubarb Coffee Cake, Lemon Drizzle Coffee Cake, Big Mama's Chicken and Waffles, Mama's Rustic Pear Tart, Wilma Vickory's Chocolate Streusel Coffee Cake, Pan-Fried Biscuit Doughnuts and Sweet Potato Scones. In total, there are 125 recipes in this book, and I can guarantee you will find multiple recipes appealing. This is not one of those books where a handful sound good and the rest are a little too "eclectic". They're solid recipes from someone who really knows how to bake.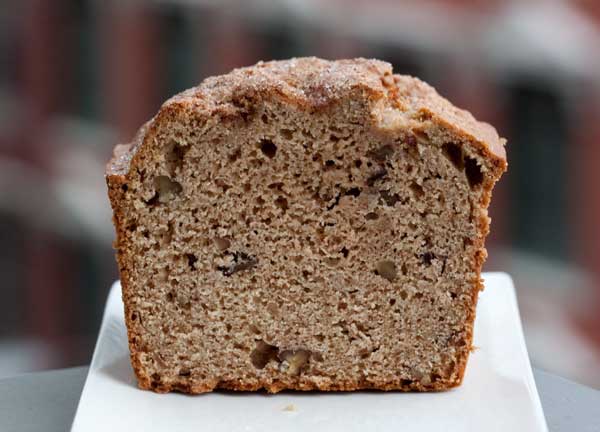 Apple Spice Loaf
Now back to the apple bread. I was able to prepare it using things I already had around the house, and as I stated earlier it smelled wonderful. Realtors, take note! You could pop it in the oven for an open house. Patty Pinner's Apple Spice Loaf had a beautiful shape and structure. It was not too sweet and sliced beautifully and tasted terrific at room temperature. I do think it would also be good toasted and served with a little pat of butter if you like to butter your quick bread, but it's not a quick bread that needs it. If you try it, let me know! And order the book! I promise you will like it.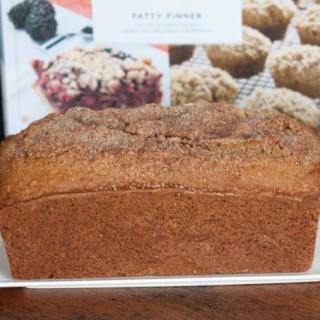 Sweet Mornings Apple Spice Loaf
My father's father, Jack Pinner, was an entertaining, talkative man. He was the kind of man who had so many life stories that he could transition from one story to another without pausing. Grandpa Jack also used the freedom of speech that's afforded to old people as justification for speaking his mind. Grandpa Jack, who was divorced from Daddy's mother, Mary Lee, came to live with my parents for the last stretch of his life. By that time, he'd spent most of his savings on the things old men spend their money on—thick slabs of delicatessen cheese and bologna, fishing tackle and hunting gear, and younger women. Once, we were sitting down to a late breakfast, and Mama had baked one of her tasty applesauce loaves. Grandpa Jack turned to Daddy and said, in front of everybody, "Son, your wife might be a little on the uppity side, but she sure can make a tasty loaf." Everybody got a chuckle out of it—even Mama, who chose to focus on the compliment rather than the snide remark. The way I remember it, Grandpa loved Mama's Applesauce Spice Loaf better than any of her other sweet loaves. It has a comforting, old-fashioned, downhome flavor that no doubt reminded him of the treats that he'd grown up with. This loaf calls for simple pantry ingredients that you probably already have on hand. I love it when simple things come together to produce something delicious.
Ingredients 
TOPPING
2

teaspoons

granulated sugar

¼

teaspoon

ground cinnamon
BATTER
Nonstick cooking spray

for greasing

2

cups

all-purpose flour

plus more for dusting

1

teaspoon

ground cinnamon

1

teaspoon

baking powder

½

teaspoon

baking soda

¼

teaspoon

freshly grated nutmeg

¼

teaspoon

salt

⅛

teaspoon

ground allspice

1

cup

unsweetened applesauce

½

cup

1 stick unsalted butter, melted and slightly cooled

½

cup

granulated sugar

⅓

cup

firmly packed light brown sugar

1

whole large egg

room temperature

1

large egg yolk

room temperature

2

tablespoons

apple cider

not sparkling

1

teaspoon

pure vanilla extract

½

cup

chopped pecans or walnuts
Instructions 
To make the topping: In a small mixing bowl, combine the granulated sugar and cinnamon and stir well. Set aside.

Preheat the oven to 350° F. Grease a 9-inch x 5-inch x 3-inch loaf pan with the cooking spray and line the bottom of the pan with parchment paper. Grease the parchment and dust the sides and bottom of the pan with some flour. Shake out the excess flour. Set the pan aside.

To make the batter: In a large mixing bowl, sift together the dry ingredients: the flour, cinnamon, baking powder, baking soda, nutmeg, salt, and allspice. Set aside.

In a separate large mixing bowl, whisk together the applesauce, butter, granulated and brown sugars, egg, egg yolk, apple cider, and vanilla extract until the mixture is smooth. Gently stir the flour mixture into the applesauce mixture ⅓ at a time until just combined. Fold the nuts into the batter until well distributed.

Transfer the batter to the prepared pan. Evenly sprinkle the batter with the topping and bake for 45 to 50 minutes, until a wooden toothpick inserted into the center of the loaf comes out clean. Remove from the oven and set aside to cool in the pan on a wire rack for 15 minutes.

Turn out the loaf onto the wire rack and allow to cool completely.

Transfer to a serving platter, slice, and serve at room temperature.

Reprinted with permission from Sweet Mornings by Patty Pinner, Agate Midway, 2016.