Banana Chocolate Muffins are from Food Swap, Specialty Recipes for Bartering, Sharing and Giving, by Emily Paster.  I originally bought the book because I enjoyed attending the Chicago Food Swap.  I no longer live in Chicago (or attend food swaps) but I love this cookbook!  Emily did a great job picking out the best of the best recipes from some passionate Chicago based home cooks.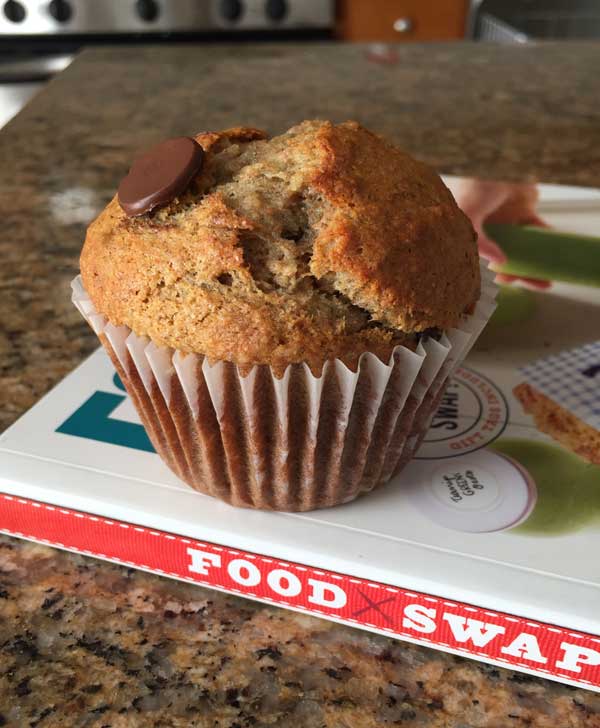 Food Swap
Now if you are reading about Banana Chocolate Muffins but wondering what a food swap is, it's kind of like a soup swap or a cookie exchange.  Bakers, cooks, gardeners and canners meet in a designated location and swap things like jam, pickles, bread, soups, salads, extracts, baked goods or whatever they've been creating at home. No money changes hands, and swappers leave with a variety of foods to be used as ingredients, snacks or meals.   The Food Swap cookbook has all the info.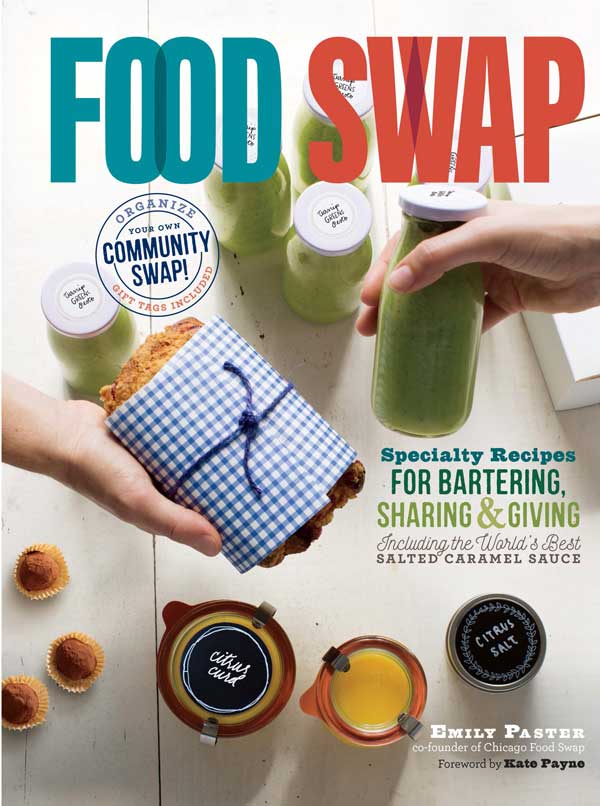 Food Swap also explores the psychology behind swapping, who does it, why people do it, and how to cope with situations where the swap doesn't quite go your way.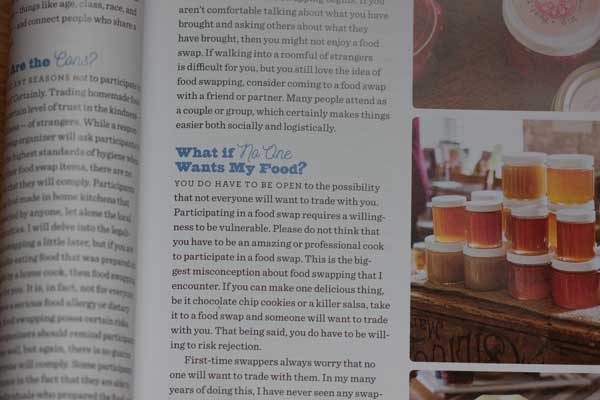 I will attest to having left a swap feeling like I could have done better or wondering why I didn't make X,Y,or Z or package things differently. As Emily mentions in the book, one of the many reasons to attend a food swap other than the social aspect is it helps you step up your game in the kitchen. I always come away from a swap feeling like I learned something.
Obviously, I recommend this book! Even if you are not planning on starting or attending a swap, it's a fantastic resource for food gift ideas. Along with the Banana Chocolate Muffins a few other recipe titles are Cultured Butter, Creamy Ricotta, Beer Caraway Mustard, Garlicky Dill Beans, Pickled Fennel, and Patty's Carrot Soup, which is something I tried at the swap this past weekend and plan on making very soon. And there are more. Many more.
Now here's the recipe for Banana Chocolate Muffins. I baked up a half batch of these last night and loved the results. The muffins rose nicely, had beautifully rounded tops, and the flavor level of the banana was just right. With banana, wheat, flax and chocolate, these muffins had a lot going on. The full recipe makes 24, but as mentioned it can be halved.
As Excerpted from Food Swap (c) Emily Paster. Used with permission of Storey Publishing.
Recipe
Chicago Food Swap Banana Chocolate Muffins
This recipe comes from swapper Genevieve Boehme, a regular at the Chicago Food Swap, where these muffins are very popular. Genevieve has adapted a favorite recipe to include whole grains and be less sweet than the typical breakfast muffin. With whole-wheat flour, wheat germ, and bananas, these muffins are practically health food. Okay, maybe not. But the whole grains do add a delightful nuttiness.
Ingredients 
1 ½

cups

all-purpose flour

1 ½

cups

whole-wheat flour

1

cup

sugar

2

tablespoons

ground flaxseed or wheat germ

1

tablespoon

baking soda

1

teaspoon

salt

½

teaspoon

ground nutmeg

½

teaspoon

ground ginger

1

cup

vegetable oil

2

large eggs

at room temperature

5

overripe bananas

mashed

6

tablespoons

buttermilk

1½

cups

semisweet chocolate chips
Instructions 
Preheat the oven to 375°F (190°C). Grease muffin pans or line with paper liners.

Combine the flours, sugar, flaxseed, baking soda, salt, nutmeg, and ginger in a medium bowl and whisk thoroughly with a fork.

Whisk together the oil, eggs, bananas, and buttermilk in a large bowl until well combined.

Add the dry mixture to the wet ingredients, and mix well with a fork until everything is well incorporated. Fold in the chocolate chips.

Scoop the batter into the muffin pans, filling the cups three fourths full. (An ice cream scoop works well for this purpose.)

Bake for 18 to 22 minutes until muffins are golden brown and the tops spring back when touched. Cool them in the pan for about 5 minutes, then remove to a wire rack.
Notes
Packaging
Genevieve packages these muffins by four in a quart-size box, such as those you find at farmers' markets, lined with parchment paper. Cover with plastic wrap, tie with a pretty ribbon, and add a tag for an attractive presentation.