This post is a review of the Tiramisu Brownies originally from Taste of Home.  I have not made them in over 10 years and this is the only photo I have.  It really needs to be updated, so as soon as I can come up with an excuse to make these again I'll add a new photo.  To be honest, reading about these brownies makes me want regular Tiramisu.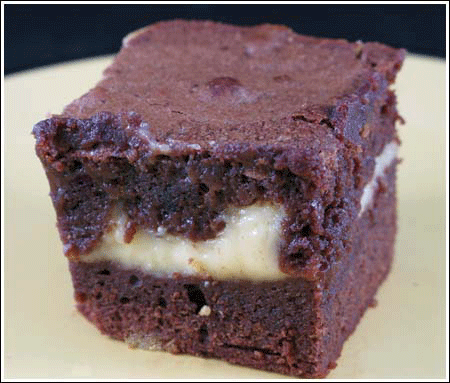 Everything sounded good, but the recipe I was most interested in was Tiramisu Brownies. I flipped through the pages to find it, worried that it would be something gooey, but it wasn't. It looked like a relatively portable, easy to cut, serve and share brownie which just happened to have the flavors of tiramisu.
I made the brownies today, even though it required a trip to the grocery store for ingredients. If you make the full pan, plan on spending some $$$ because it calls for two cartons of mascarpone and 12 oz chocolate. I cut the expenses by making half a pan.
The brownies turned out great and looked sort of like the TOH picture, but I did have an issue. The review on the TOH mentioned the chocolate batter was hard to spread and she wasn't kidding. The key, and you'll know what I'm talking about when you get to this step, is to be very careful how much batter you put on the bottom layer (no more than the amt. called for) or you won't have enough chocolate batter to cover the top.
I'm linking directly to the recipe so you can track the reviews and see TOH's picture. I think these will be even better tomorrow but they're pretty good after only an hour in the refrigerator.