Yesterday I was going through some old newspaper clippings and found a few basic muffin recipes. I decided to bake some today so that Fuzz could have homemade muffins for snacks. I can't remember if I've told you this, but I bake the muffins, wrap them individually and freeze them. Fuzz doesn't like eating breakfast, so a frozen muffin gets thrown in her backpack and by snack time (which is about 10:00) she's set — not too mention less picky because she is very hungry.
I ended up making quite a few changes to the original recipe and came up with these. They're gorgeous – high tops and a perfect size. What they are not is too sweet. In fact, I'd be hesitant to make these without the streusel topping because the bottom part is more bread-like than cake-like and the streusel really punches things up. I'm going to make these again with white whole wheat flour. Also, I shredded the apple in the food processor so the muffins wouldn't have chunks.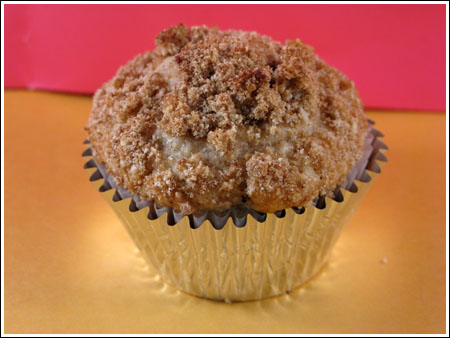 Apple-Oatmeal Muffins
Streusel Topping:
1/4 cup flour
1/4 cup packed brown sugar
1/4 teaspoon cinnamon
2 tablespoons firm butter
Muffins:
3/4 cup milk
1/4 cup vegetable oil
1 large egg
1 teaspoon vanilla extract
1 2/3 cups all-purpose flour
1/2 cup oats – old fashioned or quick cooking (not instant)
1/2 cup granulated sugar
2 teaspoons baking powder
1/2 teaspoon salt
1/2 teaspoon cinnamon
1 cup peeled and very finely chopped or shredded apple
Preheat oven to 400 degree F.
Line a muffin tin with 12 paper liners.
Prepare topping. Stir together flour, brown sugar and cinnamon. With a pastry cutter or two forks, cut in the butter until crumbly. Set aside. I did this in a food processor.
In a medium bowl, whisk together the milk, oil, eggs, and vanilla. In a large bowl, thoroughly stir together the flour, oats, sugar, baking powder, salt and cinnamon. Add liquid mixture and apples to flour mixture. Divide evenly among muffin cups.
Spoon about 1 tablespoon streusel mixture on top of each muffin. Bake for 20 minutes or until golden around edges