These are called Small Batch Blueberry Muffins, but I should probably call them Small Batch Muffins. Blueberries work well, but the muffins are also great with raspberries, cherries or chocolate chips. The recipe only makes 4 to 6 muffins. They rise pretty high, aren't too sweet and have some heft to them. That is, they are not light like cupcakes. And finally, the recipe is very easy!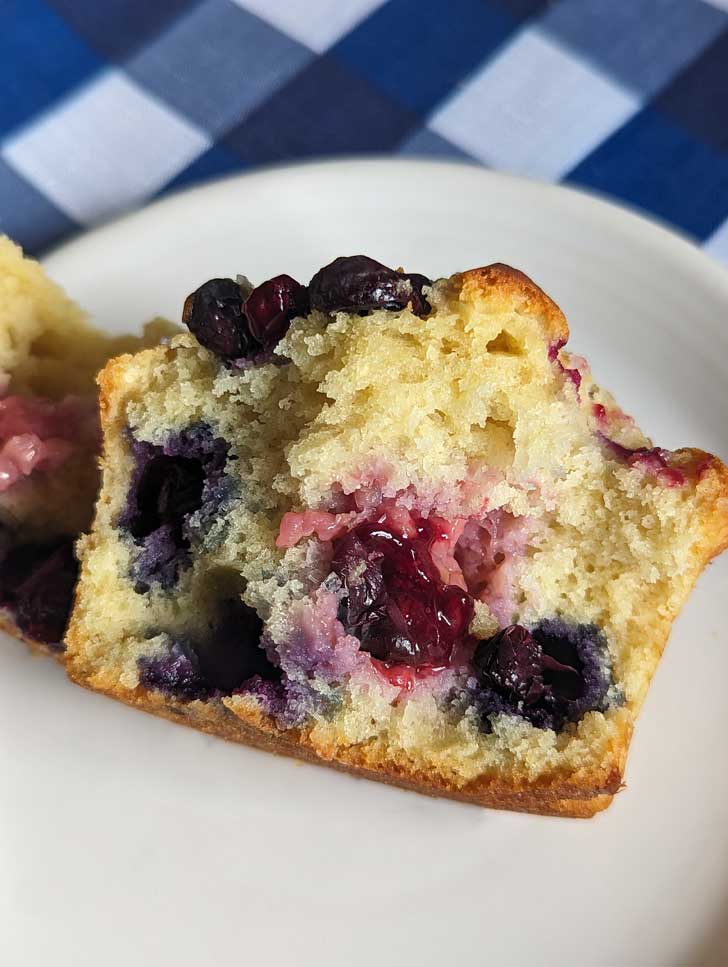 Let the Muffin Batter Sit
One thing I do with Small Batch Blueberry Muffins is allow the batter to sit for about 15 minutes before baking. In theory, this is supposed to help the muffins rise higher. Some people let their muffin batter sit overnight. I've not yet tried that because I barely have the patience to wait 15 minutes, but maybe it does make the muffins rise a little higher. They definitely aren't flat.
Protein Powder in Muffin Batter
The recipe is a good template for improvising. I've made all kinds of little substitutions including swapping out 2 tablespoons of flour for 3 tablespoons of protein powder. Adding a little protein powder in place of flour helps the muffins stand taller and gives them an even browner crust.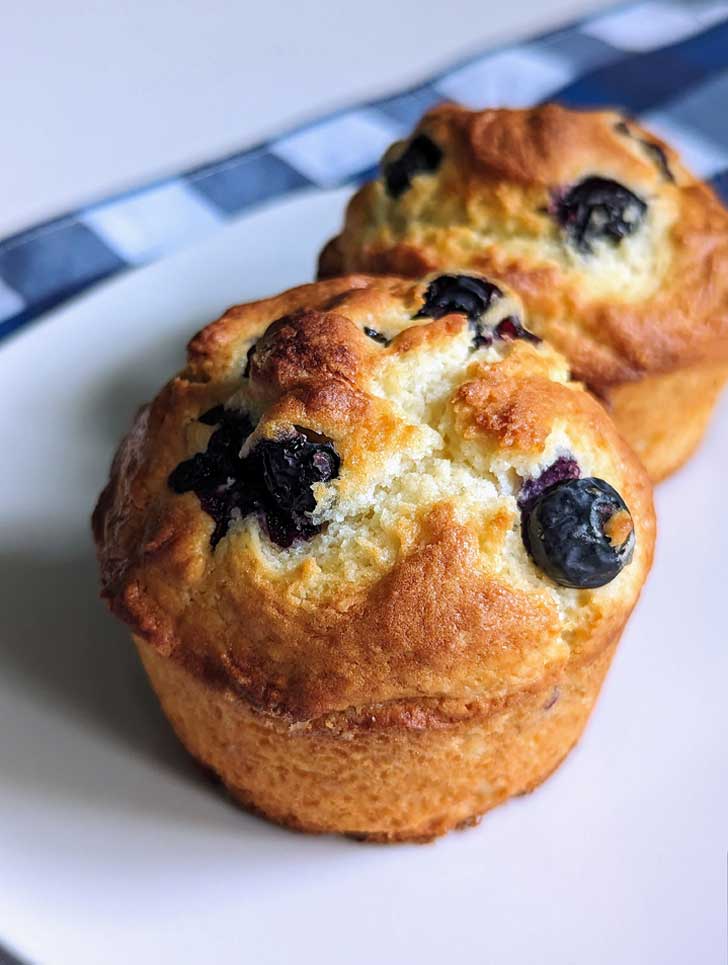 Fat in Muffins
For the fat, I usually use a combination of softened butter and coconut oil just because the coconut oil adds extra moisture and the light flavor of unrefined coconut oil goes so well with the butter. I've also experimented with a combination of butter flavored oil and butter, which gives the muffins a lovely yellow hue.
Sugar or Magic Baker
Sugar can be played with as well. I wouldn't go lower than ¼ cup of sugar, but you can definitely substitute a sugar alternative. I tested these with a product called Magic Baker and it worked just fine. It's put out by Splenda, but does not container sucralose. It's just a mixture of erythritol, allulose and stevia.
Berries and/or Chocolate Chips
These are Small Batch Blueberry Muffins and work well with fresh blueberries or frozen blueberries that have been thawed and patted dried. I don't recommend straight frozen berries for this recipe, as they thaw while baking and release extra liquid into the batter. Chocolate chips also well. My other favorite variation is chocolate chips with a small handful of walnuts thrown in.
Here's the recipe!
Recipe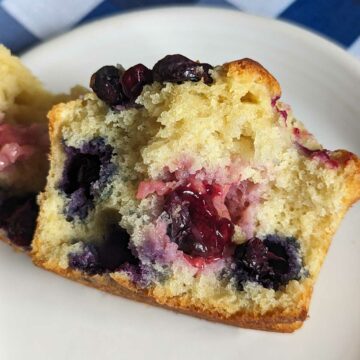 Small Batch Blueberry Muffins.
Small batch muffin recipe you can bake in a toaster or regular oven.
Ingredients 
1

cup

all-purpose flour

(135-140 grams)

1

teaspoon

baking powder

¼

teaspoon

baking soda

¼

teaspoon

salt

2

tablespoons

butter, softened

(28 grams)

2

tablespoons

coconut oil, room temperature or any neutral oil

(26 grams)

¼

cup

sugar

(50 grams)

1

large

egg

¼

cup

milk, room temperature

(56 grams)

½

teaspoon

vanilla extract and/or a few zests of lime or lemon

1

cup

blueberries, or more or less as desired
Instructions 
Don't preheat the oven yet. The muffin batter needs to stand for 15 minutes. Just line 4 to 6 muffins cups with paper liners. Alternatively, you can skip the liners and use a silicone muffin pan. You can also skip both of those things and just grease the pan, but the muffins rise higher with paper or in silicone liners.

Mix the flour with the baking powder, baking soda and salt. Stir until evenly blended. This is important because you won't do much mixing once the liquid is added.

In a mixing bowl, using a heavy duty scraper or a big spoon, mash together the softened butter, coconut oil and sugar until evenly blended. Stir in the room temperature egg, milk and vanilla.

Add the flour mixture and stir just until blended. Do not add the blueberries yet.

Spoon a heaping tablespoon of batter into 4 to 6 (depending on the size of your muffins) muffin cups. Sprinkle on a few blueberries. Add spoonfuls of batter, alternating with blueberries.

Preheat oven to 400ºF. Allow the muffin batter to rest for about 15 minutes while the oven preheats.

Bake 18 to 20 minutes or until golden brown, cracked at the top and firm to the touch. Let cool for 10 minutes and remove muffins from the cups. You can serve them warm or let them sit for a while. I think the texture improves somewhat as they sit, in which case you can re-warm or toast.
Notes
Extra Protein Version -- Remove 2 tablespoons of all-purpose flour and replace with 3 tablespoons of whey protein powder.