This recipe is from the King Arthur Cookie Companion
and the best way I can describe it is like a criss-cross peanut butter cookie with butterscotch flavor instead of peanut butter. Now if you happen to be lucky enough to find cinnamon chips, you can use those too.  Sorry about the picture.  I took it hastily and with my old camera.  Argh.  Looks a little jaundiced, but you get the idea.  Also, these cookies are made without any baking soda or baking powder.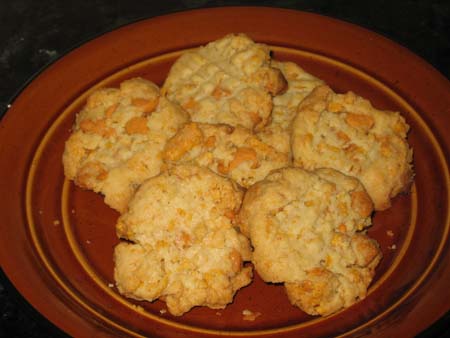 Butterscotch Crunch Cookies -- From KA "Golden Crunch Cookies"
12 tablespoons unsalted butter, softened
½ cup granulated sugar
1 teaspoon vanilla
1 teaspoon salt
1 large egg
2 ¼ cups all-purpose flour, weigh out 9 ½ oz or spoon and sweep
1 ½ cups lightly crushed Corn Flakes
2 cups butterscotch chips
Preheat oven to 350 degrees F.
In a large mixing bowl, beat butter and sugar until light. Add vanilla, salt and egg and beat for 30 seconds.
Stir in the flour, corn flakes and butterscotch chips.
Using a tablespoon, scoop up dough and form into 1 inch balls. Using a fork, press to make a crisscross pattern.
Bake 15-18 minutes or until edges are golden. Remove cookies from the sheets and place on a wire rack to cool completely.
Makes about 40 cookies