This recipe was sent to me by Kelly who found it on Every Day Food. I followed the recipe pretty much to the letter but used Oreos instead of chocolate wafers and added a dash of vanilla.
I cut this piece before chilling, so you can get an idea of how it looks. And I have to admit, I took a tiny taste and it's delicious! Can't wait to have a full piece.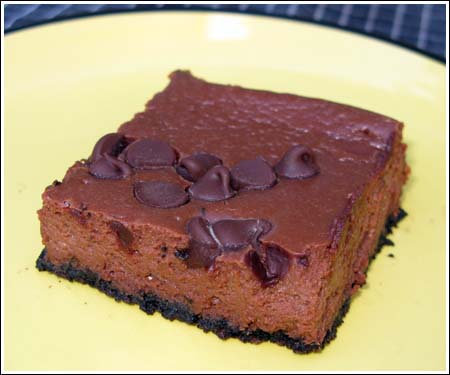 Chocolate Cheesecake Squares
8 chocolate wafer cookies or 8 Oreos
8 ounces reduced fat cream cheese
1 cup reduced fat sour cream
⅓ cup cocoa powder (natural, unsweetened)
2 tablespoons cornstarch
¾ cup granulated sugar
1 large egg plus 1 egg white
½ teaspoon vanilla
⅓ cup chocolate chips
Preheat oven to 325 degrees F. Line the inside of an 8 inch square metal pan with non-stick foil. Process cookies into crumbs and press into bottom of pan.
Wipe processor bowl clean and add cream cheese and sour cream. Process until smooth, scraping down side of bowl as needed, then add cocoa, cornstarch, sugar, egg, egg white and vanilla; process until smooth. Pour over cookie crust and sprinkle top with chocolate chips.
Bake on center rack for 35-40 minutes. Cool completely in pan then refrigerate for at least one hour. Invert onto a tray; peel off paper and reinvert crust side down. Cut into 9 squares.
Makes 9