My husband loves Charleston Chews, so his ears perked up when I mentioned I'd found a recipe. Unfortunately for him it was not the chocolate covered nougat bar you throw in the freezer and crack into pieces, but rather a Southern bar cookie made with butter, eggs, brown sugar, vanilla, and nuts. So to avoid getting them mixed up with the candy, hereforth these are Charleston Chewies -- not Chews.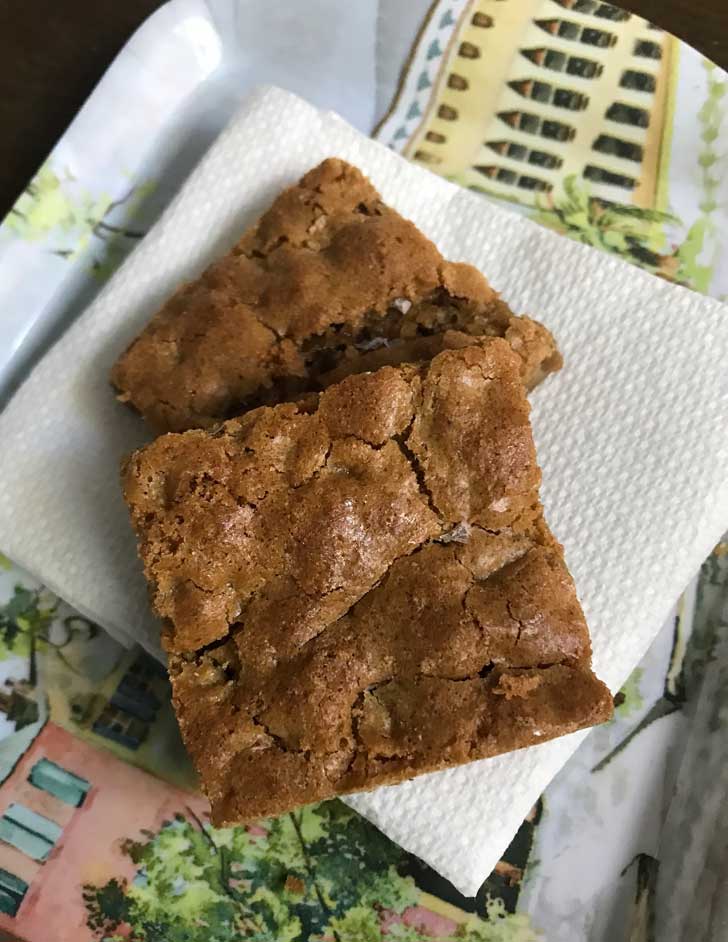 Aka Praline Squares and Savannah Chewies
Actually, the recipe looked really familiar. It was very similar to Praline Squares or Praline Bars, which I've been making since childhood. And not only do they go by Charleston Chewies, but I found another version called Savannah Chewies. And all this time I've just been calling them Praline Squares. The fact is, all that reading about them made me hungry for chewy brown sugary things, so I decided to see if I could make them gluten-free without losing that chewiness.
Praline Squares aka Charleston Chews or Chewies
So my experiment, which was basically substituting ½ cup of King Arthur's Measure for Measure gluten-free blend, worked out well. At first I thought it hadn't because the bars came out of the oven really soft and floppy. But once cooled, they were chewy. Refrigerating them made them even chewier and freezing even moreso.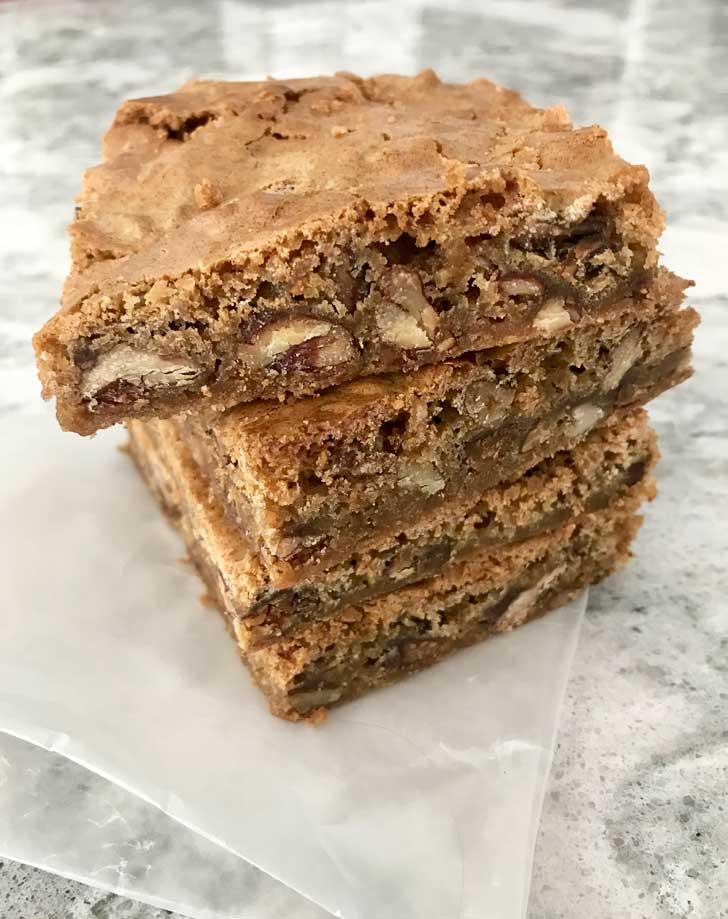 Some Variations
There are so many little changes you can make to these bars. You can use walnuts rather than pecans, and if you like brown butter you can try using that. I made one batch with browned butter and thought the bars were a little chewier, but I need to try it again to be sure.
Loaf Pan Version
I also tested a half version in a loaf pan using half an egg (2 tablespoons beaten), plus ½ cup brown sugar, 2 T. butter and so forth. The loaf pan version worked too, and the best part was that every piece was an edge. So if you want a really small batch, just halve everything and bake for about 18 minutes at 325 degrees F. in a 9x5 inch or 8 ½ by 4 ½ inch loaf pan. I think my next experiment will be the loaf pan version using pasteurized egg whites from a carton.
Charleston Chewies Ingredient Notes
Butter -- You can use salted or unsalted. Both regular and browned butter will work.
Brown Sugar -- Light or use a mixture of light and dark.
Egg -- You only need one.
Gluten-Free Flour Blend -- You'll need about 68 grams of blend. Normally this is about a half cup, but blends are all different so it's best to weigh. For instance, if you using Pillsbury's blend you'd only need a generous ⅓ cup because ⅓ cup of their blend usually weighs around 160 grams. Never trust volume measurements with gluten-free blends until you are very familiar with them, and be sure to use one with xanthan gum.
Baking Powder -- I like Rumford
Salt
Nuts -- Toasted pecans are great, as are walnuts. If using the pecans, you can toast them in the oven ahead of time or just do a quick "toast" in the microwave. Directions are in the notes, but it's pretty easy and save a lot of time. Walnuts don't really need to be toasted, but no one's stopping you if you want to do it anyway.
Sea Salt -- With all the brown sugar and butter, you can't go wrong with a little Maldon on top.
Black Strap Molasses -- This isn't actually an ingredient in the list, but I think next time I make these I'm going to throw in a teaspoon and see what happens.
Recipe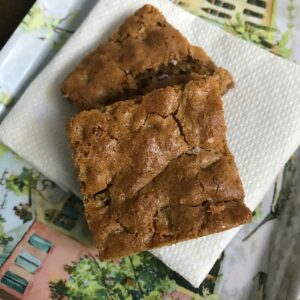 Gluten-Free Charleston Chewies
Chewy brown sugar brownies you can make with pecans or walnuts.
Ingredients 
4

tablespoons

unsalted or salted butter

(56 grams)

1

cup

brown sugar, packed

(185 to 200 grams)

1

large

egg, cold from the refrigerator

½

teaspoon

vanilla

½

cup

gluten-free flour blend (with xanthan gum)

(65-70 grams)

½

teaspoon

baking powder

¼

teaspoon

salt or ⅛ teaspoon if using salted butter.

1

cup

toasted and chopped pecans**

(You can use as little as ½ cup)

Flaked Sea Salt (Maldon)

(optional)
Instructions 
Preheat oven to 325 degrees F. Line an 8 inch pan with foil and grease the foil lightly with butter or spray with cooking spray.

Melt the butter. You can do it in a saucepan or in the microwave. I like to use a microwave-safe mixing bowl and do it directly in the bowl.

Add the sugar to the warm butter and whisk until it becomes glossy and shiny.

Let it the sugar/butter mixture cool slightly, then whisk in the egg and vanilla.

Whisk together the gluten-free flour, baking powder and salt and stir into the brown sugar mixture. When fully blended, stir in the nuts.

Scrape the batter into the pan. If using sea salt, sprinkle some flakes on top before baking. Bake for about 20 minutes. Let cool completely.

The bars will come out of the oven pretty soft, but will firm up a bit as they cool and become chewy. To speed things up, you can let them cool for a bit at room temperature and then transfer them to the refrigerator to finish cooling.
Notes
To toast the pecans, spread them on a rimmed baking sheet and bake at 350 for about 8 minutes or until they become fragrant.  For extra flavor, you can toss them with a teaspoon of butter and some sea salt.  Let cool, then chop.
You can also "toast" the pecans by microwaving them on high for 1 minute, shuffling, then microwaving on high at 30 second intervals just until they are fragrant.  Let cool, then chop.