This recipe is by Susan Scarborough, who made it for the Ultimate Recipe (Cookie!) Challenge. I met Susan few years ago at a cook-off in Chicago where we were allowed to bring one person. I brought my dad and Susan brought her gorgeous twenty-something daughter Amber. The day of the cook-off, Amber hung out in the kitchen, but she didn't just watch. She was cheery, consoling when things got rough and volunteered to eat the scraps of my frightful "test batch" of peanut butter lava cakes. At that point, I had the greatest admiration for Susan for bringing up such a good kid.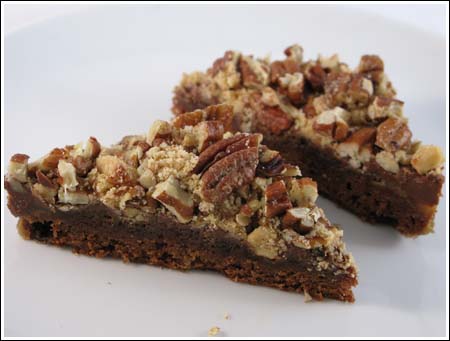 Susan did well in the cook-off that day and went on to win more, including entry to the Ultimate Recipe Showdown. Now as you know by now, these bars did not win the category. The judges liked the flavor, but subtracted points because they didn't like the gritty feel of the filling. After making them, I agree that the grittiness is noticeable, but the bars are still very good. They cut beautifully and have a wonderful flavor. As for the grittiness I might play around a bit with the brown sugar mixture. I think maybe cutting the sugar in the filling to ½ cup would help.
The salted pecan topping was excellent and necessary to curb the sweetness. I'm glad I went to the gym because I couldn't stop eating them. If you can't find roasted, salted pecans (I couldn't….and was aggravated) you can make your own.
Here's a link to the recipe in case you missed the first one.