I'm not really sure how or why I got the idea for this, but here it is – a cross between a red velvet cupcake and the ever popular black bottom cupcake. If you try what I'm now calling Red Velvet Cheesecake Cups, let me know because I've only made them once. They're less sweet than red velvet cupcakes and have a slightly tart flavor to them. Plus, they're a little different. It's nice to try new things once in a while, right? And these are extremely simple. In fact, you don't need a mixer. I used a couple of bowls and a spoon.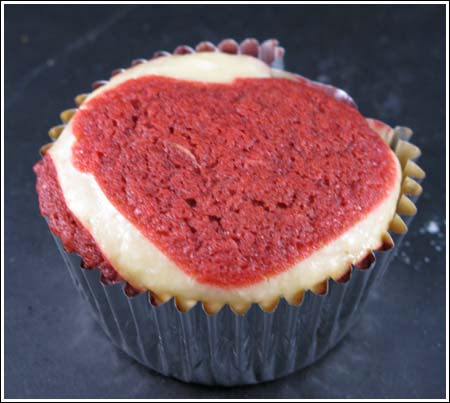 Since this was experimental, I made a half batch which was 8 cheesecake cups.
Red Velvet Cheesecake Cups
Filling:
4 ounces cream cheese, softened
2 tablespoons granulated sugar
1 ½ tablespoons lightly beaten egg (break egg, mix with fork, measure)
¼ teaspoon vanilla
Batter:
1 cup plus 2 tablespoon all purpose flour (5 oz)
2 teaspoons unsweetened natural cocoa powder
½ teaspoon baking soda
¼ plus ⅛ teaspoon salt
½ cup vegetable oil
⅔ cup granulated sugar
1 teaspoon apple cider vinegar
1 large egg
1 tablespoon red food coloring
¾ teaspoons vanilla
3 tablespoons sour cream
Preheat oven to 350 degrees F. Line 8 muffin cups with paper liners.
Prepare filling first. With a mixing spoon, beat together softened cream cheese and sugar. Add egg and vanilla and stir until smooth. Set aside.
In a mixing bowl, thoroughly stir together flour, cocoa powder, baking soda and salt.
In a second mixing bowl, stir together oil, sugar, vinegar, egg, red food coloring, vanilla and sour cream. Mix very well, then add flour mixture and stir just until blended.
Measure out approximately ⅓ cup red mixture and set aside. Divide remaining red mixture among the 8 muffin cups – each cup should be a little over ⅓ of the way full. Spoon cream cheese mixture over red mixture, dividing evenly between all cups. Drop small spoonfuls of reserved red batter on top of cream cheese mixture, making a bulls-eye pattern.
Bake for 20-23 minutes. Let cool on a wire rack. Carefully remove lift muffins from cups.
Best serve slightly chilled. – Makes 8