This is an old post where I compare the million dollar winning Pillsbury Double Delight Peanut Butter Cookies to the same cookies made with an easy scratch dough.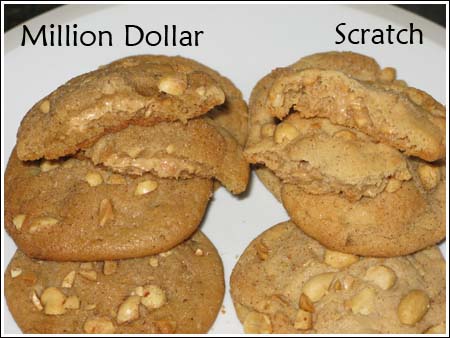 Double Delight Peanut Butter Cookies: Darker and chewier as opposed to light and crumbly. They have more of a brown sugar taste, chewier edges and as the usual packaged cookie dough flavorings.  Some people might actually prefer this texture over scratch.
Scratch Version
Scratch Version of Double Peanut Butter Cookies: Have a good homemade taste. The texture is light and flaky and cookies set up beautifully.  I kind of like the scratch because I'm used to it and know it's scratch.
Both were good. In the end, I think the idea of stuffing peanut butter into peanut butter cookies deserves recognition. After making all these stuffed peanut butter cookies, I think I'm going to be disappointed with other peanut butter cookies.