If you like peanut butter cookies but find the traditional criss-cross recipes to be a little dry, these Double Peanut Butter Cookies might win you over.  Like the million dollar Bake-Off  Pillsbury Double Delight Peanut Butter Cookies made with refrigerated peanut butter dough and filled with peanut butter, this version is similar, but made with a scratch dough containing syrup and coconut oil.  It also lacks eggs, which means it's pretty easy to "veganize" if you need to.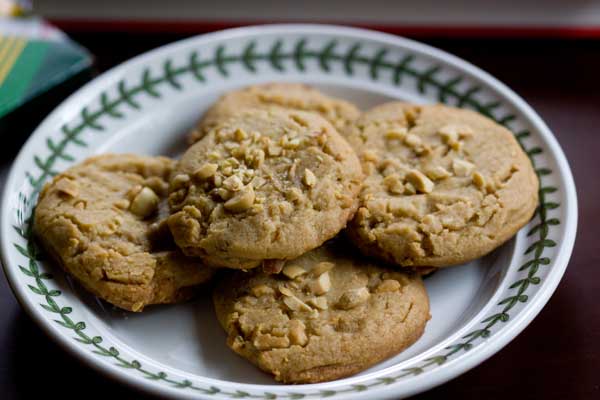 The original version is from Gooseberry Patch Big Book of Home Cooking: Favorite Family Recipes, Tips & Ideas for Delicious Comforting Food at its Best
.  It calls for corn syrup and shortening, but I replaced those ingredients with maple syrup and coconut oil and got great tasting cookies. The peanut butter in the center dries out a little since it doesn't have any powdered sugar or oil added, but I still liked it and didn't feel like I needed to add anything to the peanut butter filling.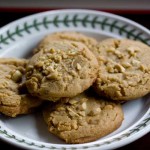 Print Recipe
Double Peanut Butter Cookies
A peanut butter cookie with peanut butter in the center
Ingredients
1 1/2

cups

6.8 ounces well stirred and aerated all-purpose unbleached flour

1/2

cup

granulated sugar

1/2

teaspoon

baking soda

1/4

teaspoon

salt

1/2

cup

coconut oil

or shortening -- I weighed out a solid 96 grams

1/2

cup

creamy peanut butter plus another 1/4 cup for filling

1/4

cup

maple syrup

or corn syrup

1

tablespoon

milk

or nondairy milk
Instructions
In a mixing bowl, combine the flour, sugar, baking soda and salt. Add the coconut oil and stir until crumbly. Add 1/2 cup of the peanut butter and stir well, then add the maple syrup and milk and stir until you have a thick dough.

Shape the dough into a cylinder about 2 inches in diameter. Wrap it in plastic and chill for about an hour or until very firm.

Preheat the oven to 350 degrees F. and have ready two ungreased or foil lined baking sheets.

Slice 12 1/8 inch thick circles and arrange on a baking sheet. Spoon about 1/2 teaspoon of peanut butter in the center or each. Cut 12 more slices and lay over the peanut butter, then seal the edges. At this point, you can attempt to make criss-crosses, but try not to break the top and expose the peanut butter.

Bake for 10-12 minutes on center rack. While the first sheet bakes, repeat with remaining dough and peanut butter. Let the cookies cool on the baking sheet for about five minutes, then transfer to a wire rack to cool.
Notes
Cook time includes the chill time. The dough will be thick, but you still need to chill it so that it's firm enough to slice.