Ghiradelli Chocolate Caramel Brownies are made with a Ghirardelli product called "Sweet Ground Chocolate and Cocoa" .It comes in a gold canister and can be used for hot cocoa and certain baked goods. When you see it, you'll understand why it can't be used spoon for spoon in place of regular unsweetened cocoa, so my advice is to buy it primarily for drinking, and use it in baked goods that call for it specifically.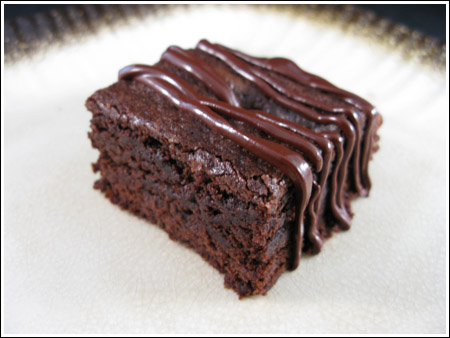 This brownie recipe is one of them, though I jazzed it up a little by filling the brownies with chocolate covered candies. I wanted to use dark chocolate covered caramel Ghirardelli squares, but ended up using Nestle Treasures, which are fat and round and have more chocolate than caramel. Not a good move. The brownies taste good, but the candy was too firm and chunky. Stick with the Ghirardelli squares and these will be great.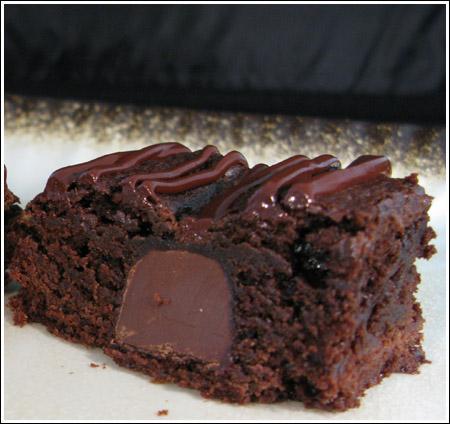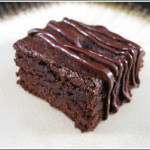 Print Recipe
Ghirardelli Chocolate Caramel Brownies
Ghirardelli Chocolate Caramel Brownies made with sweet ground cocoa powder and caramel candies
Ingredients
2

large eggs

1/4

cup

sugar

1

teaspoon

vanilla

1/2

cup

4 oz unsalted butter, melted

1 1/4

cup

Ghirardelli sweet ground chocolate and cocoa

2/3

cup

all purpose flour

1/4

tsp.

baking powder

1/4

tsp.

salt

16

Ghirardelli Dark Chocolate Caramel Squares

1/2

cup

Ghirardelli bittersweet chocolate chips
Instructions
Preheat oven to 350 degrees F. Line an 8 inch square metal pan with non-stick foil or parchment.

Whisk together eggs, sugar and vanilla. Add melted butter.

Sift ground chocolate with flour, baking powder and salt and stir into egg mixture. Spread half the batter into prepared pan. Place chocolate covered caramel in single layer on top of batter. Cover with remaining batter. Spread with spoon to cover completely. Bake 20-30 minutes. Let cool. Cut into 9 squares.

Place the chips in a heavy duty freezer bag (must be a freezer bag!). Microwave on high for 30 seconds. Massage bags to melt chips. Repeat until chips are melted. If your microwave has multiple levels, microwave for 1 minute on 60% power and massage bag at 1 minute intervals. Snip off a tiny bit from the bottom corner of the bag and drizzle over brownies.