Caramel Filled Brownies are an all-time favorite, and this is probably my most requested recipe. They have become a bake sale staple. They are extremely rich, with two layers of fudge brownie sandwiching a generous layer of caramel. The brownie batter is made with melted bittersweet chocolate chips or chocolate, and the filling is made with melted Kraft caramels (or Caramel Bits) mixed with a little heavy cream for softness.
9x13 Inch Pan Caramel Filled Brownies
The original version of the recipe is in The Pastry Queen: Royally Good Recipes from the Texas Hill Country's Rather Sweet Bakery & Cafe
, but I've made little changes to it over time. I usually halve the recipe and bake it in an 8 inch square pan, but since most people like making the full recipe, I'm sharing the 9x13 inch version.
Cut While Cold
I cut the brownies when they are very cold and firm, then wrap them in individual cellophane wrappers. They do soften up a little at room temperature, so if you like a less gooey brownie, I recommend keeping them chilled until serving time (or selling) time.
Recipe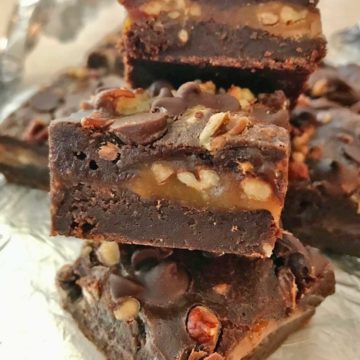 Caramel Filled Brownies
Caramel Filled Brownies
Ingredients 
12

ounces

bittersweet chocolate chips or chopped up chocolate

(336 grams)

2

sticks unsalted butter

(230 grams)

1 ½

cups

granulated sugar

(300 grams)

4

large

eggs

1

tablespoon

vanilla extract

1 ¼

cups

all-purpose flour

½

teaspoon

salt

(160 grams)

14

oz

caramels

⅓

cup

heavy cream

1

cup

pecans

toasted and chopped

1

cup

semisweet chocolate chips

or more if you like
Instructions 
Preheat oven to 350 degrees F. Line a 13x9 inch pan with nonstick foil or parchment paper.

Place chocolate and butter in a microwave-safe bowl and microwave on high for 1 minute. Stir and repeat until smooth. Let cool for about 5 minutes.

While chocolate cools, in a separate bowl beat sugar and eggs on high speed of an electric mixer for 3 minutes. Beat in vanilla. Stir chocolate mixture into the egg mixture. Using a mixing spoon or wire whisk, stir in flour and salt. Pour about half of this batter into the lined pan and bake at 350 for 20 minutes. Let cool for 20 minutes.

While first layer cools, prepare filling.

Unwrap caramels (or use Kraft caramel bits) and put them in a saucepan with the ⅓ cup of cream. Heat on medium low, stirring often, until caramels are melted. Stir about half of the chopped pecans into the caramel. Pour the caramel mixture over the brownie layer.

Spread the remaining brownie mix over the caramel filling. It is kind of tricky, so do your best, but don't worry about covering all the caramel. Scatter chocolate chips and remaining pecans over the top.

Bake at 350 degrees for another 20 minutes or until the top batter appears set but not dry. Allow brownies to cool completely (this should take a few hours). I like to cool them and then chill them because it makes slicing easier.

Lift brownies from pan and place on a big cutting board. Slice into whatever size you feel like.
Notes
I recommend baking these a day ahead and letting them chill overnight before cutting.
If halving, use an 8 inch pan. If you use a glass pan, you'll probably want to reduce the temperature by 25 degrees. I never use glass pans, but that's the general rule.
If you use semisweet chocolate or something lower than 63%, the brownies might be too sweet.
This recipe is pretty old, so when I first made it I had to use regular wrapped caramels. These days I just use the Kraft caramel bits.