All good things must come to an end, so this is my last batch of Rice Krispie Treats -- at least for now. This weekend we're co-hosting our annual Memorial Day party with the neighbors and I'm thinking Red, White and Blue, but today's treats are Neapolitan, which is a word I really like to say.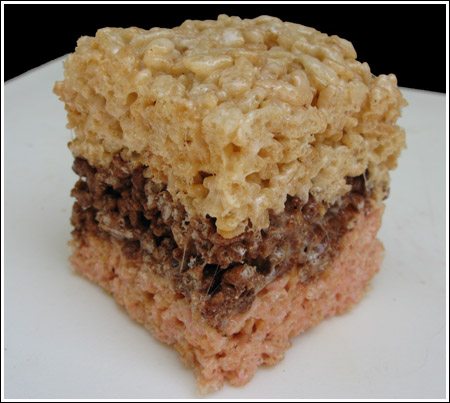 For the strawberry layer, I used Strawberry Quik. It worked well because the flavor was subtle and tasted like strawberry milkshake. The Quik added a bit of pink, but a few drops of red food coloring were still necessary to get the desired pink shade. The other layers are pretty much the same as before, but less.
This batch is made in a loaf pan. For a big batch, triple everything and use a 13x9 inch pan.
Neapolitan Rice Krispie Treats
Layer 1:
1 ½ tablespoons butter
1 ½ cups mini marshmallows
1 ¾ teaspoons Strawberry Quik
2-3 drops red food coloring
2 ¼ cups Rice Krispies
Layer 2:
1 ½ tablespoons butter
1 ½ cups mini marshmallows
2 ¼ cups Cocoa Krispies
Small handful semi-sweet chocolate chips
Layer 3:
1 ½ tablespoons butter
1 ½ cups mini marshmallows
2 ¼ cups Rice Krispies
Line a 9x5 inch metal loaf pan with parchment paper or non-stick foil (Release)
Melt butter in a microwave-safe mixing bowl (45 seconds on high). Stir Strawberry Quik and food coloring into melted butter -- use enough red coloring to get a dark pink hue. Add the marshmallows and stir to coat with pink butter.
Microwave marshmallows for 30 seconds; stir until melted and smooth. Add cereal and stir to coat. Empty into the loaf pan and press down well, using a piece of parchment or Release foil to prevent sticking.
Rinse out bowl (no soap!) and repeat melting procedure with Layer 2 – add Cocoa Krispies to melted marshmallows, then stir in chocolate chips. Empty onto strawberry layer and press down as neatly as possible, using parchment or Release foil.
Repeat melting procedure with Layer 3. Add Rice Krispies, stir to coat, then layer on top of the chocolate layer. Press flat. At this point, your bars should be at the very top of the loaf pan.
Let sit for at least 1 hour.
Lift from pan and set on a big cutting board. Using a Chef's knife, slice a thin layer off each end of the loaf to trim. Slice lengthwise down the center, making two long sections, then slice the loaf cross-wise to make 6 big squares.
Makes 6