Today's recipe is just an after effect of my new obsession with marshmallow making. You've probably made more than a few batches of Rice Krispies Treats, right? But did you ever think of making them with homemade marshmallows and adding Heath Toffee Bits?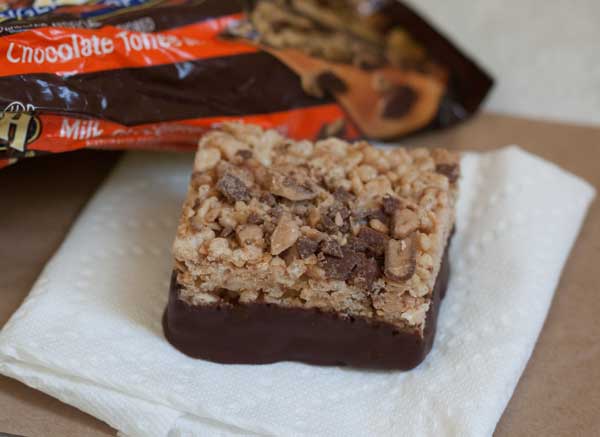 Or heck, skip the homemade marshmallows and just put toffee bits in your usual (made-with-normal-marshmallows) Krispies Treats. Here's the recipe, now good luck finding the Heath bits! If you can't find Heath, use whatever toffee bits you can find or just break up some Heath Bars.
Recipe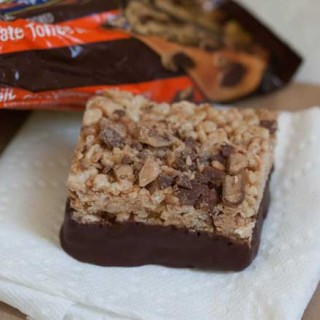 Toffee Rice Krispies Treats
Toffee Rice Krispies Treats are typical crisp rice cereal treats with the addition of Heath Toffee Bits. To make them even tastier, dip them in chocolate. Rice Krispies Treats can be frozen. Just wrap tightly in plastic wrap and put in a freezer bag.
Ingredients 
4

tablespoons

salted butter

10

ounces

marshmallows

6

cups

Rice Krispies

3/4

cups

Heath Toffee Bits

1

cup

semisweet or dark chocolate chips or chopped semisweet chocolate
Instructions 
Melt the butter in a large nonstick pot.

Add marshmallows and stir over medium heat until melted.

Remove from heat and stir in cereal.

Add the toffee bits and quickly transfer to a nonstick foil or parchment lined 9×13 inch pan.

Press top until even and let sit for about 20 minutes.

For a cleaner cut, throw the treats in the freezer for a few minutes. Cut into squares.

Melt the chocolate in the microwave or double boiler and dip the bottoms in chocolate. Set each treat on a foil lined pan and freeze just until chocolate sets