I love recipes that use breakfast cereal and was happy to discover Cornflake Slice. It seems to be of British origin popular in England, Australia and New Zealand. Still, I'm not really sure. If you grew up eating these or have a better recipe, please share! For those of you not familiar with Cornflake Slice, this version is a candy/cookie hybrid. It's a mixture of Cornflakes and coconut held together by a strange brownie/candy mixture and topped with more chocolate and Cornflakes.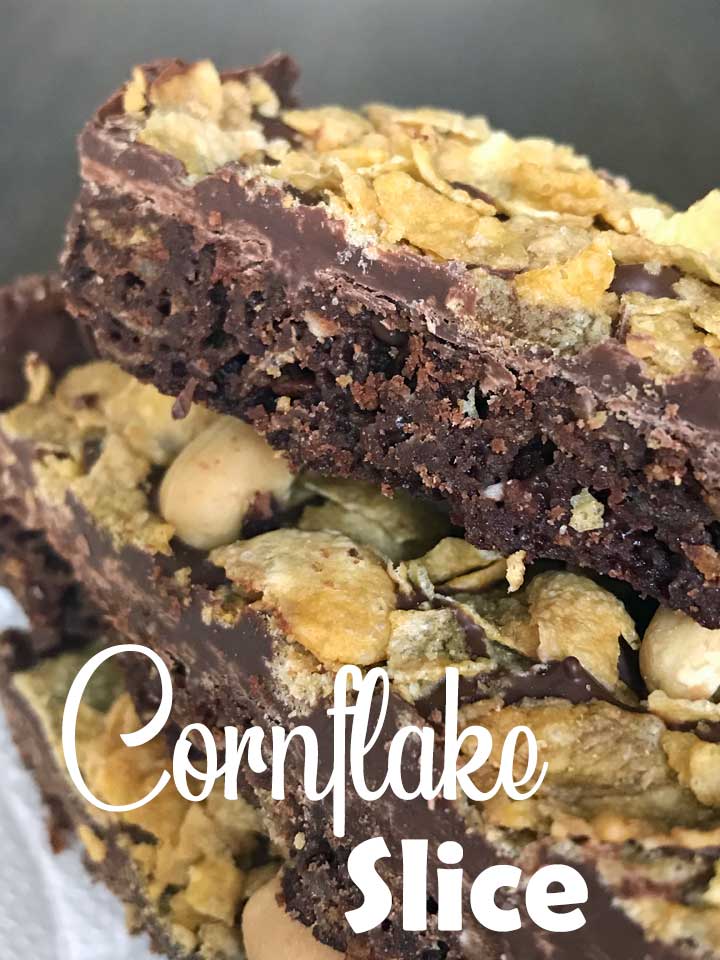 The reason I called the chocolate part "strange" is because at first glance, the ingredients look the same as for brownies, but then you see there are no eggs.  You may wonder how it holds together, but after a quick bake and a long cooling off time, you get a crisp and crumbly chocolate base. Once cool, you top that with more chocolate and cereal.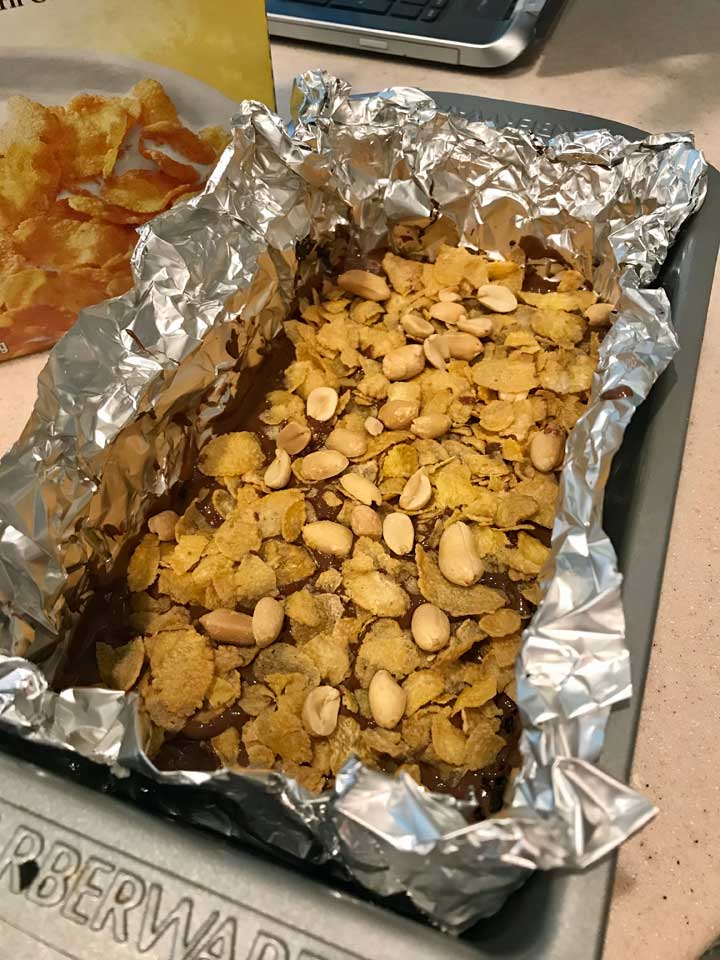 This version of Cornflake Slice is from a blog called Jam and Clotted Cream. I halved it to fit a loaf pan. I also used AP flour instead of self-rising. If you want to use self-rising just omit the baking powder and salt. I also doubled the chocolate topping, omitted the butter in the topping, used more Cornflakes and threw on some peanuts. For the loaf pan I used a 9x5, but next time I'll probably go with an 8 ½ by 4 ½ inch pan for thicker bars.
Other Recipes for Cornflake Slice
I went down a Cornflake Slice rabbit hole after making these and found there are dozens of variations. Some call for marshmallow, one version does call for some egg and there are other versions where the melted chocolate is only on the top and not in the base. For peanut butter-loving Americans, this one on Food.com is a good pick, admit I will probably be trying it soon! It's more the type of cereal bar cookie we're used to.
Recipe
Loaf Pan Chocolate Cornflake Slice
A rich chocolate bar cookie made with Cornflakes, chocolate and coconut (among other things).
Ingredients 
½

cup

lightly spooned

60 grams all-purpose flour

¼

teaspoon

baking powder

¼

teaspoon

salt

1

tablespoon

unsweetened cocoa powder

¼

cup

fine granulated sugar

50 grams

¼

cup

dried coconut

½

cup

Cornflakes

2

oz

dark chocolate

chopped (56 grams)

6

tablespoons

Butter

84 grams

½

teaspoon

vanilla extract

Topping

2

oz

dark chocolate

chopped (56 grams)

2

oz

milk chocolate

chopped (56 grams)

½

tablespoon

butter

optional, I left it out

Cornflakes for decorating, salted peanuts

peanuts optional
Instructions 
Preheat the oven to 350 and line a 9x5 inch loaf pan with nonstick foil.

In a large bowl mix the flour, cocoa powder, sugar, coconut and cornflakes together.

In another bowl, heat the dark chocolate and butter in the microwave on high for 30 seconds. Stir and repeat until chocolate is melted and smooth.

Mix the melted chocolate and butter mixture into the dry ingredients. Press into the loaf pan.

Bake for 18-20 minutes, then remove from oven and let cool completely.

Once completely cool, melt the topping ingredients together in a microwave and spread on top of the cornflake slice. Sprinkle over the cornflakes and leave to set before cutting into slices.