A wheat free diet used to seem like a nightmare. I hate to admit that, but it's true. What would life be like without pizza, bread, cookies, cake….soy sauce? But my views are changing thanks to the proliferation of new gluten free recipes, ingredients and ready-made products. Yesterday, I came home from a local pharmacy/grocer with a box of gluten free cereal (Perky-O's), a loaf of gluten free white bread and a gluten free brownie made by a company called Dip & Dunk Cookies which coincidentally, does their baking right down the street from my house. I'm thinking of tracking them down on my next walk. I'm also thinking a wheat free diet might not be such a bad thing and may be better for most of us. I'm still on the fence about this, but there's comfort in knowing we'll always have brownies.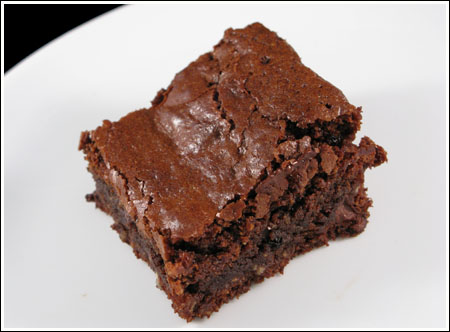 I found the original recipe for this brownie on great blog called Karina's Kitchen. Karina is wheat intolerant and tells her story here.   The original brownie recipe is here, where Karina says she got it from Clare.  So thank you Karina and Clare.
This is a great tasting, fudgy, delicious, handsome brownie that does not taste odd or have a strange texture and the ingredient list doesn't contain guar gum or xantham gum, which can be difficult to find (though it's getting easier).
I followed the directions to the letter with a few minor flavor changes. For the chocolate, I used a Green & Blacks Dark Chocolate Hazelnut & Currant bar and for the nuts, I used ground hazelnuts.
Recipe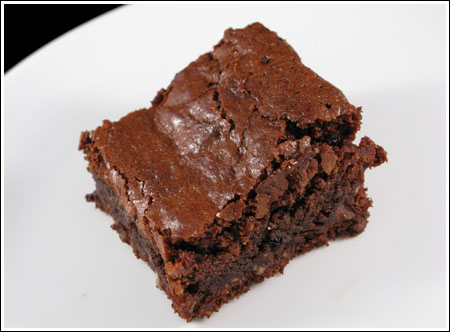 Wheat Free Hazelnut Brownies -- No Gums
Wheat Free Hazelnut Brownies
Ingredients 
5

ounces

dark chocolate with hazelnuts

4

oz

unsalted butter

8 tablespoons

2

large eggs

1

cup

packed light brown sugar

½

rounded cup hazelnuts

processed into a fine meal

¼

cup

white or brown rice flour

½

teaspoon

sea salt

regular will do – use slightly less

¼

teaspoon

baking soda

2

teaspoons

vanilla extract

½

cup

extra semi-sweet chocolate chips
Instructions 
Preheat the oven to 350 degrees F. Line an 8x8-inch square baking pan with non-stick foil or parchment

Melt the dark chocolate and butter together in microwave or in a bowl set over simmering water.

In a mixing bowl, beat the eggs with an electric mixer until frothy. Add the brown sugar and beat until smooth. Add the melted chocolate mixture to the egg-sugar mixture a little at a time and beat well.

In a bowl, combine the nut meal, rice flour, salt and baking soda. Add the dry mixture to the chocolate mixture and stir until well mixed. Add the vanilla, beat another half a minute or so. Stir in the chocolate chips. Pour into the lined pan.

Bake on center rack for 33 to 35 minutes, or until the brownies are set. Don't overcook.

Cool on a wire rack; and remove the brownies from the pan by gripping the foil edges. Chill before cutting.

Makes 9-12 servings.