This is an old post for a recipe for chocolate chip cookies made on Throwdown With Bobby Flay. Here's the original recipe. There's also a newer version of Bobby Flay's Chocolate Chip Cookies at the bottom of this post. You can read about both of them below. The cookies in this first photo are the ones from Throwdown.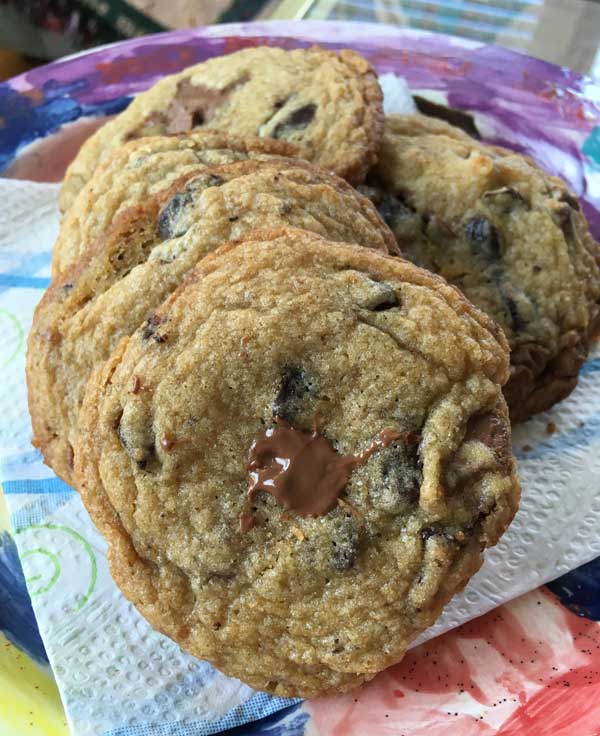 Throwdown Chocolate Chip Cookies
The chocolate chip cookies from Throwdown With Bobby Flay are pretty good if you like thin, soft, chewy, cookies. The only issue I had back when I first made them was they weren't very "traditional" in that they call for Muscovado sugar and expensive chocolate. You can substitute with a mixture of light and dark brown sugar, in which case you just get really thin, dark chocolate chip cookies. They're not bad at all. If you make them with the Muscovado sugar, they'll have a very distinct flavor. I called them "chef-ish" back then. At the time it seemed like a good description, but here we are in the future and chocolate chip cookies are just so much more sophisticated across the board! Everyone's making "chef-ish" cookies now.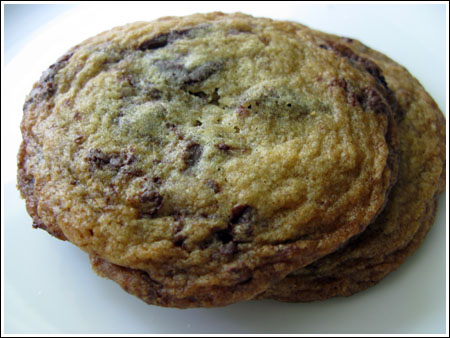 Bobby Flay's Chocolate Chip Cookies Instagram
I'm pretty sure Bobby Flay has come up with 100 new chocolate chip cookie recipes since the one from Throwdown was published. The most recent is one he shared on Instagram, and which is kind of the opposite of the Throwdown cookie in that it can be made in minutes. You just mix the dry ingredients and add the egg and melted butter.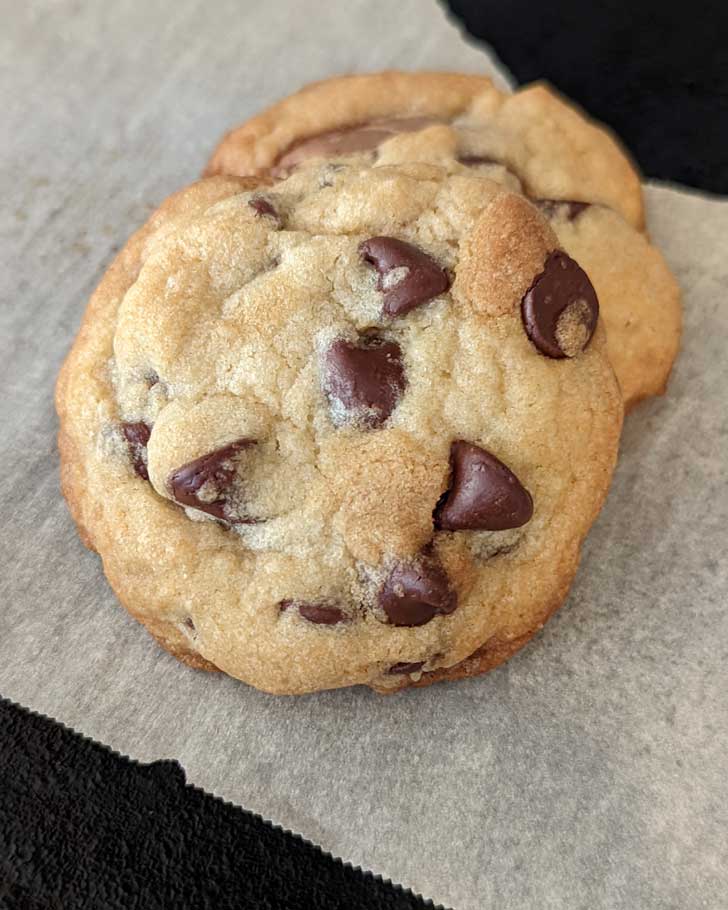 Recipe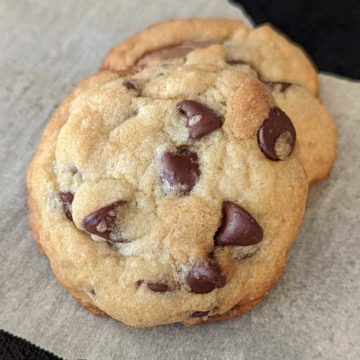 Bobby Flay's Chocolate Chip Cookies
I love that this is a pour-over recipe! No creaming.
Ingredients 
12

tablespoons

unsalted butter

(170 grams)

2

cups

all-purpose flour (spoon lightly or weigh)

(250 grams)

½

teaspoon

baking soda

½

teaspoon

baking powder

½

teaspoon

salt

⅔

cup

packed light brown sugar, tightly packed

(135 grams)

½

cup

granulated sugar

(100 grams)

1

large

egg

½

teaspoon

vanilla

2

cups

chocolate chunks or a chopped up chocolate bar

Sea Salt
Instructions 
Melt the butter in the microwave using 50% power (or melt gently over the stove). Set aside to cool slightly.

Meanwhile, stir together the flour, baking soda, baking powder, salt, and both sugars until mixture is uniformly blended. Stir in the chocolate chips.

Add the egg and melted butter and stir to make a soft dough. Cover bowl and chill for at least 30 minutes.

Scoop out 20 portions. Space at least 2 inches apart on parchment lined or ungreased baking sheets. Sprinkle tops with sea salt.

Preheat oven to 350 degrees F. Bake at 350 for about 12 to 15 minutes. Let cookies cool.