Bobby Flay Showdown Peanut Butter Caramel Swirled Brownies are from, you guessed it, Bobby Flay's Recipe Showdown.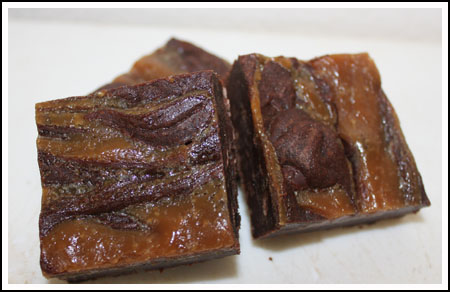 It was Bobby Flay against a little company in Vermont called The Vermont Brownie Company and as usual, I missed the show. Luckily, somebody told me about the brownie and I went straight to the source for the recipe.
I wasn't sure I'd love these. Caramel swirl brownies are good, peanut butter swirl brownies are better, and even brownies swirled with peanut butter and caramel sound great. But why mix the peanut butter into the caramel? Because Bobby Flay said so, that's why. So even though I worried mixing the caramel and peanut butter together would mess up the flavor, I did it.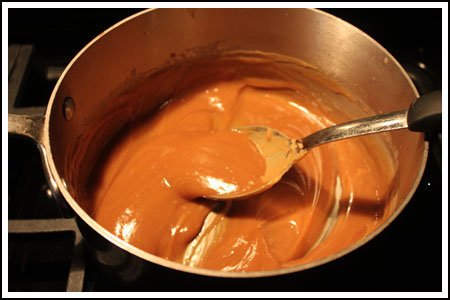 Making the caramel was fun because I had the right saucepan. I used to be scared of making caramel, but I bought a heavy duty metal All-Clad pan and love watching the sugar mixture go from clear to amber with no burning, scorching and pan-ruining. After I added the peanut butter, the mixture looked like this.
The brownie part  was one of those super easy whisk-and-bake recipes. Because I didn't need a full batch, I halved it and made it in an 8 inch pan.  I did make the full batch of peanut butter caramel, though.   And I used more than half of it.
So I had a small batch of batter and more peanut butter mixture than needed and got brownies that looked like this.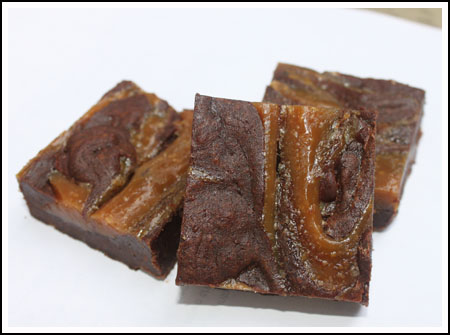 I sent them to work with Todd and hope people enjoy them. They're rich (if you can't tell by the photo) and very, very fudgy. I'd take them over a goat cheese brownie any day.
One final thought. Why did Showdown put a peanut butter brownie up against a goat cheese brownie anyway?  Do they usually mix dishes or is it usually, say, chocolate chip against chocolate chip?