Blue Ribbon Fair Cookies (not to be confused with the Mrs. Fields' Blue Ribbon Chocolate Chip Cookies) is a recipe from an old article in Chicago's Daily Herald. I seem to have lost the article (the link stopped working), but basically it was yet another one giving all kinds of tips for making perfect chocolate chip cookies.
Jump to Recipe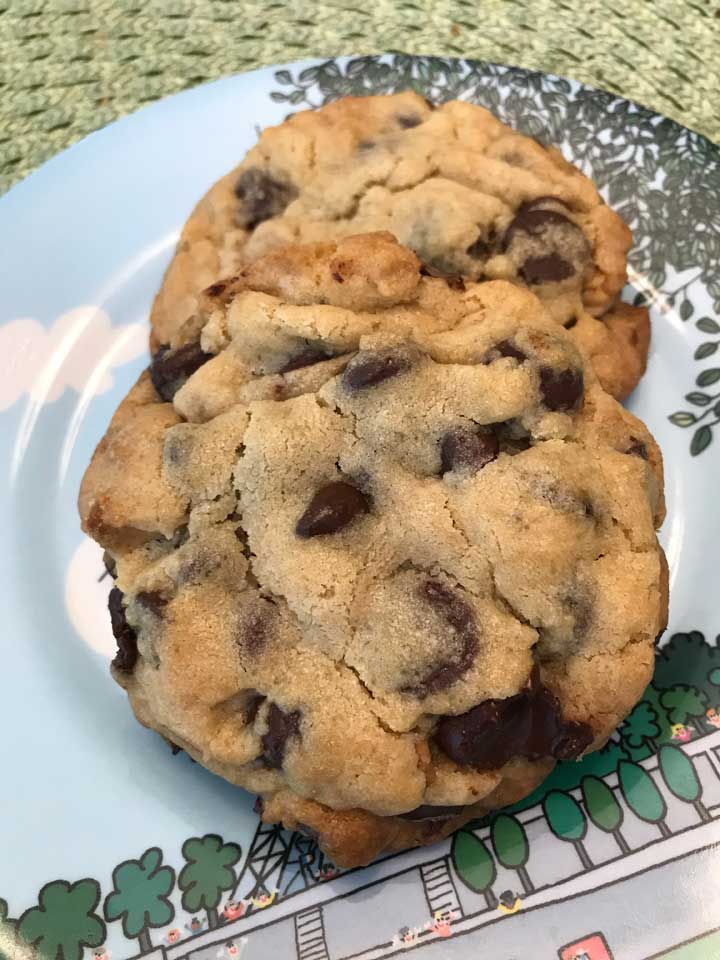 Less Sweet Chocolate Chip Cookies
The cookies are really good, especially if you like thick, chocolate chip cookies with crunchy edges and crumbly soft centers. They're less sweet than the famous New York Times recipe, but maybe a little sweeter than Levain's and not quite as round.   And best of all, they are loaded with chocolate chips! I like using a mix of chips, so for this recipe I used Ghirardelli Bittersweet and Hershey's Salted Caramel Chips. If you can't find the caramel chips, a handful of milk chocolate chips is an excellent substitute.
Anyway, now that I'm thinking about it these are almost exactly like Jumbo 3 Chip Cookies but with cake flour added. I guess you can't go wrong with either recipe.
Recipe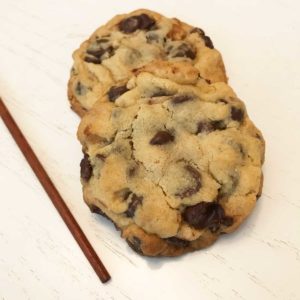 Blue Ribbon Fair Cookies
Thick chocolate chip cookies with crunchy edges and slightly crumbly centers.
Ingredients 
1 ½

cups

plus 1 tablespoons AP flour

(225 grams)

½

cup

cake flour

(60 grams)

½

teaspoon

baking powder

½

teaspoon

baking soda

1

teaspoon

salt, scant

can use less if you want

½

cup

plus 2 tablespoon sugar

(125 grams)

½

cup

plus 2 tablespoons light brown sugar

(125 grams)

6

oz

unsalted butter, cool temp cut into chunks

(170 grams) (1 ½ sticks or 12 T)

1

large

egg

½

tablespoon

pure vanilla extract

1 ½

cups

bittersweet chips

½

cup

Hershey's Salted Caramel Chips or any brand of milk chocolate chips.
Instructions 
Preheat oven to 375 degrees or skip this step if you plan to chill all the dough.

Line baking sheets with parchment paper.

Weigh your flour. This recipe has a lot of flour so you don't want to accidentally add too much by using packed cups. If you don't have a scale, sift it first or really stir and aerate. Mix together the flour, cake flour, baking powder, baking soda and salt. Set aside.

In the bowl of a stand mixer, beat the cold butter until creamy. Beat in both sugars and continue beating for another 2-3 minutes or until light and creamy. Add the egg and stir on the lowest speed until it is mixed in, then add the vanilla and stir until blended.

Using the lowest speed (or by hand), stir in the flour mixture. Stir in all of the chips. Dough should be slightly dry. You may want to turn it onto a pastry mat to work in all the chips, but you don't have to.

Using a quarter cup measure, scoop out balls of dough. If you'd prefer to just eyeball the dough, divide it into 12 equal size mounds. Press them into circles and flatten slightly so that you have disks which are about 1 inch (maybe a little less) thick.

Arrange on parchment lined baking sheets and bake at 375 for about 15 to 18 minutes or until edges are browned. Let cool on baking sheets for about 5 minutes, then transfer to a wire rack to cool completely. Alternatively, chill the dough disks and bake a few as needed. If baking chilled dough rounds, bake at 350 rather than 375.
Notes
Feel free to make the cookies smaller.  Also, you can cut the salt in half if you use salted butter.  The original version of this recipe called for less salt, but I think the cookies taste better with more.