I originally found Layered Cream Cheese Brownies The Red Hat Society Cookbook, which is a collection of recipes submitted by The Red Hat Society. It was a fun book, but I think I checked it out of the library so I don't have a ton of recipes from it.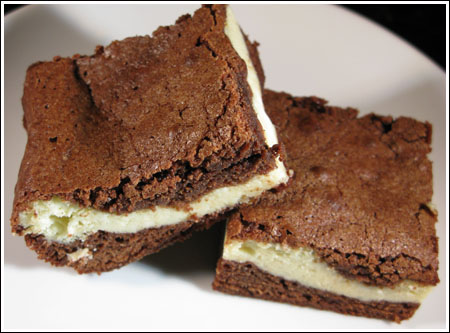 Anyway, in the book they called these "Surprise Brownies" but as you can see the cream cheese filling isn't much of a surprise when cut, so I renamed them "Layered Cream Cheese Brownies". There's a high proportion of cheesecake to brownie, which is always a good thing. The only thing is, you may want to embellish the top a bit. I did not, but now I wish I'd laid some sliced almonds on top.
Layered Cream Cheese Brownies
Filling:
8 oz cream cheese, softened (230 grams)
⅓ cup granulated sugar (65 grams)
1 large egg
½ teaspoon vanilla extract
Brownies:
2 oz unsweetened chocolate, chopped (56 grams)
8 tablespoons unsalted butter (114 grams)
2 large eggs
1 cup granulated sugar (200 grams)
1 teaspoon vanilla
½ teaspoon salt
½ teaspoon baking powder
¾ cup sifted all-purpose flour (84 grams)
Preheat oven to 350 degrees F. Line an 8 inch square metal pan with foil and spray foil with cooking spray.
Beat cream cheese and sugar together in a medium bowl. When smooth, beat in egg and vanilla. Set aside.
Melt chocolate and butter together in a saucepan.
Beat eggs and sugar together in a medium bowl. When egg mixture is light and frothy, beat in vanilla, salt and baking powder. Beat in the melted chocolate/butter mixture.
Add flour and stir until smooth. Pour half of brownie batter into pan. Pour cream cheese batter over brownie batter. Pour remaining brownie batter over top.
Bake on center rack for 35- 42 minutes (see note). Let cool to room temperature on cooling rack, then chill for at least an hour (preferably longer) before serving. A longer chill will make for a smoother filling.
Cut into 9, 12 or 16 squares.
Note: I cooked mine for 45 minutes. The brownies were good, but I think it might be better to cook them for a shorter period. So check the brownies at 35 minutes. Cook them until they are just-done and let them cook internally while cooking and resting.