Happy Seems-Like-July 4!
Yesterday didn't feel very much like a holiday. People were putting flags out, doing beer runs and getting houseguests settled in, but even though it was actually July 4, it felt like July 3 because A) it was a Friday and B) a lot of the fireworks displays and parties are today.
Tonight we're going to a party at some friends' house. We live on the edge of the hill country, but our friends live farther into the hills and have a great view of a neighboring club's fireworks. Dinner will be hamburgers and whatever people happen to bring. I usually take dessert and tonight will be no different. The hostess said her favorite combo was "chocolate and white chocolate" so I'm taking Marbled White Chocolate Cheesecake. It looks pretty good, but I won't be able to review it until late tonight.
Between now and then, I plan to make some cookies.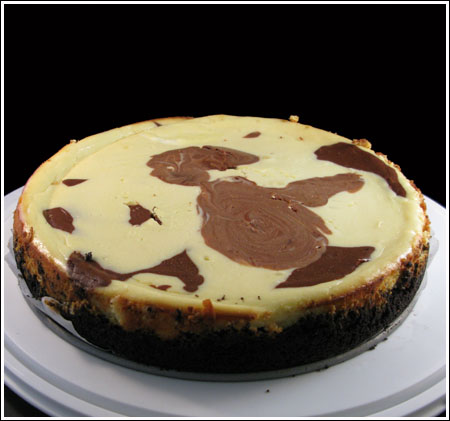 Marbled White Chocolate Cheesecake (adapted from Kraft)
24 Oreos (chocolate sandwich cookies)
5 tablespoons melted butter
24 oz cream cheese, softened
½ cup granulated sugar
1 teaspoon vanilla extract
3 large eggs
6 oz white chocolate (Baker's), melted
2 oz dark or semi-sweet chocolate, melted
Preheat oven to 350 degrees F. If using a black springform pan, preheat to 325 degrees F.
Rub butter all over a 9 inch springform pan; Line bottom with a round of parchment if desired.
Combine crushed cookies and butter. Press into bottom and slightly up sides of greased pan. Bake at 350 for 10 minutes. Remove from oven.
Beat cream cheese until smooth. Beat in sugar and vanilla and continue beating until fluffy. Reduce mixer speed to low and beat in eggs, one at a time, beating just until mixed.
Spoon out 1 cup of cheesecake batter and combine with melted dark chocolate. Add melted white chocolate to remaining batter in mixing bowl. Stir well.
Pour white chocolate mixture and dark chocolate mixture into pan alternately.
Bake on center rack for 40 minutes or until sides are set. Middle will still appear slightly wiggly. Cool completely on a wire rack. Transfer to refrigerator and chill for 3 hours or more.