This is an old recipe I used to make as a teenager. Back then I was always trying to lighten it by using sugar-free lime flavored gelatin, light whipped topping and probably incorporating fat free cream cheese. Many years later I have started making the recipe the way Philadelphia Cream Cheese intended. That is, with plain gelatin, lime juice and lime zest. And for the cream cheese, Neufchatel, which works just as well as regular full fat cream cheese.
Jump to Recipe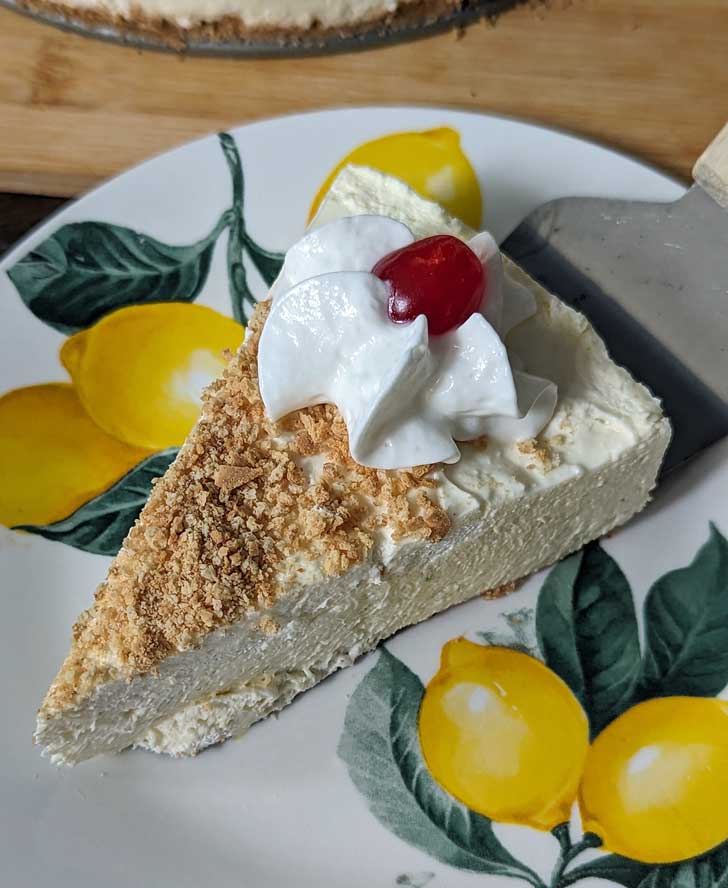 Texture and Flavor
Lime Delicious Cheesecake has a slightly fluffy, but also creamy texture. Using fat free cream cheese or altering anything else might change these results. Using full fat cream cheese gives you an even richer cheesecake, which some might prefer. I liked the Neufchatel. The flavor is pretty tart, but you could give it even more citrus punch if you're really into that. And this cheesecake is not very sweet. You definitely do not need to cut any sugar here, and if you use unsweetened whipped cream in place of the whipped topping (you'd need about 6 oz), be sure to sweeten it.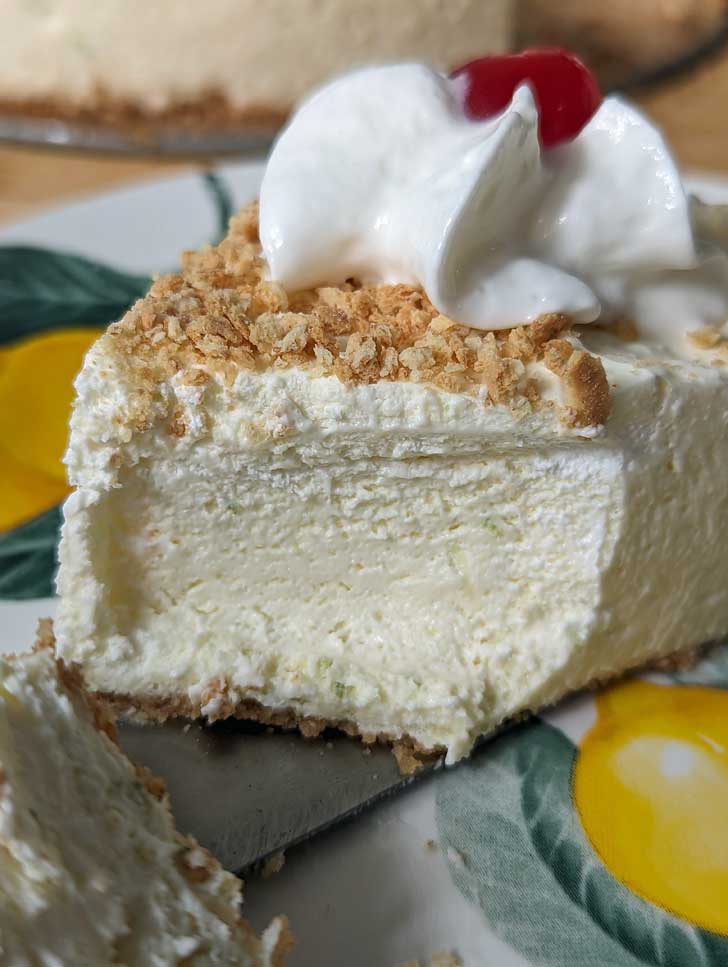 Raw Egg Whites in Lime Delicious Cheesecake
The only drawback to this recipe is that it calls for raw egg whites, so if you aren't willing to risk the slight chance of salmonella or are serving this to anyone else (I think everyone should be told if a dessert has raw egg whites), you can try pasteurize the eggs yourself using one of the many methods available. My favorite is the one I used for the Cottage Cheese Cheesecake.
Recipe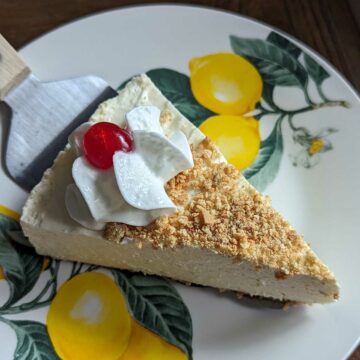 Lime Delicious Cheesecake
A slightly lighter cheesecake flavored with lime zest, lime juice.
Ingredients 
1

envelope

plain gelatin (2 ½ teaspoons)

¼

cup

cold water

½

cup

sugar

(divided use)

(100 grams)

¼

cup

lime

1 ½

teaspoons

lime zest

3

large

eggs, separated

16

oz

light cream cheese (Neufchatel) softened

¼

teaspoon

vanilla extract

1-2

drops

green food coloring (optional)

2

cups

thawed frozen whipped topping
Crumb Crust
1

cup

graham cracker crumbs

2

tablespoon

sugar

½

teaspoon

cinnamon

½

teaspoon

nutmeg

4

tablespoons

butter, melted
Instructions 
In a saucepan, off heat, soften gelatin in cold water for 3 minutes. Put the saucepan over heat and heat just until hot. Stir to dissolve gelatin.

Remove gelatin from heat briefly and whisk in ¼ cup of the sugar, lime juice, lime zest and egg yolks. Cook, stirring constantly, for 5 minutes. Let cool.

While yolk mixture cools, put your egg whites and ¼ cup of the sugar in a heat-proof bowl set over a saucepan of simmering water. Using lowest speed of a handheld mixer or whisk, mix until an instant read thermometer registers 160 degrees F. Remove from heat at 160F and continue beating until soft peaks form. Do not let them get too stiff.

In a mixing bowl, beat the softened cream cheese and gradually add the cooled gelatin mixture to it. Beat in the food coloring (if using) and fold in the egg whites and whipped topping.

Turn into pan and smooth with a spatula. Chill until firm.
Crumb Crust
Mix graham cracker crumbs, sugar, cinnamon, and nutmeg. Pour in melted butter and mix well. Press into greased 8 or 9 inch springform pan.