The next time you're in Spain, be sure to drop by La Viña for a slice of their famous Burnt Basque Cheesecake. See ya there! In the meantime, how about making a Loaf Pan Basque Burnt Cheesecake? This smaller scale version of the trendy intentionally burnt, crustless cheesecake is quick to put together. Chill time is substantial, but overall it's a high reward/low effort dessert.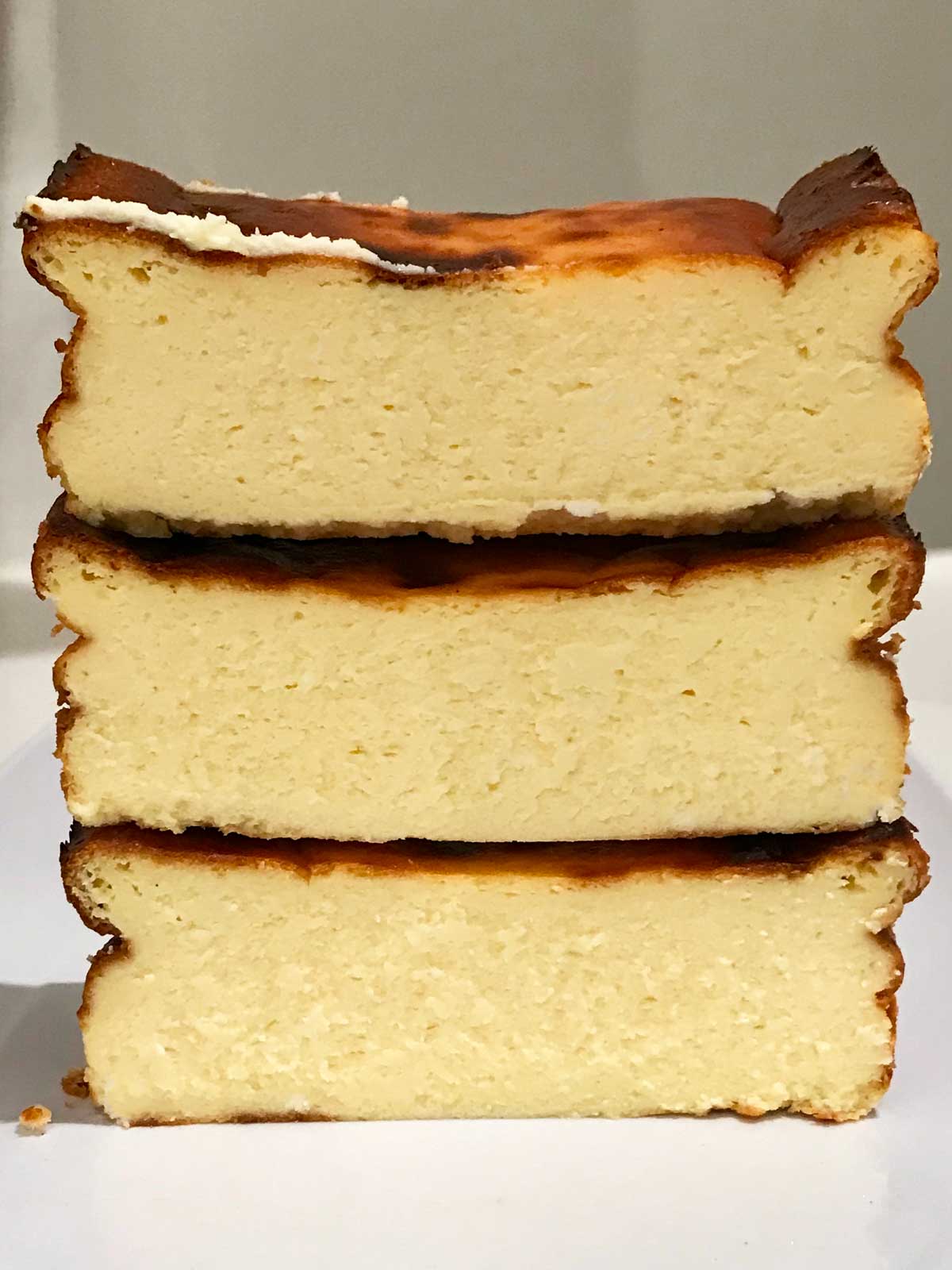 Loaf Pan Basque Burnt Cheesecake Adjustments
The recipe inspiration came from a site called U-Taste, but I had to make quite a few adjustments. The original wasn't sweet enough and didn't call for any flavorings. Using less sugar and leaving out flavorings is an option if you are showcasing a fine cheese, but if you're using American grocery store brand cream cheese, the cake needs some flavorings. I chose vanilla and lemon juice. In addition to that I got carried away and made a crust for a couple of the cheesecakes, but that's not really necessary. Basque Burnt Cheesecakes are supposed to be crustless. The "burnt" top and the sides form their own thin crust.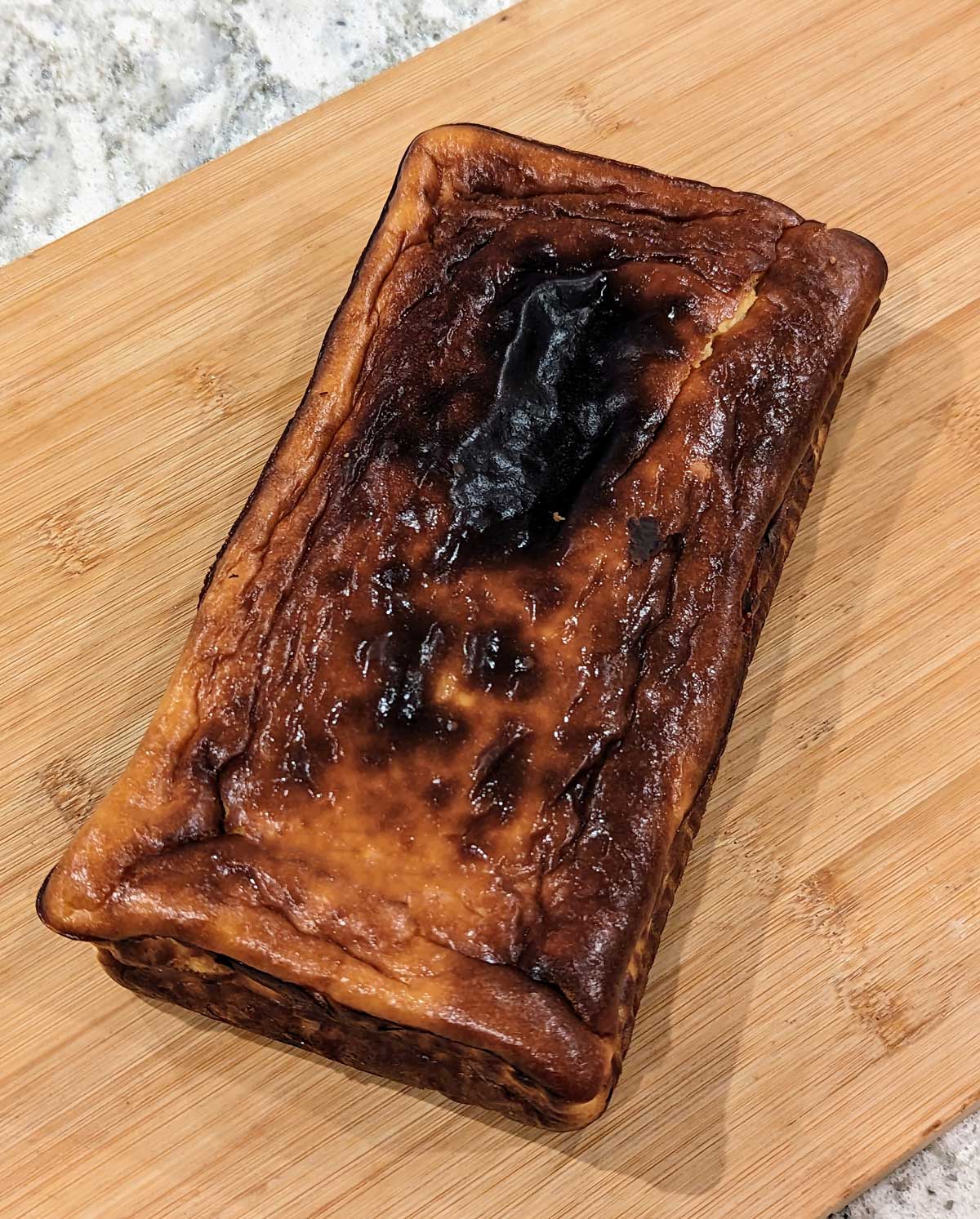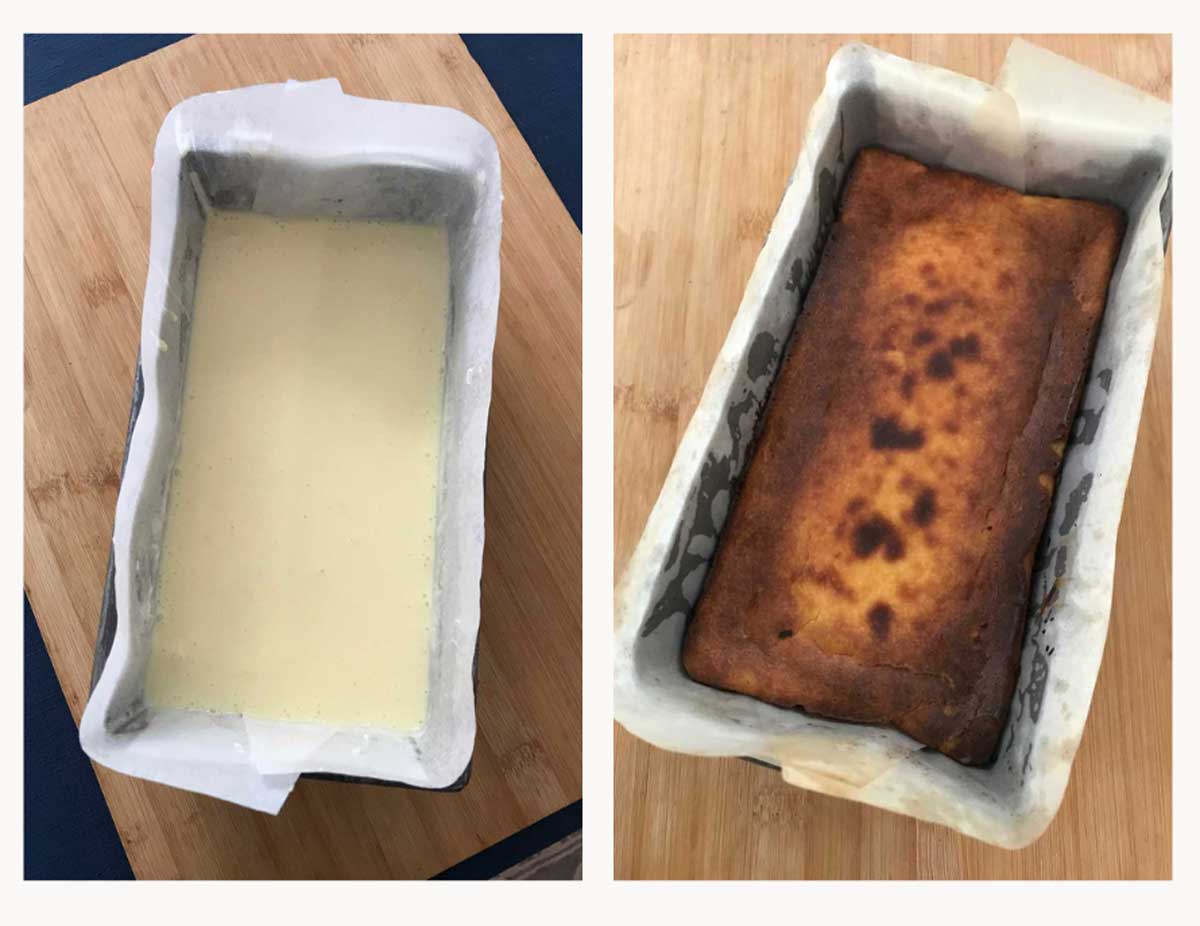 Which Size Loaf Pan
The first time I made this, I used a true 9x5 inch loaf pan. It's the one pictured below, which gives you an idea how to line with parchment. For the second cake, I tested with an 8 ½ by 4 ½ inch pan. The smaller of the two pans worked best because the cheesecake was slightly taller and creamier. So I recommend the 8 ½ by 4 ½ inch size pan, but a 9x5 inch will do.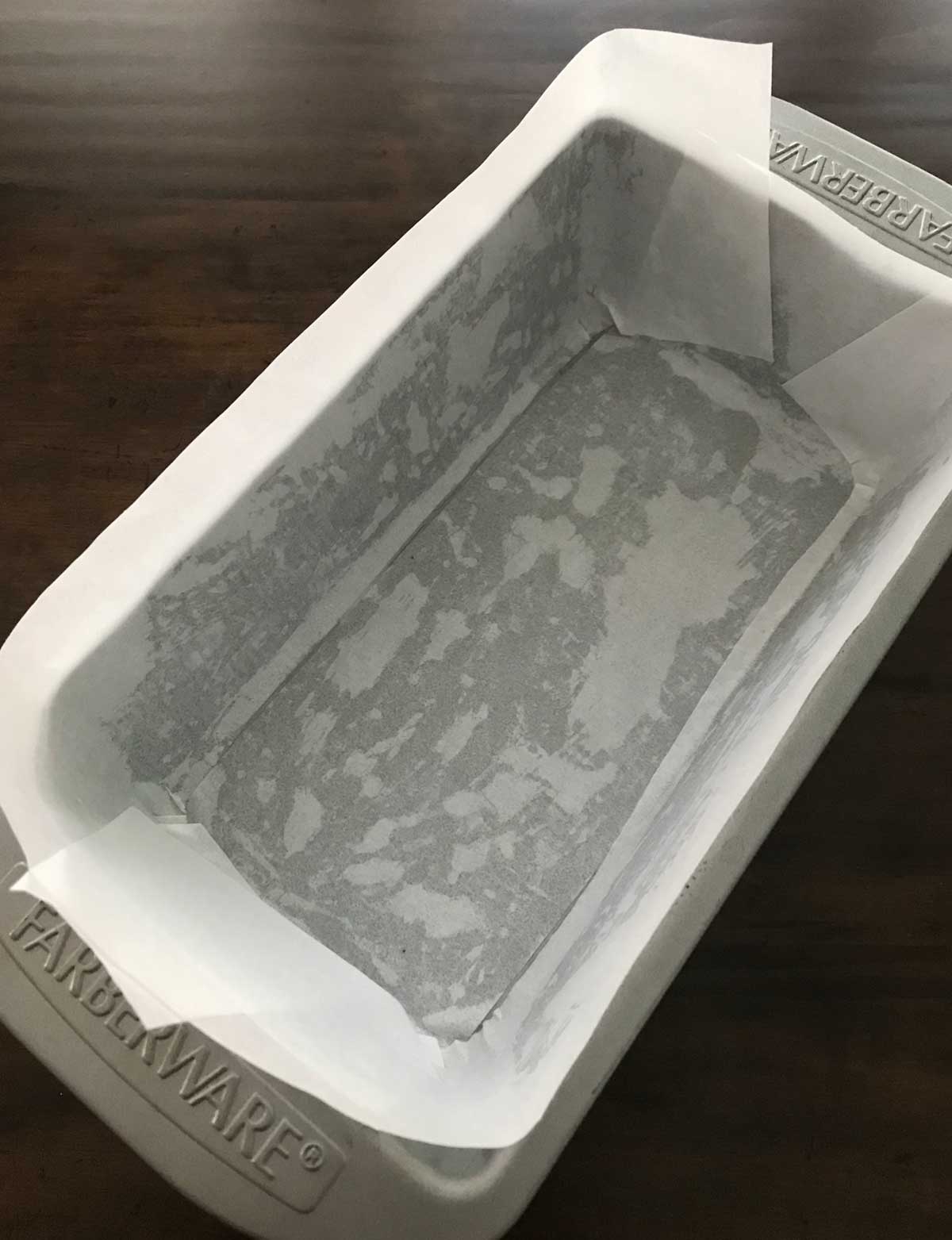 Room Temperature Ingredients
Remember to bring all of your ingredients to room temperature. In this case, that's warm room temperature. My cheesecakes were the most successful when I used cream cheese soft enough to be stirred with a silicone scraper. This meant microwaving the cream cheese at 50% power and stirring every 30 seconds until very soft. The eggs and cream should also be brought to room temperature. As for the stirring, I don't see why you couldn't use an electric mixer on very low speed. But as mentioned, I've been stirring everything with a scraper.
Baking in a Breville Toaster Oven
This recipe works perfectly in a Breville oven, which is the only oven I've tested in. The Breville oven has a light, and I was able to watch the browning action, which didn't really start happening until close to the end of the bake time. For this cake, 440F was the perfect temperature and the time was between 25 and 28 minutes. The browning and the internal cooking need to be in sync. It's possible you could get a burnt top and an overbaked center or a perfect center and not as dramatically dark a top. So don't be surprised if you have to make an adjustment to get both the perfect top and center.
Basque Cheesecake with Cookie Crust
The point of this dessert is simplicity, but If you like the looks of the pumpkin chocolate chip cookie crust and want to give it a go, just make a batch of Pumpkin Chocolate Chip Cookie dough. Form into rounds. Save most of the rounds for cookies, and use only 3 or 4 of your rounds for the crust. Just press them into the prepared pan and bake at 400 degrees F for 10 minutes. Pour the batter over the baked cookie crust. Molasses cookie dough works too, and I'm guessing soft gingerbread dough would as well. I'd start with this dough for gingerbread men.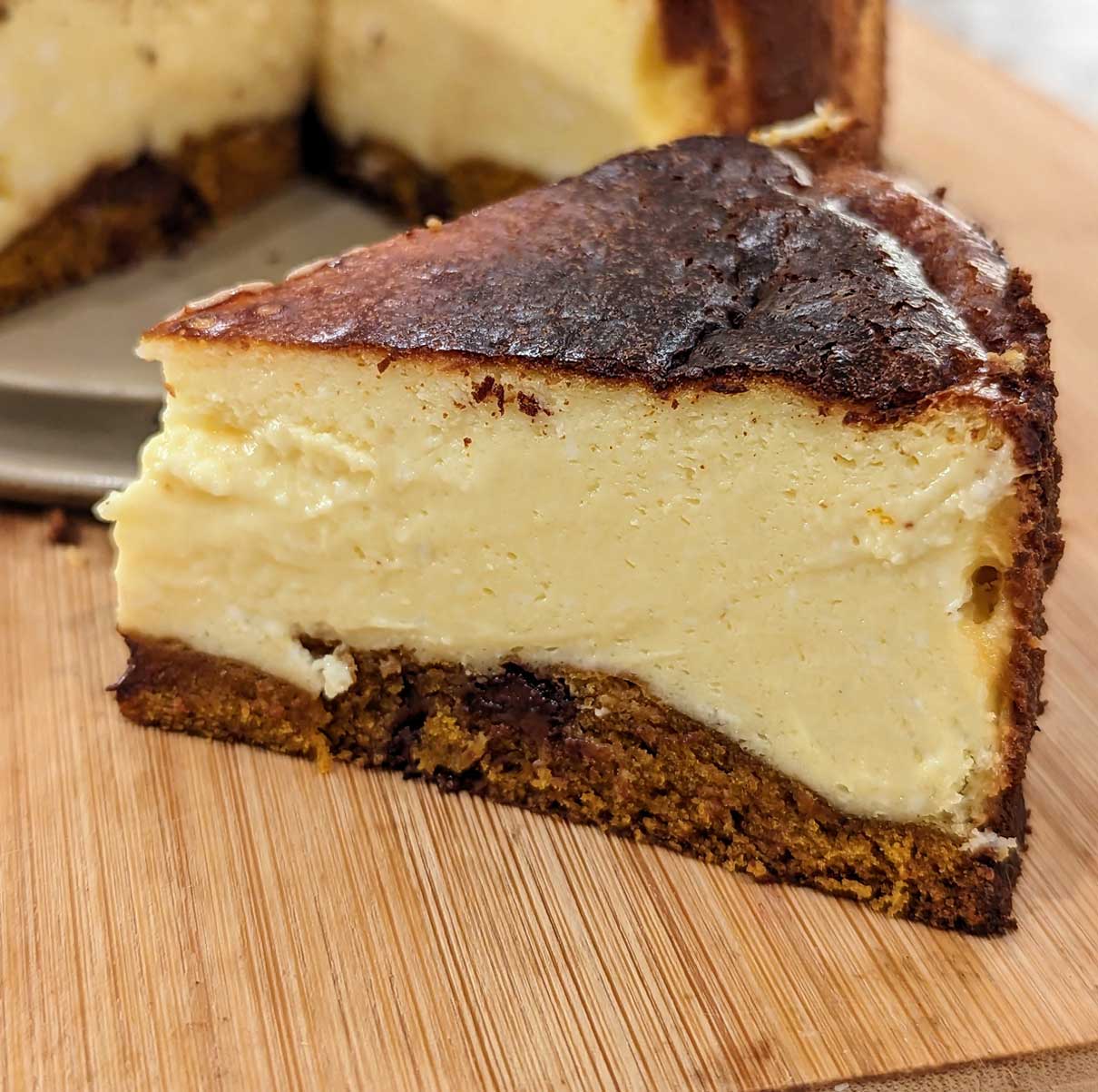 6-inch Springform
And yes! You can make Loaf Pan Basque Cheesecake in a 6-inch springform pan. Just follow the same directions, but use a 6-inch springform. Bake time should be the same, but that can vary across ovens. My 6-inch springform is a gold one from Aldi, but they are easy to find online or in other stores.
New York Style Loaf Pan Cheesecake
Burning things on purpose is fun, but here's a link to my old Loaf Pan New York Style Cheesecake if you'd rather have a lighter top or just want a different recipe. The New York Style calls for a water bath and a shortbread crust.
Recipe
Basque Loaf Pan Cheesecake
Stiff, dense, cheesecake with an intentionally burnt top.
Ingredients 
12.9

oz

cream cheese (this is a little over 1 ½ blocks)

(360 grams)

1 ½

tablespoon

granulated sugar (optional)

⅔

cup

powdered sugar

(80 grams)

1 ¼

tablespoon

cornstarch (or just a generous tablespoon)

(10 grams)

½

tablespoon

lemon juice

(14 grams)

½

tablespoon

vanilla extract

(14 grams)

3

large

eggs, room temperature

(150 grams)

1

large

egg yolk

(18 grams)

7

tablespoons

heavy cream (that's ½ cup minus a tablespoon)

(100 grams)
Instructions 
Before you start, bring all the ingredient to room temperature. You can submerge the eggs in warm water, soften the cream cheese using a low setting on the microwave and warm the cream just a bit.

Grease the inside of a loaf pan and line with parchment paper strips. If you'd rather use a 6-inch springform pan, that works too..

In a mixing bowl, by hand or using lowest speed of an electric mixer, beat together the softened cream cheese, sugars, lemon juice, and vanilla. Stir in each egg one at a time, followed by that one yolk. Lastly, stir in the heavy cream.

Pour the cream cheese mixture into the loaf pan or sprinform. If you've made an optional crust, just pour it right over the cooled crust.

Bake the cheesecake at 440 degrees F for about 25 to 28 minutes or until the top is browned. The bake time might vary slightly based on the type pan you used. A wider pan such as a 9x5 inch might be done in 25 minutes, while the narrower and deeper pans (or the 6-inch springform) should be done in 28.

Remove from oven and let cool for about an hour at room temperature, then transfer to the refrigerator and chill for at least 6 hours.