Mark your calendars for October 28, because that is the approximate release date of Shirley Corriher's new book Bakewise I can't wait! Her other book, Cookwise, is one of my favorites, but I generally head straight to the sections on baking. Now she's giving us a whole book devoted to the subject of glutens, acidity, chemical reactions. I'm getting goose bumps just thinking about it! Okay, not really.
October 28 just can't come soon enough, but at least we still have Cookwise, and today's recipe is adapted from one in that book. In Cookwise, Shirley Corriher offers up four variations on the chocolate chip cookie — – basic, thin, puffed and in between. I've made both the "puffy" and the "in-between", but yesterday I found myself short on eggs and decided to try the "thin" which are free of eggs.
It's nice to have a few egg free cookie recipes in your collection, and this is a good one. The cookies aren't particularly attractive, but they're presentable. Most importantly, they are loaded with vanilla, butter, and chocolaty flavor and have a firm, chewy texture. For those of you who don't like your cookies cakey, these are about as far as you can get.
In Cookwise, Shirley says she uses bleached flour because it doesn't absorb as much liquid, a little extra milk to help the cookies spread, extra baking soda for browning, and corn syrup to add some crispness which in these cookies, is only around the edges. The rest of the cookies are chewy.
And finally, without the eggs, these cookies should be easy to veganize. Since the main purpose of the milk is to thin the batter, it seems soymilk would work just fine. As for the butter, Earth Balance Butter Sticks would most likely do the trick, but most vegan bakers already have a good butter substitute.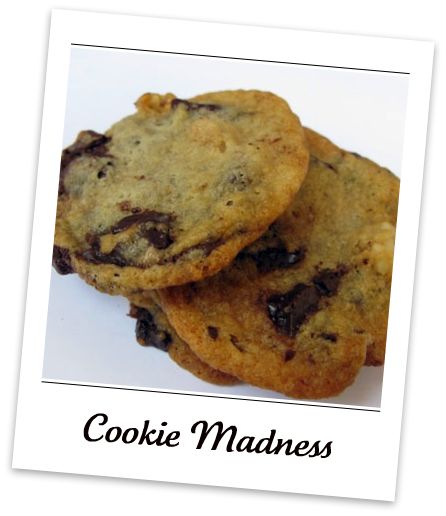 Egg Free Thin and Chewy Chocolate Chunk Cookies
1 1/2 cups all-purpose flour (192 grams/6.75 oz)**
3/4 teaspoon salt
3/4 teaspoon baking soda
10 tablespoons unsalted butter, room temperature
1/2 cup sugar
1/3 cup light brown sugar, packed
3 tablespoons light corn syrup
2 tablespoons milk
1 tablespoon pure vanilla extract
7 oz semi-sweet chocolate, cut into large chunks
½ cup toasted walnuts or pecans, chopped
Preheat the oven to 375 degrees F (191 C)
Thoroughly stir together the flour, salt and baking soda in a medium mixing bowl.
Using an electric mixer, cream butter and sugar in a large bowl until light and fluffy; Add the corn syrup and then add the milk and beat well. Beat in the vanilla.
On low speed (or by hand) gradually add the flour mixture until thoroughly combined. Scrape down sides of bowl with a rubber spatula. Stir in the chocolate and nuts
Drop batter by rounded tablespoonfuls spacing 2 inches apart onto parchment lined cookie sheets. Bake for about 10- 12 minutes or until the edges just begin to brown. Remove from oven and let cookies cool on sheets for about 5 minutes. Carefully transfer to a rack to cool and set.
Makes about 30
**Shirley originally calls for bleached flour, but I used unbleached because that's what I had.