This recipe for Egg-Free Chocolate Chip Cookies (or Eggless Chocolate Chip Cookies) is one I posted years ago when I heard that Shirley Corriher was coming out with a new book, Bakewise. I couldn't wait to buy Bakewise, so I pulled Shirley's other book, Cookwise, off the shelf and baked a batch of her chocolate chip cookies.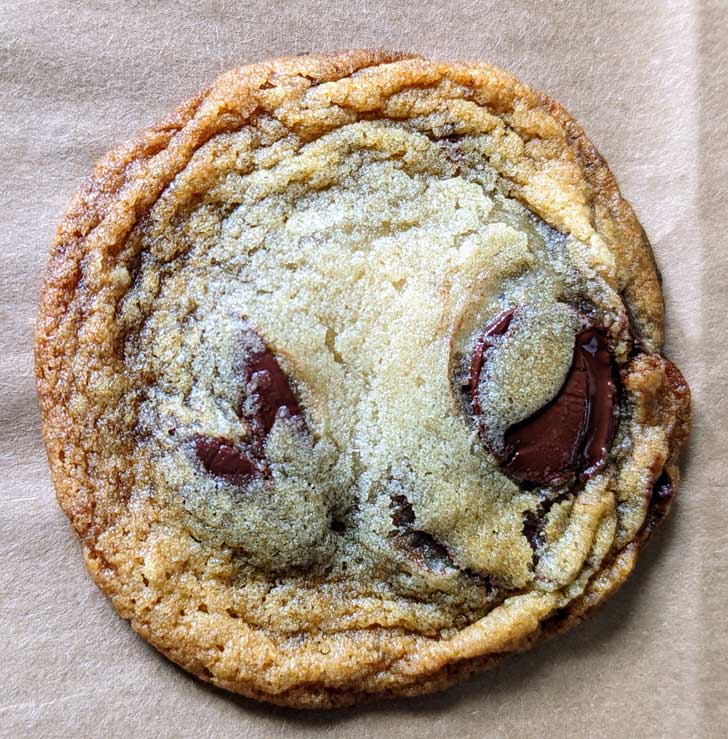 Egg-Free Chocolate Chip Cookies = Thin
Cookwise and Bakewise are both great books for anyone interested in the science behind baking. In Cookwise, Shirley gives examples of four variations on chocolate chip cookies — basic, thin, puffed and in between. Egg-Free Chocolate Chip Cookies are the thin cookies.
Flavor and Texture
It's nice to have a few eggless cookie recipes in your collection, and this is a good one. The cookies aren't particularly attractive (Update: Yes they are!), but they're presentable. Most importantly, they are loaded with vanilla, butter, and chocolaty flavor and have a firm, chewy texture. For those of you who don't like your cookies cakey, these are about as far as you can get.
In Cookwise, Shirley says she uses bleached flour because it doesn't absorb as much liquid, a little extra milk to help the cookies spread, extra baking soda for browning, and corn syrup to add some crispness which in these cookies, is only around the edges. The rest of the cookies are chewy.
Eggless Chocolate Chip Cookies For Two
I recently bought some Lyle's Golden Syrup and wanted to see how it would work in place of corn syrup. Since this was a test, I made a small batch of eggless chocolate chip cookies for two. Without eggs, the cookie recipe was very easy to scale down. Here are the measurements.
65 grams flour, AP
1/4 teaspoon salt, keep it scant. Use only tiny pinch if butter is salted.
1/4 teaspoon baking soda
47 grams softened unsalted butter
33 grams granulated sugar
22 grams light brown sugar
20 grams golden syrup
2 teaspoons whole milk
1 teaspoon vanilla
handful of chocolate chips
Small Batch Directions
To make the small batch, mix together flour, salt and baking soda. In a mixing bowl, beat together softened butter, both sugars and golden syrup. Beat in milk and vanilla, then in flour mixture followed by the chips. You can make the cookies any size. I used a generously portioned medium sized scoop and got 6 cookies. Bake on a parchment lined baking sheet at 350 for about 10 minutes. Remove from the oven when the edges are brown and the centers are still pale, then let cool completely on the baking sheet. The cookies should brown more as they cool.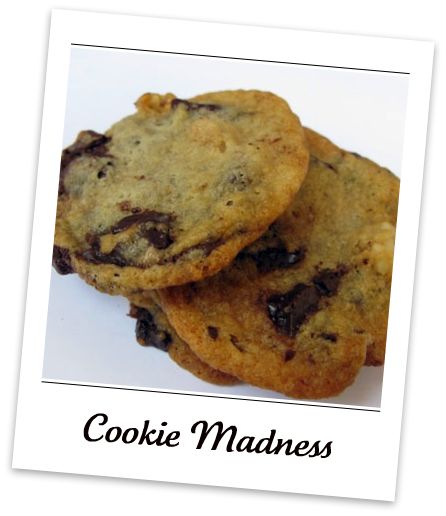 Vegan Chocolate Chip Cookies — Finally Tested
I finally made the egg-free or eggless recipe with other vegan ingredients and found these make the MOST DELICIOUS vegan chocolate chip cookies. I can also see the recipe being a complete disaster for people, so I've included a small batch you can test the waters without wasting precious Lyle's Golden Syrup (the key!). There are always so many little variables from kitchen to kitchen, as those of you in professional test kitchens know so well.
What makes these so good is the caramel flavor from the golden syrup (and the Maillard reaction around the edges), the Guittard Disks (which appear to be vegan) and the very chewy edges.
20 grams Lyle's Golden Syrup (1 tablespoon)
1/4 teaspoon baking soda
47 grams vegan butter, straight from the refrigerator. Have tested with Country Crock Plant Butter (stick form) and Earth Balance Soy Free (tub)
33 grams granulated sugar (2 1/2 tablespoons)
25 grams light brown sugar, packed (2 tablespoons)
2 teaspoons water
2 teaspoons ground flax
1 teaspoon vanilla extract
1/8 teaspoon salt — vegan butter is pretty salty, so I've reduced salt to 1/8 tsp.
65 grams of all-purpose flour (1/2 cup)
Big handful of Guittard 66% Chocolate Disks (will be awkward given their shape)
Small Batch Vegan Version Directions
Preheat the oven to 350 degrees F.
Put 20 grams of golden syrup in a small custard cup. Stir the 1/4 teaspoon baking soda into the golden syrup The baking soda should slowly react with the acid in the golden syrup, so just let it sit for about 5 to 10 minutes while you do other things.
In a mixing bowl, using an electric mixer, beat together the 47 grams vegan butter and the 33 and 25 grams total both sugars. Beat until creamy, scraping the sides of the bowl. Beat in the vanilla, water and 2 teaspoons ground flax. Scrape in the golden syrup/baking soda mixture and beat until blended, then add the flour and stir to make a pretty soft dough.
Add the wafers and shape into 5 or 6 balls. The wafers are big and round, so do your best to just ensconce them with dough. You can chill the dough balls for several hours or bake immediately. Bake at 350 for 10 minutes or until edges are brown and centers seem set, but still pale and a little underdone. If you are having issue with the edges darkening too fast, reduce the heat 325 and bake at 325 for slightly longer. Here's what the cookie should look like when you pull them from the oven.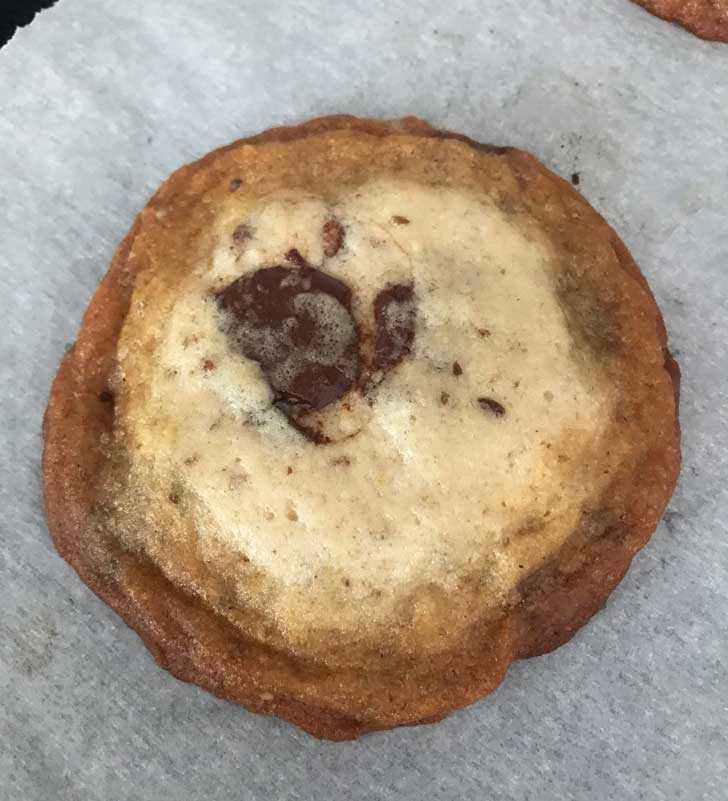 Here is the original "normal" size recipe adapted from Shirley Corriher's recipe in Bakewise. I recommend using golden syrup in place of the corn syrup. These are very thin and extra chewy. Shirley used 375 as the baking temp, so give it a try and if the cookies are heating up too quickly around the edges and too raw in the center, reduce heat to 350.
Egg-Free Chocolate Chip Cookies — Original Version
1 1/2 cups all-purpose flour (192 grams/6.75 oz)**
3/4 teaspoon salt
3/4 teaspoon baking soda
10 tablespoons unsalted butter, room temperature
1/2 cup sugar
1/3 cup light brown sugar, packed
3 tablespoons light corn syrup (or Lyle's Golden Syrup)
2 tablespoons milk, whole milk
1 tablespoon pure vanilla extract
7 oz semi-sweet chocolate, cut into large chunks
½ cup toasted walnuts or pecans, chopped
Preheat the oven to 375 degrees F (191 C). You can also use 350F and bake slightly longer. Once these start to brown, they brown quickly!
Thoroughly stir together the flour, salt and baking soda in a medium mixing bowl.
Using an electric mixer, cream butter and sugar in a large bowl until light and fluffy; Add the corn syrup and then add the milk and beat well. Beat in the vanilla.
On low speed (or by hand) gradually add the flour mixture until thoroughly combined. Scrape down sides of bowl with a rubber spatula. Stir in the chocolate and nuts
Drop batter by rounded tablespoonfuls spacing 2 inches apart onto parchment lined cookie sheets. Bake for about 10- 12 minutes or until the edges just begin to brown. Remove from oven and let cookies cool on sheets for about 5 minutes. Carefully transfer to a rack to cool and set.
Makes about 30 (or fewer if you make your cookies larger)
**Shirley originally calls for bleached flour, but I used unbleached because that's what I had.