If you need to make Lemon Bars without eggs, this recipe for Eggless Lemon Bars is a must-try! I never thought I'd want to make Lemon Bars (aka Lemon Squares) without eggs, but I'm glad I tried it. These are even better than the egg version. They have a buttery shortbread crust, smooth lemon topping, and lots of citrus, but no egg flavor.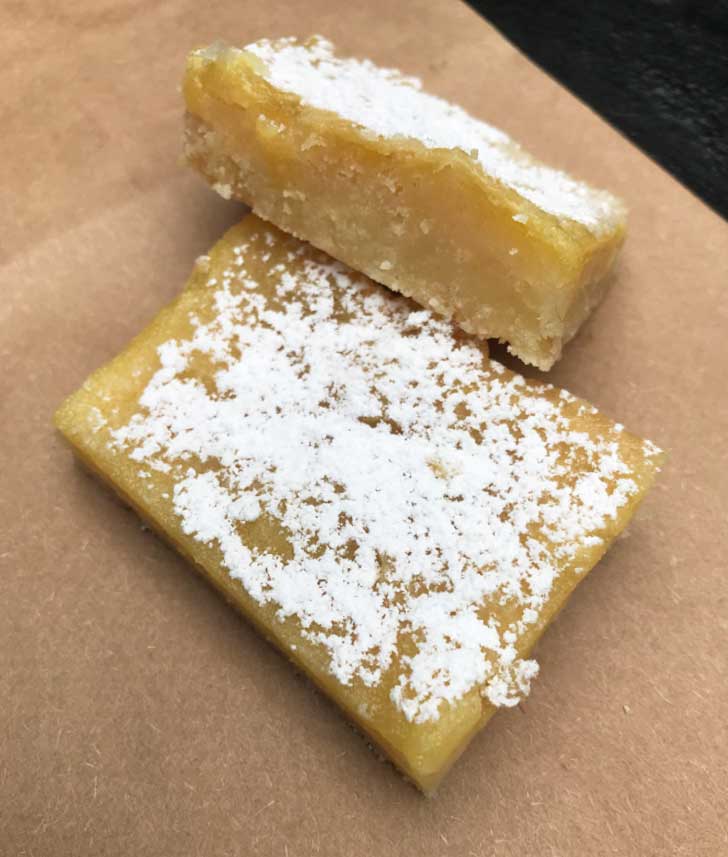 Why Make Eggless Lemon Bars?
Leaving out the eggs was not a dietary decision, but rather all about flavor. I like eggs and I like lemons, but the older I get, the more I'm tasting "egginess" in the lemon-egg combo. Everything from lemon meringue to lemon curd has an off-putting flavor. From what I've read, not everyone notices this flavor but some are sensitive.
I've tried everything various things to remove the egg flavor including using organic lemons, the freshest ingredients and removing the chalazae from the eggs. Nothing really worked. The only way to get rid of the egg flavor was to remove the eggs and replace them with a mixture of cornstarch and evaporated milk. The texture's different, but the new bars are good.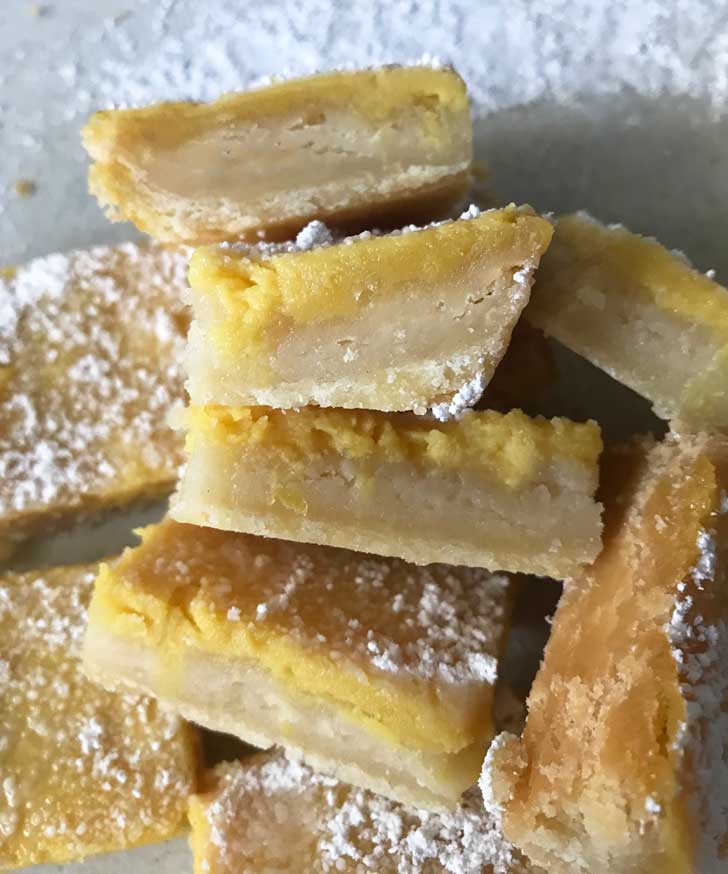 Not Vegan (Yet)
Eggless Lemon Bars are not vegan. The crust is made with butter and the key ingredient in the lemon topping is full fat evaporated milk. I wouldn't bother trying with skim. So there's dairy in the crust and dairy in the topping. I'm pretty sure one of the new vegan plant butters could stand in for the butter in the crust, but as of yet I haven't found a vegan alternative to the evaporated milk topping. There are lots of good looking recipes that use coconut milk, but those have a completely different flavor. I'll update when I try.
Jump to Recipe
Pan Size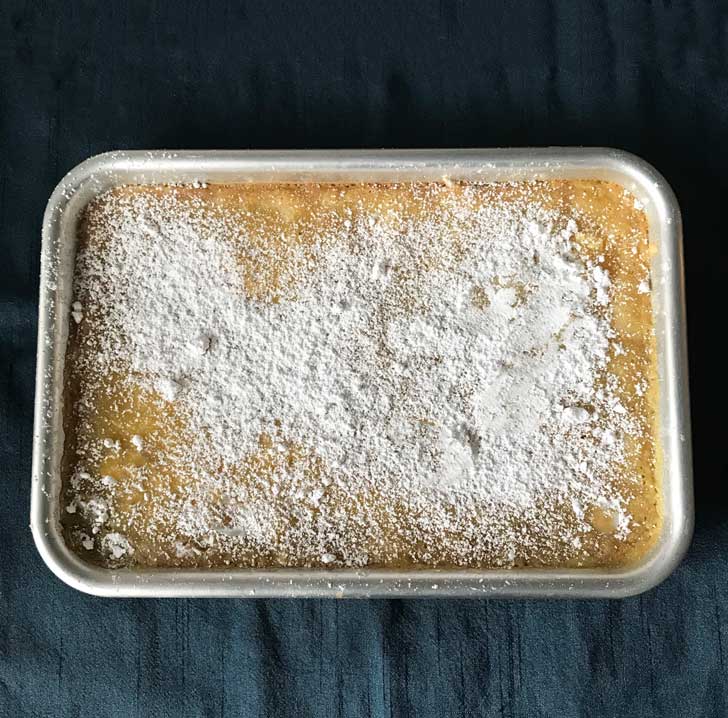 I've made these twice using my new ⅛ Sheet Pan, which I plan to write a whole post about soon. It works perfectly for this recipe, but I don't see why an 8 inch pan wouldn't work just as well. A ⅛ sheet pan is about 70 square inches and an 8 inch pan is about 64, so bars made in an 8 inch square pan will be just slightly thicker and may require a few more minutes of bake time. Next time I'll test in an 8 inch square pan.
Ingredients
The ingredients are pretty easy to find.
Salted Butter -- Splurge and use a good European style or cultured butter. I've been using Vermont Creamery brand. Melt it very gently in the microwave using a lower heat setting.
All Purpose Flour -- Any brand works, I've been using King Arthur lately.
Sugar
Salt -- I use Morton kosher for just about everything.
Fresh Lemon Juice -- Try straining it for smoother bars.
Lemon Zest
Cornstarch
Evaporated Milk -- Please do not use skimmed evaporated.
Yellow Food Coloring -- A few drops really makes the bars pretty.
Powdered Sugar
The Process
The crust is made by simply mixing melted butter with sugar, salt and flour. I like to treat it the same way I would shortbread dough, so I chill it after assembling to re-solidify the butter.
While the crust is baking, you mix the granulated sugar with the zest and enjoy some citrus aromatherapy, then add the cornstarch, lemon juice and evaporated milk. A few drops of yellow food coloring adds a nice touch of color, but is optional. The filling then gets baked for 20 to 25 minutes.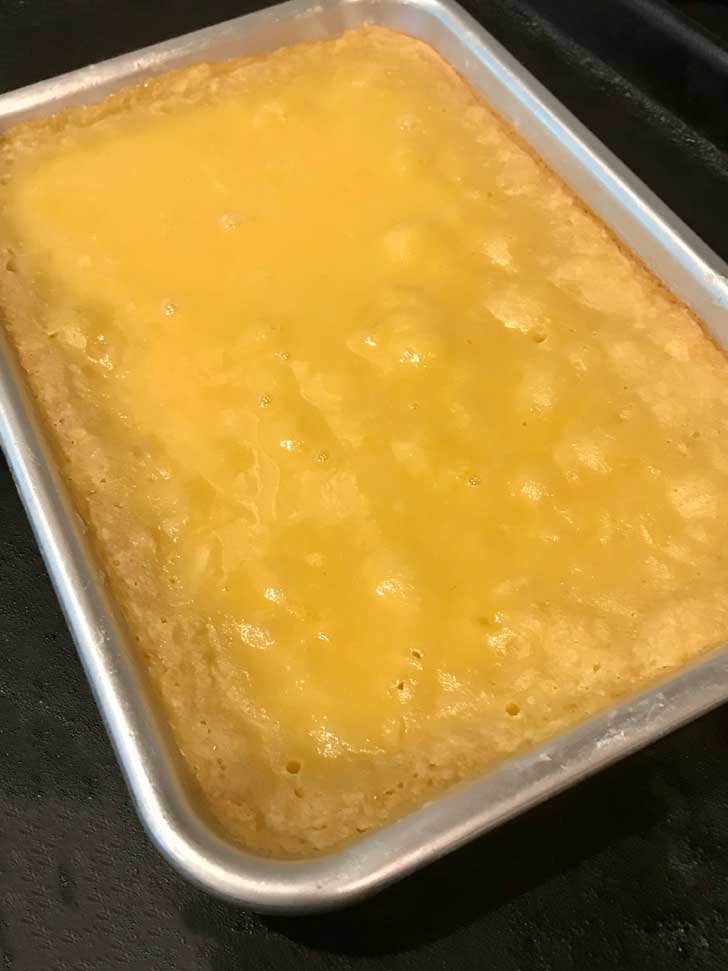 As with regular lemon bars, you let Eggless Lemon Bars cool for a bit, then dust with powdered sugar. If you are not concerned about having a clean cut (or their appearance, in general), just let them cool at room temperature and then cut.
Hint: For a clean cut (straight edges), chill the bars before cutting. Eggless Lemon Bars taste best at room temperature rather than cold, so after you chill and cut, bring to room temperature before serving.
Substitutions
As for now I do not have a substitution for the evaporated milk, but I will update when I do!
Variations in the Crust and Filling
I'm partial to a good buttery shortbread crust, but if you want to be more creative you could use a graham cracker crust or a brown sugar crust like this one. For the filling you could try grapefruit or lime, but does anything really compare to real Lemon Bars? If you're making variations, it might be better to just check out some other types of recipes like Creamy Lemon Blueberry Bars or Double Lemon Cheesecake Bars. Of course those contain eggs.
Storing Lemon Squares and Bars
Lemon squares are notoriously finicky when it comes to storage. You can keep them at room temperature for a day, chill them for two or freeze them long term, but no matter what the powdered sugar always gets absorbed, so if you are storing lemon squares, do not put the powdered sugar on top until you are ready to serve. Eggless Lemon Squares can sit at room temperature for a few hours, but it's best to store them in the refrigerator or freezer.
More Egg-Free Recipes
I chose to leave the eggs out because I don't like the flavor of lemon & egg. If you are baking for someone with allergies or have other reasons for doing egg-free baking, check out Oriana's blog, Mommy's Home Cooking, for tons of egg-free recipes. She also has a cookbook called The Simply Eggless Cookbook.
Recipe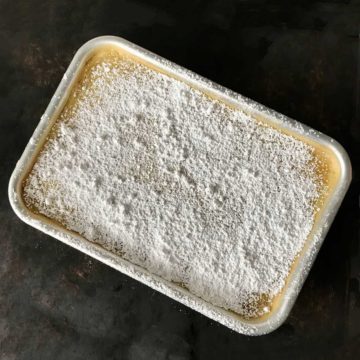 Eggless Lemon Bars
Eggless Lemon Bars have a smooth lemon topping and firm shortbread crust.
Ingredients 
Melted Butter Shortbread Crust
1

cup

all-purpose flour

(130 grams)

4

tablespoons

granulated sugar

(50 grams)

⅛

teaspoon

salt or ½ if using unsalted butter

1

stick

salted butter, melted and cooled (cultured)

(114 grams)
Eggless Lemon Topping
⅔

cup

granulated sugar

(130 grams)

1

tablespoon

lemon zest

2

tablespoons

plus 2 teaspoons cornstarch

(22 grams)

⅓

cup

fresh lemon juice, strained**

½

cup

evaporated milk

couple drops of yellow food coloring

optional
Instructions 
Line a ⅛ sheet pan or an 8 inch square pan with parchment paper, then grease the parchment. You can substitute nonstick foil if you want, or use nothing at all. These are sticky, though!

In a mixing bowl, stir together the flour, sugar and salt. Add the melted butter and stir until blended, then transfer to the buttered pan. Press evenly. Chill for about 30 minutes or until firm

Preheat the oven to 325 degrees F.

Bake crust for about 28 minutes or just until the edges start to brown. Do not underbake or the crust will be too soft.

While the crust is baking, put the sugar in a mixing bowl and stir in the lemon zest. Mix well. Stir in the cornstarch, then gradually add the lemon juice, stirring until smooth. Stir in the evaporated milk and a few drops of yellow food coloring if desired (recommended!).

Pour the lemon topping over the hot crust. Bake at 325 degrees for another 20 minutes (maybe 25 in a square pan) or until tiny bubbles appear in the lemon filling. It may not look done, but it will set as it cools.

Remove from the oven and let cool for 30 minutes. If serving immediately, dust with powdered sugar and cut. For a cleaner cut, do not dust with powdered sugar. Let cool at room temperature, then chill for at least and hour or until firm. Cut on square out of the pan, then pry the rest of the bar from the pan and cut on a cutting board. Dust with the powdered sugar before serving.
Notes
Thanks to Oriana at Mommy's Home Cooking for the inspiration!  Check out her blog for lots of other egg free recipes or a 9x13 inch size version of this one.