This post originally contained a link to a recipe in The Daily Herald for Shirley Corriher's Brownies.  It no longer works, so here's a slightly paraphrased version of the recipe.  It is adapted from Bakewise, which is still one of the best books on baking chemistry.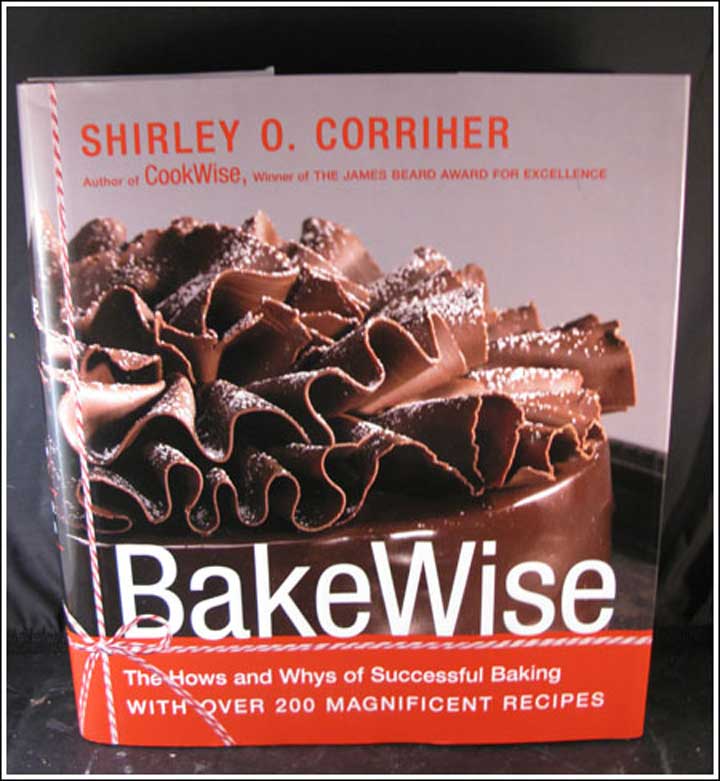 Shirley Corriher's brownies call for cake strips. If you want to make the brownies now and don't have cake strips, a quick Google search will bring up loads of ways you can make your own cake strips. I used the method of rolling damp paper towels up in foil. It seemed to work well, but I'll probably order some cake strips and use those next time.
Fudgy Brownies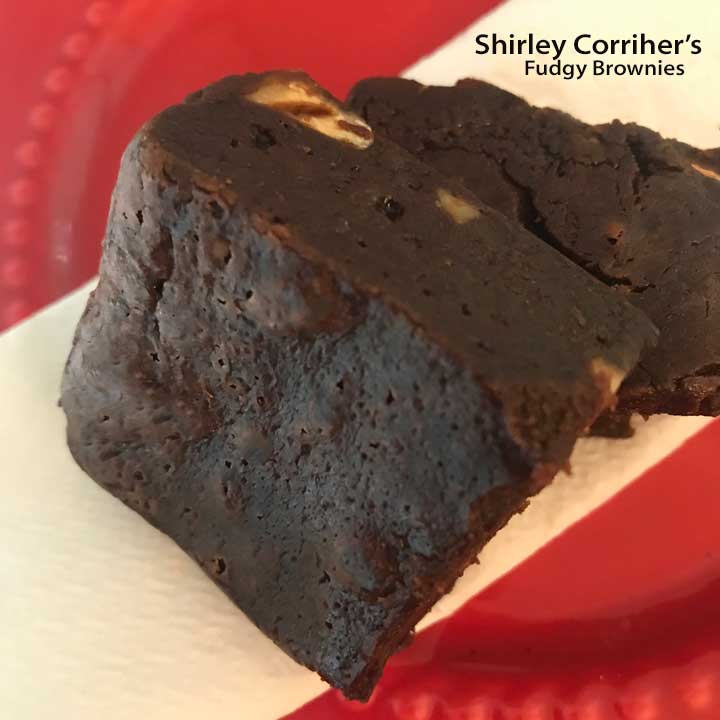 In Bakewise, Shirley share two different brownies recipes. If you can't tell by the photo, these are the fudgy ones. I took the tip from a reader and used unsweetened chocolate rather than the German's and liked the results.
I really need to make these again. The only issue is this recipe makes a full 9x13 inch pan, which is more than we usually need. I'll have to halve it, which means 2 large eggs and an awkward amount of 1 ½ egg yolks. I'll update the photo soon.
Recipe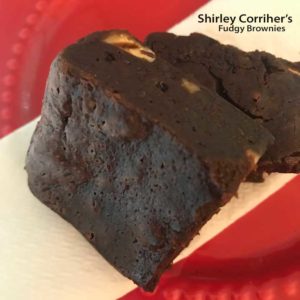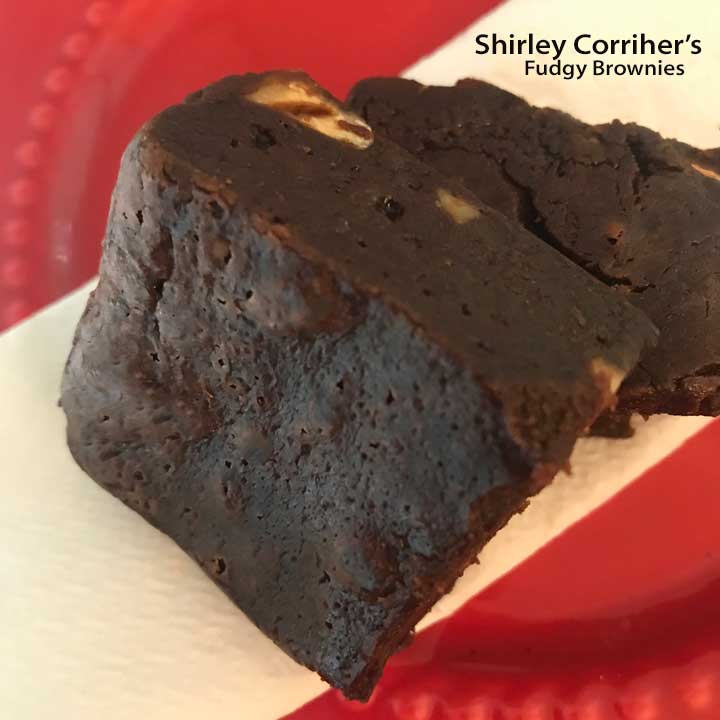 Shirley Corriher's Brownies
Adapted version of Shirley Corriher's Brownies from Bakewise
Ingredients 
1-½

cups

pecans

1-½

cups

plus 2 tablespoons unsalted butter

cut into 1-tablespoon pieces, divided

12

ounces

semisweet chocolate

chopped

1

ounce

German's Sweet Chocolate OR unsweetened chocolate

tip from reader

4

large

eggs

3

large

egg yolks

1-½

cups

dark brown sugar

packed

1

cup

confectioners' sugar

2

tablespoons

granulated sugar

3

tablespoons

light corn syrup

1

tablespoon

pure vanilla extract

¾

teaspoon

salt

1-½

cups

spooned and leveled bleached all-purpose flour
Instructions 
Have shelf in center of oven and preheat to 300 degrees F.

Spread the pecans on a baking sheet and roast for 10 minutes. While the nuts are hot, stir in 2 tablespoons of the butter. When cool, coarsely chop and set aside.

Line a 13 x 9 x 2-inch pan with release foil or parchment. With release foil you won't need extra fat for greasing. If you don't have release foil you can use regular foil and grease the bottom or you can use parchment.

Place the remaining 1 ½ cups (3 sticks) butter around the edge of a microwave-safe glass bowl. Place the semisweet and sweet chocolate in the center. Melt the butter and chocolate in the microwave on 100% power for 1 minute, stirring at least 2 times, and then 15 seconds more, stirring 1 time. Otherwise, melt in a double boiler or saucepan over lowest heat.

In a large bowl, beat the eggs with a fork just to blend whites and yolks. With a minimum of hand stirring, stir together the eggs, egg yolks, brown sugar, confectioners' sugar, granulated sugar, corn syrup, vanilla and salt.

By hand, (again with a minimum of stirring), stir together the egg mixture and the chocolate mixture. Stir in the flour. Pour the batter into the prepared pan and smooth out.

Soak cake strips in water and wrap around the outside edge of the pan as directed.

Bake at 300 degrees F until brownies just begin to pull away from the edge of the pan, about 1 hour. Err on the side of undercooking rather than risk drying out the brownies.

Cool completely in the pan or a rack. Remove the brownies from the pan, using the parchment or foil overhang to help lift out the brownies. When completely cool, wrap the brownies well with plastic wrap and refrigerate overnight.

Remove brownies from pan and cut into squares.