This recipe for Vegan Oatmeal Peanut Butter Chocolate Chip Cookies is another one of my old vegan cookie recipes which I posted back 2008. It got some comments, sat for a while, and was re-discovered in 2023! Welcome back, little recipe. You were just ahead of your time. I recently made a small batch using ingredients I had on hand and the cookies were as good as ever.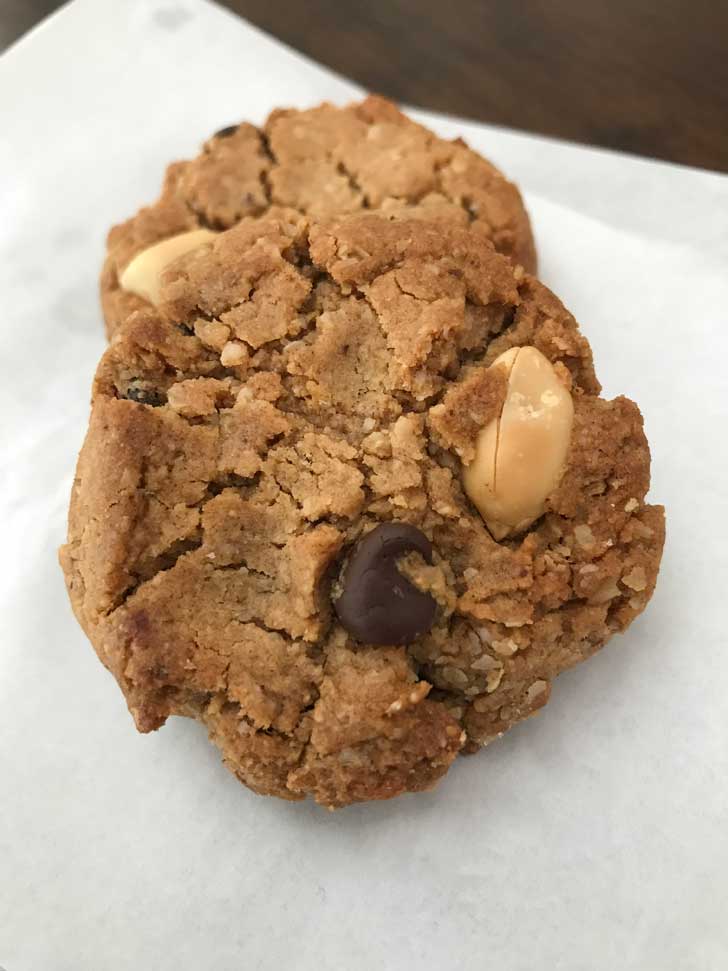 Ingredient Notes
The recipe calls for oats which are ground into oat flour. Oat flour is far more readily available now, so you may just want to skip the grinding and use 40 to 45 grams of oat flour. Applesauce is used in place of egg, but I discovered that fresh Medjool date paste also stands in. Peanut butter and vegetable oil are the main fats and chopped peanuts help give the cookies a more interesting texture. The kind of peanut butter you use will affect the texture. I made this last batch with Smuckers natural and loved the texture, though the cookies definitely were not as sweet as when made with Jif or one of the sweetened "natural" types.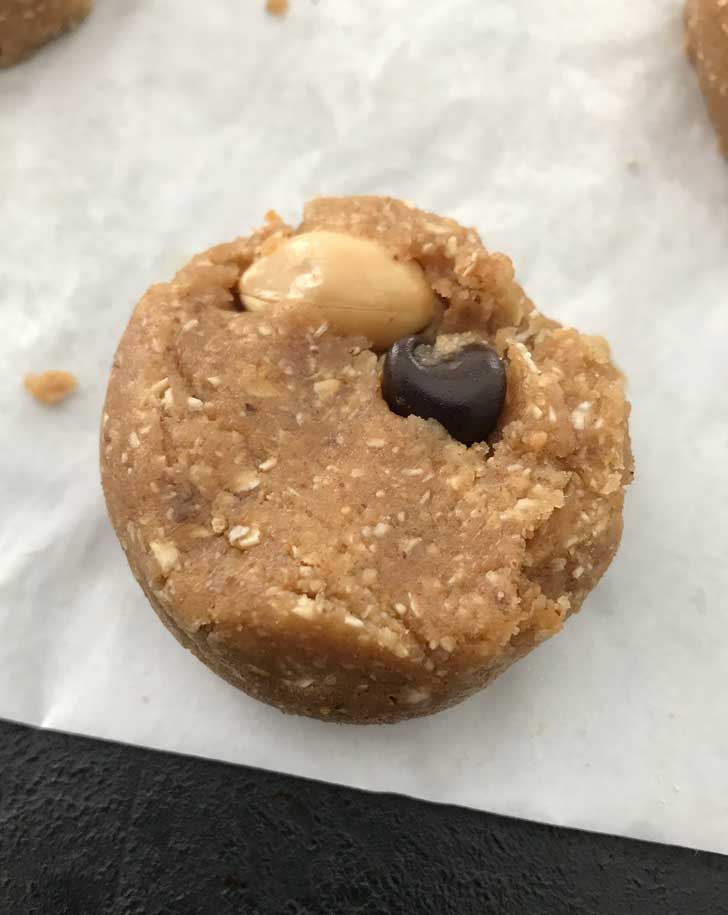 Gluten-Free Version with Brown Rice Flour
Another thing I tried with my most recent batch was using fine brown rice flour (as mentioned in the comments) in place of all-purpose. I used exactly 45 grams. If you want to make them gluten-free and happen to have a gluten-free blend rather than straight brown rice flour, that should work too. Just be sure to measure by weight, 45 grams, since the gluten-free blends vary from brand to brand.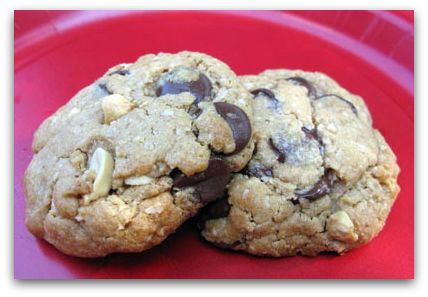 Vegan Oatmeal-Peanut Butter Chocolate Chip Cookies
½ cup oats, quick cooking or old fashioned are both okay (45 grams)
¼ cup plus 2 tablespoons (45 grams) all-purpose OR brown rice flour – spooned lightly
¼ teaspoon baking soda
⅛ teaspoon salt (can use a little more if you like)
2 tablespoons vegetable oil or vegan butter
¼ cup (packed) golden brown sugar (55 grams)
2 tablespoons granulated sugar (50 grams)
2 tablespoons applesauce or homemade date paste
¼ to ½ teaspoon vanilla
4 tablespoons natural type (Smuckers) peanut butter (Jif would be fine too)
¼ cup peanuts (salted is fine)
⅓ cup bittersweet chocolate chips or ⅓ cup chopped up good quality chocolate
Directions
Preheat oven to 375 degrees F. or 350 degrees F. if baking in a toaster or an oven that runs hot.
Grind oats in processor. If you are using oat flour, you can skip this step and just weigh out 40-45 grams. Add flour, baking soda and salt and pulse to mix.
Stir oil and both sugars together in a medium bowl. It's okay to do this with a spoon – no need to pull out the electric mixer. Beat in applesauce (or date paste), peanut butter and vanilla. Add flour mixture and stir until blended. Stir in peanuts and chocolate chips.
Using about 2 tablespoons of dough, form dough into balls and place on ungreased baking sheet. Flatten slightly. Bake until edges are golden brown, about 12-14 minutes, Cool on sheets 5 minutes. Transfer to racks; cool completely. Cookies will firm up as they cool.
Makes about 6 to 8 cookies