Better late than never, right?  Here's today's recipe for "Vegan Oatmeal Peanut Butter Chocolate Chip Cookies".
I was really interested in seeing if the vegan recipe from yesterday could undergo yet more adjustments. It did.
In this thrilling new cookie, I used vegetable oil in place of shortening, cut out 1 tablespoon of flour and plopped in a quarter cup of Smart Balance (a less sweet) peanut butter. The dough held together beautifully and the cookies bake up big, soft and rich. They don't have crispy edges like the other ones, but the heavy peanut butter flavor makes up for that. Plus, they're totally vegan! Next thing you know, someone will go substituting rice flour for the all purpose flour and make them gluten free. Hmmmmmmm.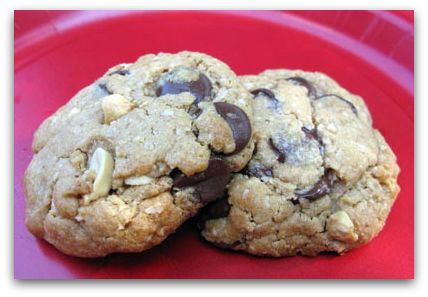 Vegan Oatmeal-Peanut Butter Chocolate Chip Cookies
1/2 cup oats
1/4 cup plus 2 tablespoons flour – spoon and sweep, don't pack
1/4 teaspoon baking soda
1/8 teaspoon salt
2 tablespoons vegetable oil
1/4 cup (packed) golden brown sugar
2 tablespoons granulated sugar
2 tablespoons applesauce
1/4 to 1/2 teaspoon vanilla
1/4 cup natural type peanut butter (Jif would be fine too)
1/4 cup peanuts (salted is fine)
1/3 cup bittersweet chocolate chips or 1/3 cup chopped up good quality chocolate
Preheat oven to 375 degrees F.
Grind oats in processor. Add flour, baking soda and salt and pulse to mix.
Stir oil and both sugars together in a medium bowl. It's okay to do this with a spoon – no need to pull out the electric mixer. Beat in applesauce, peanut butter and vanilla. Add flour mixture and stir until blended. Stir in peanuts and chocolate chips.
Using about 2 tablespoons of dough, form dough into balls and place on ungreased baking sheet. Flatten slightly. Bake until edges are golden brown, about 12-14 minutes, Cool on sheets 5 minutes. Transfer to racks; cool completely. Cookies will firm up as they cool.
Makes about 6 cookies