When I first saw this recipe in the June 2008 Every Day Food, I said "Ah Ha, Every Day Food! You are not fooling me!" I knew right away that the "creamy lemon bar" was really key lime pie made with lemons instead of lime in bar cookie form. It was brilliant, of course, like many of the things in that magazine, but I put the recipe aside and waited for a day when I was really craving citrus but too lazy to deal with pie. That, of course, was today.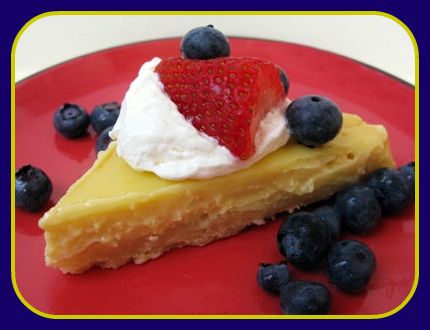 What's great about Every Day Food's Creamy Lemon Bars is they can be served as a bar, which is how my friend Joe served them, or as an elegant dessert, which is how I did it in this photo. To serve in elegant dessert form, just line the pan as directed below, lift the bars when chilled, cut into quarters, then cut each quarter into a triangle. Serve with fresh whipped cream and berries.
My only complaint is, and if you've never met a key lime pie you didn't like you can ignore this, the bars have that distinct chalky flavor of key lime (or in this case, lemon) pie made with lots of condensed milk. They're still good, but the chalkiness is kind of annoyance. Adding the whipped cream and fruit balanced things out a bit.
Creamy Lemon Triangles (Adapted from Culinary in the Desert)
8 tablespoons unsalted butter, softened
½ cup confectioners' sugar
¼ teaspoon salt
1 cup all-purpose flour
4 large egg yolks
14 ounces sweetened condensed milk
¾ cup fresh lemon juice
½ to 1 teaspoon fresh grated lemon zest (Joe & I both added this)
Whipped cream and fresh seasonal berries
Preheat oven to 350 degrees F. Line an 8 inch square metal pan with foil and spray foil with cooking spray.
Cream butter, sugar and salt together in a mixing bowl. Add flour and stir just until mixed. Press dough into bottom, going all the way to edges, of lined pan. Prick the dough with a fork and bake for 15-18 minutes.
Whisk yolks, condensed milk, lemon juice and zest until well combined. Remove the baking pan from the oven and pour the filling over the hot crust - place back into the oven and bake until filling is set, about 22 to 28 minutes. Remove and cool completely.
Place the pan into the refrigerator and chill until firm, about 2 hours. Grasp foil, lift from pan, slice bars into quarters, then slice each quarter into a triangle to make 8 triangles. Serve with whipped cream and fresh seasonal berries.
Makes 8.