Today's post is a little late, but it's worth it. I am sharing a recipe for Cookie's Pear Muffins, which are sure to be perfect for lunchboxes of even the pickiest muffin eaters --specifically, those who don't like chunks of cooked fruit in their muffins. The recipe is from Cookie who lives in San Francisco and writes a blog called Workout Then Cook. She made up the recipe herself by combining a few others.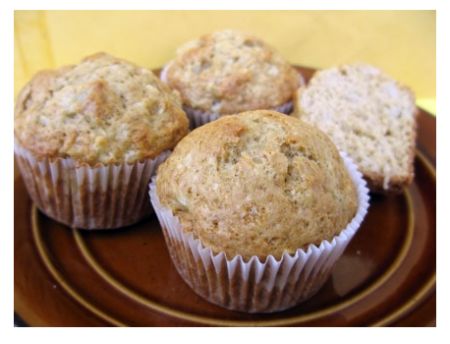 What I love about the muffins, and this is coming from someone who doesn't like cooked pears much, is that the pears are grated so they blend right into the muffin. They're noticeable if you look for them, but unobtrusive. For my first batch, I left out the walnuts and added in a little bit of cinnamon. Now that I know how good the muffins are, I'll add the walnuts next time. I also think maybe a sprinkling of cinnamon and sugar on top might be nice – but not too much.
Cookie's Pear Muffins
¼ c sugar (50 grams)
1 cup all-purpose flour (130 grams)
¼ tsp baking soda
¼ tsp salt
½ tsp baking powder
¼ teaspoon cinnamon
2 ripe pears, medium sized, stems, cores and skin removed
1 egg
2 Tbsp vegetable oil
½ c chopped walnuts (optional)
1. Preheat oven to 375ºF. Line 6 muffin tins with paper liners.
2. Mix sugar, flour, soda, salt, baking powder and cinnamon together in a large bowl.
2. Chop pears into chunks and grate them in a food processor.
3. Beat together grated pears, egg, and oil. Stir in dry ingredients.
4. Add walnuts (if using) and mix gently.
5. Put batter in lined muffin pan and bake for 20-25 minutes, until toothpick inserted comes out clean.
Makes 6