It's Friday, so to end the week on an efficient note (and begin a weekend of wild inefficiency), here's a recipe that can double as breakfast or dessert. The original Pillsbury recipe yields two round cakes, but I halved it and made it as written below, sans icing. I actually love icing, but I just plain forgot to make it and then discovered this cake didn't really need it.
Here's a link to the double version.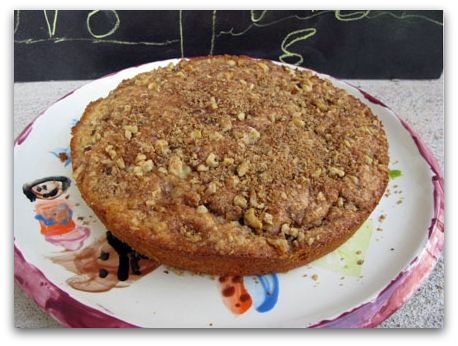 Whole Wheat Walnut Coffee Cake
Streusel:
½ cup walnuts, toasted and chopped (micro-toast for 2 minutes)
2 ½ tablespoons firmly packed brown sugar
½ teaspoon ground cinnamon
Cake:
1 cup lightly spooned and swept whole wheat flour
½ cup granulated sugar
1 ½ teaspoons baking powder
¼ teaspoon salt
3 tablespoons softened butter
½ cup milk
2 tablespoons lightly beaten egg (approximately)
¼ teaspoon vanilla
Icing:
6 tablespoons powdered sugar mixed with 1 tablespoon water
Preheat oven to 350 degrees F. Spray a shiny round 8 inch cake pan with flour added cooking spray.
Stir together walnuts, brown sugar and cinnamon. Set aside.
Mix flour, sugar, baking powder and salt together in a mixing bowl. Stir very thoroughly.
Add the soft (not melted!) butter to flour mixture and mash with a spoon, coating as much flour as possible. Using fingers or a pastry cutter, cut mixture until it is coarse and mealy like soft bread crumbs (I used fingers).
Mix together the milk, egg and vanilla. Add to flour mixture and stir (do not beat) until well mixed. It should look a bit like cream of wheat – not that smooth.
Spread about ⅔ batter into prepared pan. Sprinkle half of nut mixture over batter. Spread remaining batter over nuts, then top with remaining nut mixture.
Bake on center rack for 25-30 minutes or until done.
Cool a bit, then drizzle with icing. To make the icing, mix together the 6 tablespoons powdered sugar and about 1 tablespoon of water – just enough to get a smooth consistency. Spoon the icing over the coffee cake or, if the coffee cake is cool, put the icing in a zipper bag, snip a tiny hole off the end of the zipper bag and squeeze it out decoratively.