This recipe goes by a few different names including Swedish Almond Cake, Tosca Cake (or Toscakaka) and Nordic Cake. It's a rich butter and vanilla flavored cake with a baked on topping composed of almonds, sugar and cream.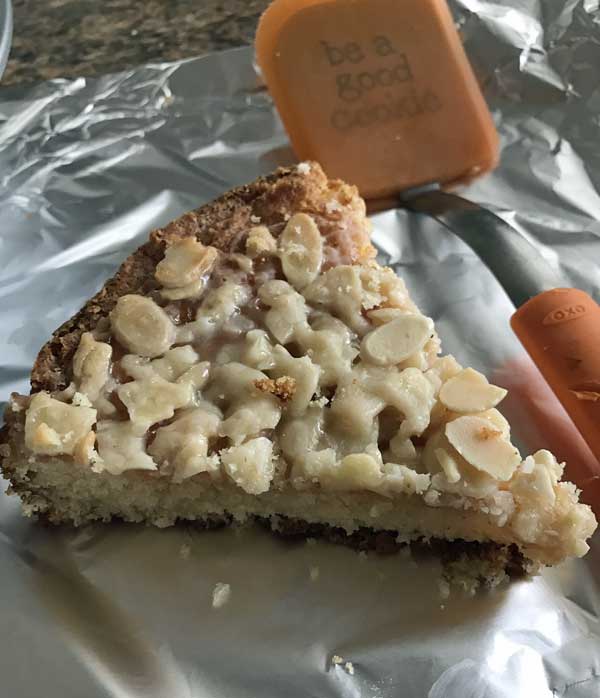 I'd never heard of it until last year, when a Texas Co-op Power reader entered the recipe into monthly contest where the theme was culinary heritage. So Tosca Cake was introduced to me as Swedish, but it is popular in other Scandinavian countries as well. And there's more than one way to make it! It is often described as "a light sponge cake", but this version is crumbly and buttery. I usually make it in a 9 inch round cake pan, but it can also be made in a deep dish pie plate.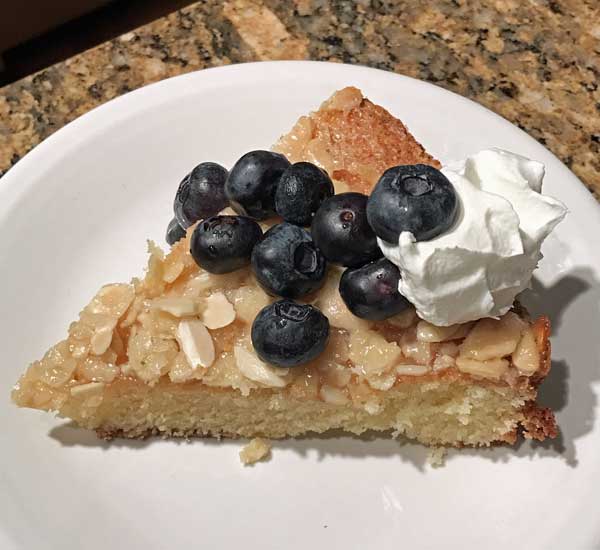 I've also tested it in a 9 inch round cast iron skillet, but had some sinkage issues so reverted back to the cake pan. However, I'm going to try it again in the skillet because it had really crispy edges.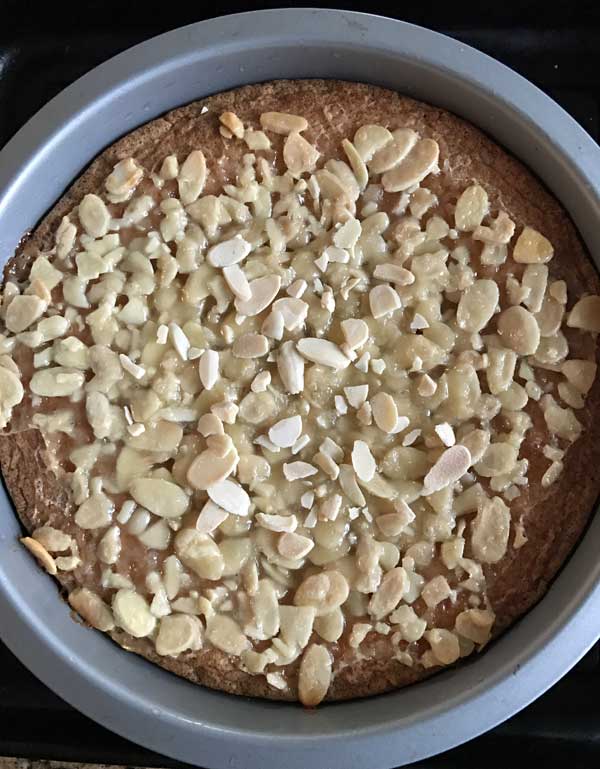 Here's the recipe as I made it, and you can also find a similar one over on Food.com. I also found one on this Swedish cooking site that uses almond flour. I'll have to try that, but for now, we're happy with this one.
Recipe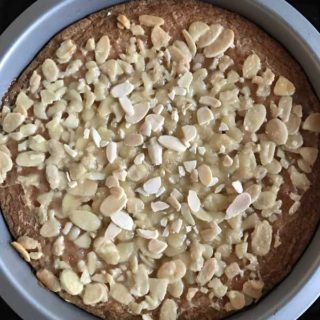 Swedish Almond Cake or Tosca Cake
Tosca Cake, also known as Swedish Almond Cake, is a simple dessert baked in a 9 inch round cake pan or pie dish.
Ingredients 
1

cup

all-purpose flour

use a 5 oz/150 gram cup

1 ½

teaspoons

baking powder

¼

tsp.

salt

or ½ teaspoon if using unsalted butter

2

large eggs

1

cup

sugar

200 grams

1

teaspoon

vanilla

¼

cup

whole milk

1

stick

4 oz salted butter, melted (110 grams)
Topping
⅓ to ½

cup

blanched

sliced almonds

4

tablespoons

salted butter

3

tablespoons

sugar

2

teaspoons

heavy cream

1

tablespoon

flour

¼

teaspoon

vanilla extract
Instructions 
Preheat oven to 325 degrees. Grease a 9x2 inch cake pan or a deep dish 9 inch round pie plate and dust with flour OR sprinkle with breadcrumbs.

Sift together flour, baking powder and salt; set aside. Whisking it together works, too.

In a mixing bowl, using a handheld mixer, beat together eggs and sugar until thick and yellow. Beat in the vanilla.

Add the flour and milk alternately to the egg mixture, stirring until blended

Stir in the melted butter. Don't forget!

Pour batter into pan and bake for 30 minutes or until cake tests done (springs back).

While the cake is baking, make topping: In a sauce pan, combine almonds with softened butter, sugar, heavy cream, and flour and stir until mixed.

Put mixture over medium heat and bring to a boil, stirring constantly. Remove from heat and let cool, stirring occasionally, while cake continues baking. Stir in the vanilla.

After cake has baked for 30 minutes and tests done, remove from oven.

Increase oven's heat to 375 degrees -- I usually do this about 3 minutes before I remove the cake from the oven (or after 27 minutes).

Spread almond topping gently over top of cake and place cake on a cookie sheet. Return to oven and bake 10 minutes longer or until the top is golden brown and bubbly.
Notes
This cake bakes up very flat, so don't expect it to rise much. I've tested in in a 9 inch round cast iron skillet, and while the edges come out nice and brown, it sinks in the middle. If you don't mind the sinkage, go ahead and use a cast iron skillet.