Happy Labor Day! Time to put away all your white tennis shoes. Or is it all your white clothing? I forgot what the rule was, but I know it involves some sort of clothing restriction that always kind of irritated me even though I don't wear a lot of white clothing.
Labor Day's not about fashion, though. It's about celebrating the work force. So thanks, work force! I'd like to bake everyone in the workforce a batch of cookies today, but I did the opposite and baked a really small batch of cookies for myself only….and maybe Todd. He doesn't usually like oatmeal cookies, but this recipe is an exception.
These cookies are based on a recipe from Small-Batch Baking: When Just Enough for 1 or 2. . . Is Just Enough!
. The original version only makes two cookies, but since it's a holiday I went all out, doubled the recipe, and made four. Okay, truth be told, I always make a double batch of these because they are just so good.
Warning. The cookies spread like crazy and brown to a point that might make you uncomfortable. In fact, you may think you've ruined the cookies, but don't despair. Carefully move them to the cooling rack and let them cool completely before tasting. They are really good. They don't have any brown sugar, but the sugar and butter caramelize a bit giving these wonderful sweet (and kind of salty) flavor. The edges are crispy, the centers are chewy and while the cookies look delicate, they should stack pretty easily.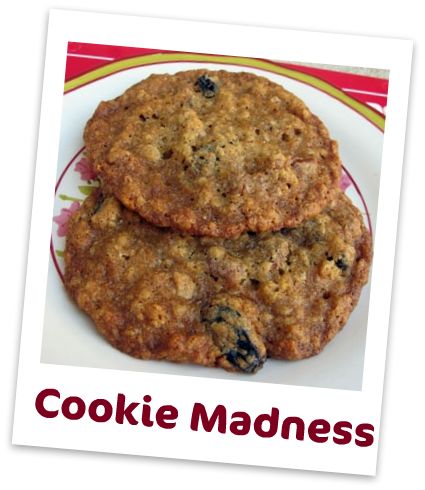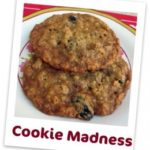 Print Recipe
Big Flat Chewy Oatmeal Cookies -- Small Batch
Big Flat Chewy Oatmeal Cookies are made without brown sugar, but they still have a rich, cinnamon-y flavor.
Ingredients
1/4

cup

plus 2 tablespoons all purpose flour

gently spoon and sweep or weigh 50 grams

1/4

cup

plus 2 tablespoons old fashioned oats

1/4

cup

plus 2 tablespoons granulated sugar

75 grams

1/4

scant teaspoon salt

1/4

teaspoon

baking soda

1/4

teaspoon

cinnamon

3

tablespoons

unsalted butter

softened (42 grams)

1/2

teaspoon

vanilla

2

generous tablespoons of lightly beaten egg

25 grams

1/3

cup

each – raisins and toasted chopped pecans
Instructions
Preheat oven to 350 degrees F. Line a cookie sheet with parchment. In this case, insulated cookie sheets work best. These cookies are thin and the insulation helps prevent burning/overbrowning.

Mix flour, oats, sugar, salt, soda and cinnamon together very thoroughly in a medium size mixing bowl. Add the softened butter and mash it in with the dry ingredients, mixing with a fork or fingers until the dry ingredients are moistened and butter is well distributed. Stir in the vanilla and egg. When well mixed, add the raisins and pecans.

Divide the batter into fourths and scoop big blogs of dough onto the cookie sheet, spacing 3 inches apart. Bake for about 15-18 minutes (original recipe says 20, but mine burn at 20) then let cool on cookie sheet for about 5 minutes before transferring to a wire rack.