I'm ending the pound cake trials with a vegan recipe. Why? Because I had to. Vegan Chocolate Marbled Pound Cake seemed like a real challenge, but as it turns out, it wasn't. I started with a basic tofu pound cake, made a few small changes and threw in a chocolate marble. The results were impressive. This cake is not nearly as decadent as the cream cheese pound cake, but it's moist and delicious and should be approved by vegans and non-vegans.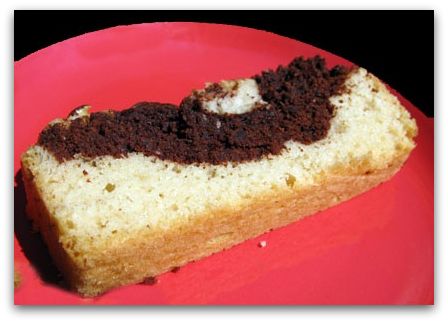 What's great about this one is there are no strange and unusual ingredients. Almond milk maybe, but considering my mom buys it at her small town grocery, I don't think it's exotic. Plus, you could always substitute soy milk.
For this cake, I used a 9x5 inch loaf pan. That worked well, but the cake is a bit short in stature so I plan on making my next one in an 8x4 inch loaf pan.
Cook time was a surprisingly quick 30 minutes. Considering most pound cakes take 45 minutes to an hour, this was a bonus.
This was a great little cake, but I thought of a few variations along the way which might be worth trying. They are listed below.
Vegan Chocolate Marbled Pound Cake
1 ½ cups cake flour (6 oz/170 grams)
1 ½ tsp baking powder
1 teaspoon baking soda
½ teaspoon salt
5 oz silken tofu, drained ( I used Mori Nu Silken Firm)
⅔ cup granulated sugar (135 grams)
¼ cup plus ½ tablespoon vegetable oil (2.25 oz)
¼ cup vanilla almond milk
2 teaspoons vanilla extract
2 oz semisweet chocolate, melted and cooled
Instructions
Preheat oven to 350 degrees F. Grease a loaf pan (9x5, but preferably 8x4) with your favorite vegan fat (coconut oil, spray, etc.) and dust with flour.
Sift together cake flour, baking powder, baking soda and salt, then set aside.
Process tofu, sugar, vegetable oil, almond milk and vanilla until smooth. Add tofu mixture to flour mixture and stir with a wooden spoon until fairly smooth. Measure out a little less than 1 cup of batter and mix with melted chocolate.
Pour most of the vanilla batter into pan, top with a line of chocolate batter, then arrange whatever remaining vanilla batter you have on top. Bake for 30 minute or until a wooden skewer inserted comes out clean.
** I only have a 9x5 and that worked out fine, but I think the cake would look better made in a smaller pan. It would be taller rather than spread out and short.
Variations
Flavor the chocolate batter with a bit of instant espresso powder or chipotle powder. Or, for your melted chocolate, melt one of the fancy flavored chocolates.
Instead of almond milk, you could try using regular coconut milk. This would definitely add moistness and would probably and probably some coconut flavor.
Silk makes sweetened flavored coffee creamer. Instead of almond milk, you might sub ¼ cup Silk French Vanilla coffee creamer.
Tofutti makes a vegan cream cheese with tofu. Not sure if it would work, but why not try using 5 oz vegan cream cheese instead of tofu. You'd have a richer cake. Might be a total failure, but worth a try.