This was a great little dessert and I mean that literally because it was really small! I took the 13x9 inch version of Kraft's tiramisu cheesecake, made a fourth of it and baked it in 9x5 inch loaf pan. Success! I'm very happy because now Todd gets his creamy dessert, but I won't be saddled with a with a whole pan of it.
Kraft's original dessert is located here and I highly recommend it for a potluck or large family. Below is the mini version. The coffee proportions are slightly different than Kraft's, but everything works out in the end.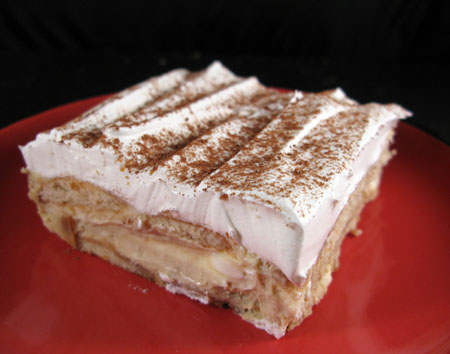 Tiramisu Cheesecake for 3 or 4
24 Nilla wafers (give or take a few cookies depending on size of pan)
1 ¾ tsp. teaspoon instant coffee, divided
2 Tbsp. hot water, divided
1 pkg. (8 oz. each) PHILADELPHIA Cream Cheese, softened
¼ cup granulated sugar
¼ cup sour cream
1 large egg, room temp
1 cup thawed Cool Whip whipped topping (or make your own whipped cream)
1 Tbsp. unsweetened cocoa powder
Preheat oven to 325°F. Line a metal loaf pan (I used 9x5) with foil. Spray foil with cooking spray or used non-stick foil.
Lay about 12 Nilla wafers across bottom of pan. Try to keep the layer flat. Gaps are okay.
Dissolve 1 teaspoon of coffee granules in about 1 ¾ tablespoon hot water. Brush a little of this mixture lightly over wafers and set the rest aside.
Beat cream cheese and sugar together in a medium mixing bowl. Beat in egg and sour cream. Spoon out about ½ cup of this mixture and set aside.
Dissolve remaining ¾ teaspoon of coffee crystals in about teaspoon of boiling water. Add this to the cream cheese mixture left in the bowl and beat well to mix.
Spread the coffee flavored cream cheese mixture over the Nilla wafers.
Layer remaining Nilla wafers over coffee mixture and brush them with some of the original dissolved coffee mixture. Spread reserved plain cheesecake batter over Nilla wafers.
Bake on center rack of oven for 28-30 minutes. Let cool completely, then chill for 3 hours. Spread with desired amount of Cool Whip or sweetened whipped cream. Cut into 3 big squares. Sift cocoa over top of each.