Since the tofu worked so well in the vegan pound cake, I decided to try using tofu in a batch of wholesome vegan gingerbread muffins. Using a tofu-based gingerbread as a starting point, I added some spices, used oil instead of butter, changed the bake time and baked the gingerbread paper-lined muffins tins. Results? Very good! In fact, excellent when considering that Fuzz gobbled hers up. These will be perfect lunchbox treats!
Mastercook's nutrition stats are below the recipe.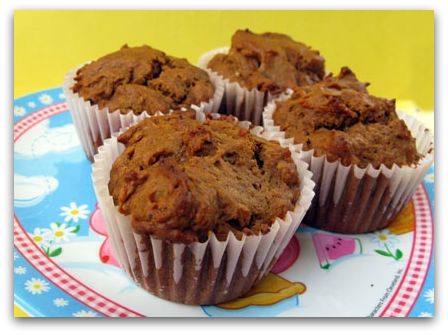 Vegan Ginger Muffins
1 ½ cups white whole wheat flour, spooned and swept (6 ½ oz)
1 teaspoon baking powder
½ teaspoon baking soda
¼ teaspoon salt plus an extra pinch
2 teaspoons ground ginger
1 teaspoon ground cinnamon
½ teaspoon ground cloves
1 cup soft silken tofu (I used Mori-Nu Lite)
½ cup mild molasses
¼ cup granulated sugar
¼ cup vegetable oil
Preheat oven to 375 degrees F. Line 12 muffin cups with paper liners or spray with cooking spray.
Combine flour, baking powder, baking soda, salt, ginger, cinnamon and cloves in a medium bowl. Stir very well, making sure there are no lumps of baking powder. Process or blend tofu, molasses, sugar and oil until smooth. Add tofu mixture to flour mixture and stir until mixed (don't over-beat).
Divide mixture equally among muffin tins and bake for 18 minutes or until muffins appear done.
Makes 12
Values from Mastercook
154 Calories;
5g Fat (28.2% calories from fat);
3g Protein;
25g Carbohydrate;
2g Dietary Fiber; 0mg Cholesterol;
183 mg Sodium.