If you don't want a whole Amaretto cheesecake, make Amaretto Cheesecake Bars instead!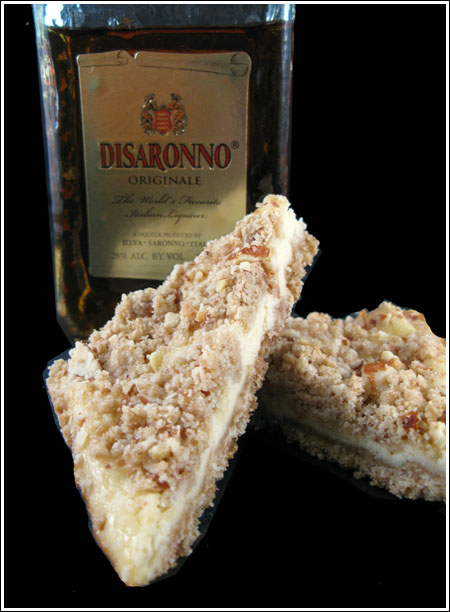 Amaretto Cheesecake Bars
1 cup all-purpose flour
⅓ cup brown sugar -- packed
6 tablespoons unsalted butter -- softened
¼ teaspoon salt
8 oz cream cheese, softened
¼ cup granulated sugar
1 large egg, room temp
4 tablespoons amaretto
½ teaspoon vanilla
4 tablespoons whole roasted almonds -- chopped
Preheat oven to 350 degrees F. Line an 8 inch square metal pan with foil; spray foil with cooking spray.
Combine flour, salt and brown sugar in bowl of food process and pulse to mix. Add butter and pulse until mixture is coarse. Set aside about (estimate) 1 cup of mixture for topping, then press remaining into pan. Bake 12-15 minutes.
Clean food processor bowl and add cream cheese and sugar. Process cheese and sugar until very smooth. Add egg, amaretto and vanilla and pulse until mixed. Spread batter over partially baked crust.
Add almonds to reserved crumb mixture and sprinkle over cream cheese mixture.
Bake for 20-25 minutes. Cool completely on a wire rack, then chill.
Cut into 6 or 8 squares, then cut each square into a triangle.
(adapted from Diana's Kitchen)
Makes 12 or 16