My dad came over for dinner tonight so I made Vanilla Bean Banana Pudding. I love making banana pudding, but don't get to very often because Todd & Fuzz don't like bananas. Tonight I made it anyway thinking that if the other components were good, the banana haters could just eat around the bananas…..and that's what they did.
The recipe is from the Southern food writer, James Villas. It's very similar to the one on the box of Nilla wafers, but it calls for whipped cream instead of the traditional meringue topping. The vanilla bean makes it extra special.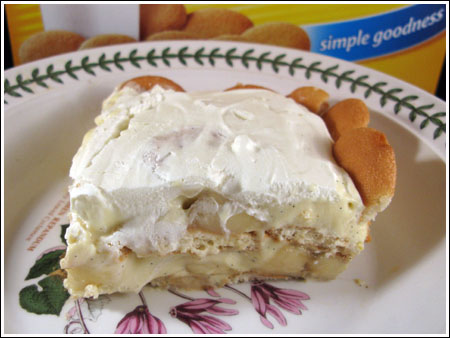 Vanilla Bean Banana Pudding
1 vanilla bean
2 cups whole milk
1/3 cup all purpose flour
1/2 cup granulated sugar
1/4 teaspoon salt
3 large egg yolks, beaten
1 teaspoon vanilla extract
1 cup whipping cream
12 oz package Nilla Wafers
5 (or so) bananas
Scrape out inside of vanilla bean and put scrapings in a large (2 cup) glass measuring cup. Add the milk and microwave for 2 to 3 minutes to scald – keep an eye on it. You don't want it to boil over.
Combine flour, sugar and salt in a heavy saucepan. Turn heat to medium and gradually whisk in scalded vanilla milk; continue whisking over medium heat until mixture begins to thicken. Stir 1/4 cup milk mixture into egg yolks, then gradually add egg yolk mixture to saucepan, whisking all the while. Continue whisking until mixture is thick and coats spoon – this should only take a minute or two.
Remove from heat and let cool slightly. Stir in vanilla extract. Pour into a bowl and let cool to room temperature.
Beat whipping cream to stiff peaks. Fold half of whipped cream into vanilla mixture.
Assemble pudding. Line a 2 quart dish (I use an 8 inch square Pyrex dish) with Nilla wafers. Slice bananas and cover Nilla wafers with banana slices. Spoon half of the pudding mixture over bananas. Repeat, layering Nilla wafers, banana slices and remaining pudding. Spoon remaining whipped cream over top. Break some Nilla Wafers in half and arrange them around the perimeter to make a little border.
Chill for a few hours or until ready to serve