This is what I call an easy last minute quick ice cream. I made it for Todd, who loves maple cookies.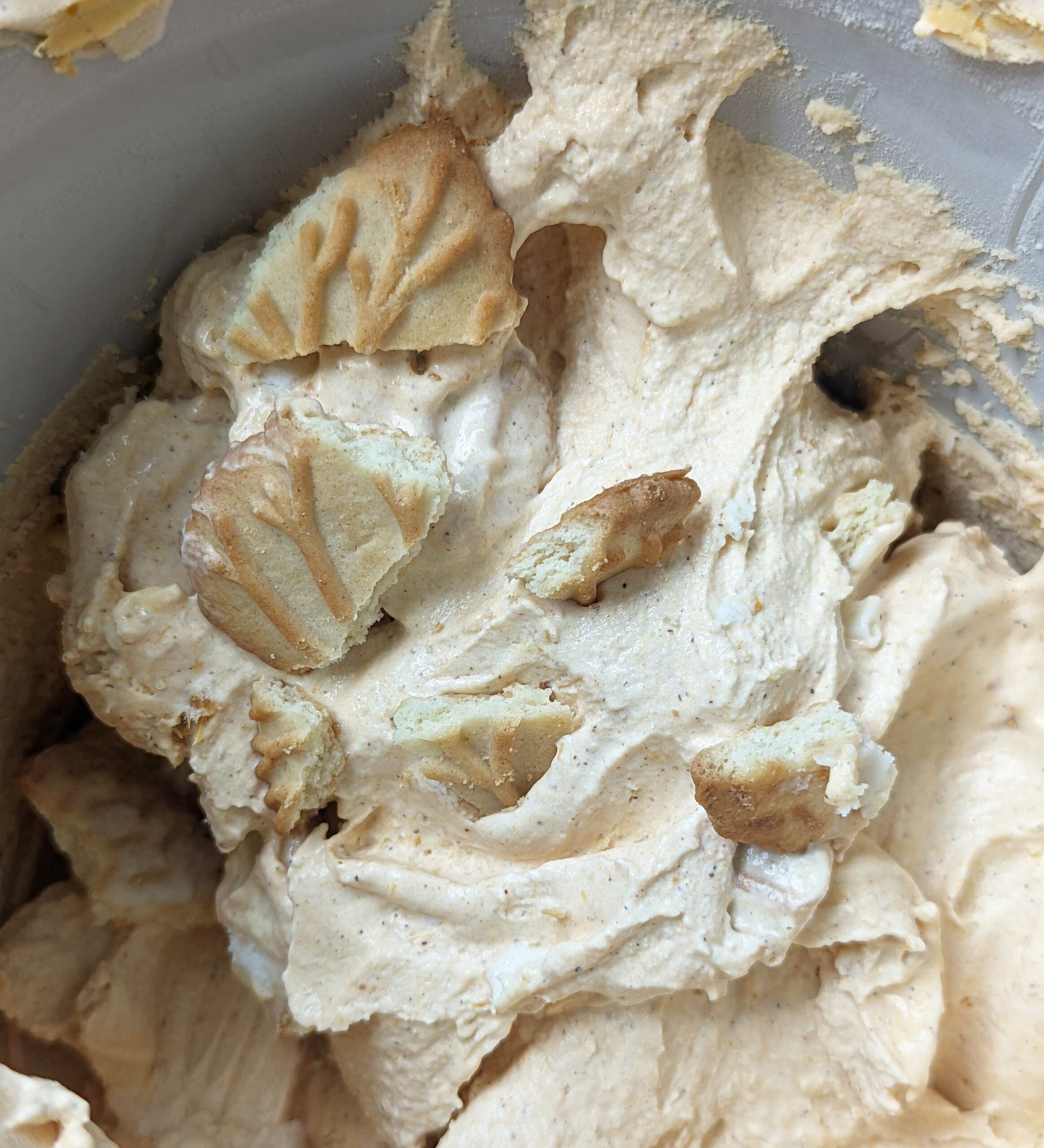 Most of my preferred ice cream recipes require making a custard and lettting it cool before churning. This one is quicker. You just whip some cream, add condensed milk, pumpkin and spices, then freeze in an ice cream maker. Adding broken up maple cookies takes it to the next level, but if you prefer your ice cream smooth and creamy you can leave them out. We love the texture of Cookies & Cream ice cream, so for us this is really just a fall-themed variation on Cookies & Cream. And again -- it's easy!
Flavor and Texture
This ice cream tastes like pumpkin pie but less squash-y. It's sweet, even though the only sugar comes from the condensed milk and whatever sugar is in the pumpkin. The texture is pleasant and smooth for the most part, but only if you let it sit out. Like a lot of homemade ice cream recipes, this one freezes up pretty solid. While solid, it's chalky. Yuck. But the good news is it doesn't take long to soften.
Maple Creme Sandwiches
The cookies (I used Benton's Maple Creme Sandwiches from Aldi) soften up in the ice cream. The maple cookies are a good choice, but Gingersnaps are another great option. In fact, that's what the original recipe calls for. I changed it to maple because we had the maple cookies, but both versions are great. I just wish they were gluten-free.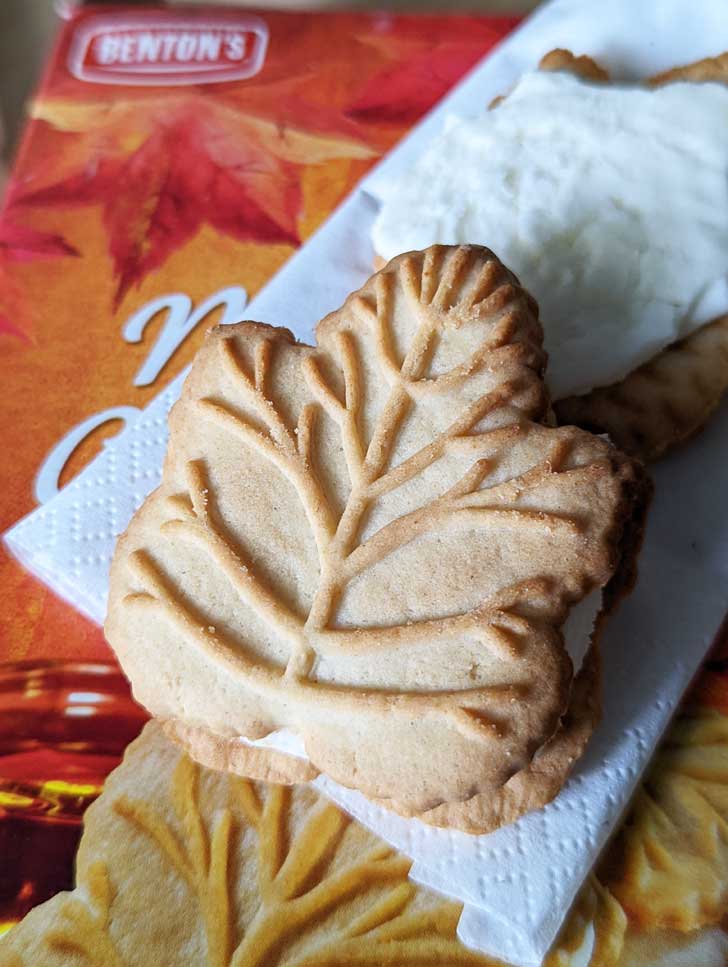 Freezing Quick Pumpkin Ice Cream
Quick Pumpkin Ice Cream is adapted from an old no-churn recipe, but if you have your ice cream maker ready to roll, it's much quicker to use that. For this batch I used my trusty old Cuisinart. We've had the Cuisinart 2 Quart Ice Cream and Sorbet Maker for ages. Even though it has a little crack in the plastic cover, it churns out perfect ice cream. The only downside to this model is that if you want ice cream on demand, you have to store the churning bowl in a freezer. This is a non-issue if you have the freezer space, but if you don't you may want to consider buying a machine with a compressor. I have my eye on one, but am trying to wait until Christmas. Or maybe black Friday. We'll see.
Ice Cream Without an Ice Cream Maker
If you don't have an ice cream maker, you can make the no-churn version of Quick Pumpkin Ice Cream by putting it in a loaf pan and freezing. It's only slow in that you have to wait for it to freeze, but it's still a pretty quick recipe to prepare. That being said, if you are considering buying an ice cream maker and have the budget to do it, just get one. You can make all kinds of flavors and package them up in cute little tubs like these. And with the holidays coming, you can give ice cream as little gifts.
Small Batch Ice Cream
Another reason I like this recipe (and all of the condensed milk/whipping cream ice creams) is because I can make it as a full batch or as a half batch, which is handy when there's half a can of condensed milk in the refrigerator. This flavor is pumpkin, but I think I'll also make a batch of quick Coffee Fudge Swirl. It's the same kind of recipe, but with a different flavor. As empty nesters who put so many things in the freezer, ice cream really has been the perfect dessert.
Recipe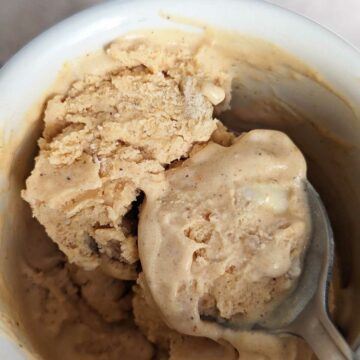 Easy Pumpkin Ice Cream
Pumpkin flavored ice cream made with whipped cream and condensed milk.
Ingredients 
1

cup

canned pumpkin

1 ½

teaspoons

cinnamon

1 ½

teaspoons

ginger

1

tablespoon

vanilla extract

1

can

Eagle Brand condensed milk

2

cups

heavy cream

maple sandwich cookies or gingersnaps
Instructions 
Mix together the pumpkin, spices, vanilla and condensed milk.

Beat the cream until stiff peaks start to form, then fold together with the pumpkin mixture.

Transfer it to an ice cream maker and freeze according to manufacturer's directions. Alternatively, you can transfer it to a loaf pan, cover with plastic wrap and freeze for a few hours or until firm.

If adding cookies, stir them into the ice cream as you pack the mixture into a container. If making loaf pan ice cream (no-churn), stir them in before you put the mixture in the loaf pan.