Every so often I post healthier, lighter, recipes. Today is not one of those days. Cream Cheese Crumb Dessert has your daily requirement of whipped cream, butter, and egg yolks. And to top it all off, it's one of those rich desserts that tastes deceptively light.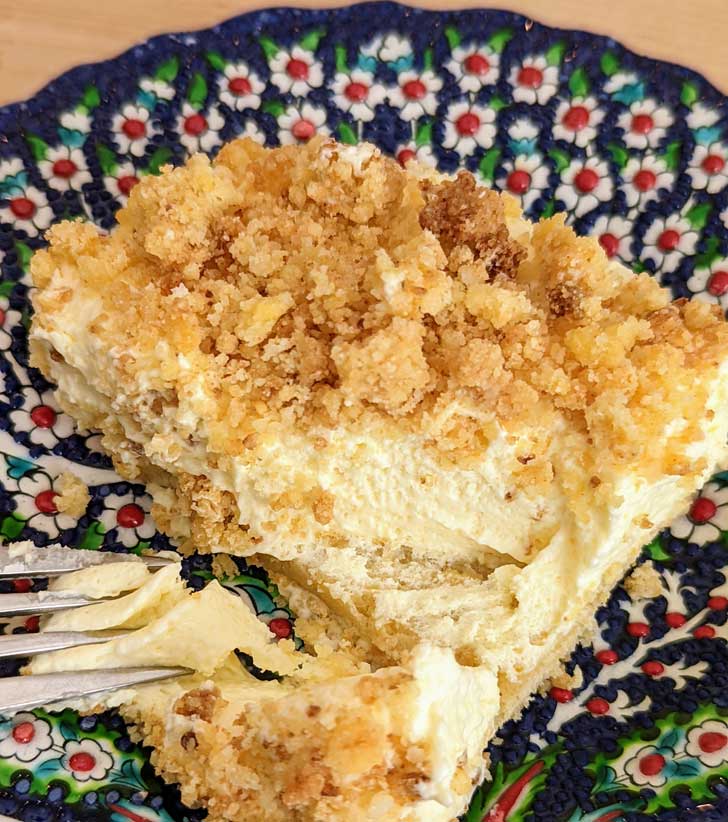 This version of the recipe is my variation on one from Traditional Jewish Baking: Retro Recipes Your Grandma Would Make… If She Had a Mixer. The title is so funny because my grandmother and great grandmother did have mixers and they both made versions of this cake. The difference is they added bananas, pecans and pineapples and called it Millionaire Pie. So even though Cream Cheese Crumb Dessert based on a traditional Jewish cheesecake, it also feels very much like an old Southern favorite.
Flavor and Texture
The crumb crust/topping is very good. It has more egg yolks than you usually find in this kind of crumb, and you can taste them at first. Thankfully their flavor mellows out after a while. Plus I think the yolk flavor would only be noticable to those who are sensitive to it. The vanilla filling is good too. It's a combination of cream cheese, whipped cream, pudding mix and Greek yogurt, so how could it not be? I added a little bit of pineapple to a section of it. It worked well, but some people will prefer the texture without it, so only add it if you have a pineapple lover around. It doesn't really need it, but I'm so tempted to add even more pineapple, pecans and cherries and turn it into another rendition of Millionaire Pie.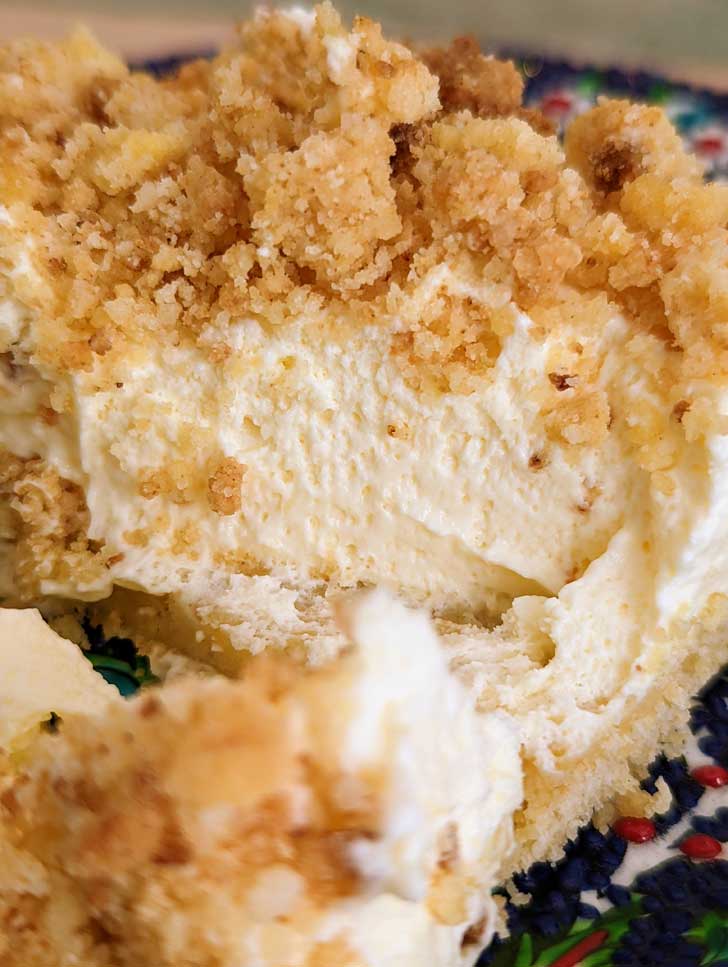 Pan Size
Part of the reason this recipe looks so decadent on paper is because it makes a lot. The good news is you can halve it and make it in an 8 inch square pan or even quarter and it make it in a loaf pan. In her original recipe, Carine Goren (who is a pastry chef in Israel) made it as a 10 inch round cheesecake. I was worried it would not slice neatly when made as a round, plus I don't have that size cheesecake pan, but now that I've made it as a square I may try it as a round. It does hold its shape after a proper chill.
Recipe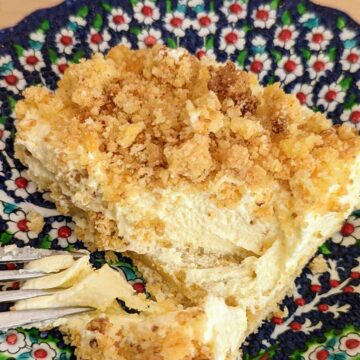 Cream Cheese Crumb Dessert
A creamy 13x9 inch dish potluck dessert
Ingredients 
2

cups

all-purpose flour

(280 grams)

2

teaspoons

baking powder

¾

teaspoon

salt

½

cup

sugar

(100 grams)

2

sticks

minus 1 tablespoon unsalted butter (15 tablespoons)

(200 grams)

4

large

egg yolks
Cheese Filling
2

cups

whipping cream

1

cup

sugar

(200 grams)

1

package

French vanilla flavored instant pudding (3 oz)

¾

cup

sour cream

(170 grams)

1

block

cream cheese (8 oz), softened

(240 grams)

1

cup

Greek yogurt

(240 grams)

1

20 oz

can crushed pineapple, very well drained and patted dry

(optional)
Instructions 
Preheat oven to 350 degrees F. Grease a 9x13 inch glass dish and have ready a rimmed sheet pan as well.

In the bowl of a food processor, pulse the flour, baking powder, salt and sugar to mix. Add the chunks of butter and pulse until crumbly, then add the egg yolks and pulse until blended.

Dump half of the mixture into the 13x9 inch dish and press down flat. Dump remaining crumbs onto the baking sheet and press into a slab lightly. You will be baking and crumbling them, so no need to do this neatly.

Bake the crust and the crumbs together for about 20 minutes or until golden. Keep an eye on them and shield if you need to by laying a piece of foil over. Let cool, then break up the crumbs on the baking sheet.

In the bowl of a stand mixer using the whisk attachment, beat the cream until stiff peaks form. Scrape it into another bowl to wait.

To the stand mixer bowl, no need to clean, add the sugar, instant pudding mix, sour cream, softened cream cheese and yogurt. Beat until well blended, then fold in the whipped cream. If using pineapple, fold that in.

Spread the creamy mixture over the baked crumb crust, then sprinkle the crumbs over the top. Cover and chill for 4 to 6 hours or overnight.