Okay, I've accomplished a goal and there is now a cakey brownie in the Cakey Brownie sub-category. I think we're good for a while.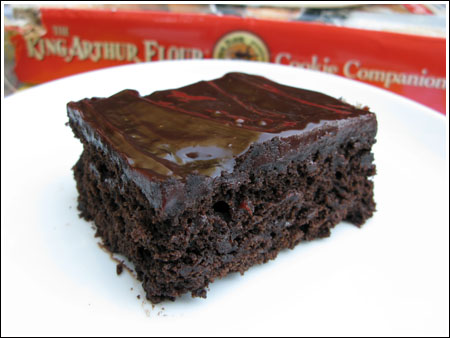 Cakey brownies are fine, but when I'm in the mood for something cakey I just bake a cake. This brownie is like a dense, rich piece of chocolate cake and it is best plated. You could eat it with your hands, but you'd make a big mess.
So if you like cakey brownies and are okay with serving them on a plate (maybe with some Blue Bell Vanilla Bean Ice Cream?), these are Grade A.
The recipe is adapted from the King Arthur Cookie Companion. If you don't want to buy the book, definitely check out KA's other great brownie recipes.
Frosted Cakey Brownies (from KA)
16 tablespoons (2 sticks) unsalted butter
2 ¼ cups granulated sugar
1 ¼ cups Dutch Process cocoa**
1 tablespoon vanilla
5 large eggs
1 ½ teaspoons baking powder
1 teaspoon salt
½ cup water
1 ¼ cups all purpose unbleached flour
⅓ cup chocolate chips (optional)
Chocolate Frosting (adapted from a Nancy Baggett recipe)
⅔ cup cream
¼ cup powdered sugar
6 oz bittersweet chocolate or 1 cup semi-sweet chocolate chips
¼ teaspoon vanilla
Preheat oven to 350 degrees F. Line a 13x9 inch metal pan with non-stick foil or parchment paper.
Melt butter in a microwave-safe mixing bowl. Stir in the sugar and cocoa, beating with a spoon. With the spoon, beat in vanilla, then beat in eggs, one by one. Beat in baking powder and salt (making sure baking powder is dissolved), then stir in water. When smooth, add flour and stir just until blended. Add chocolate chips if using.
Pour into pan and bake for about 28 minutes. Let cool. Frost brownies when cool.
To make frosting, combine cream and sugar in a microwave-safe bowl. Heat for about a minute or until cream is extremely hot. Add the chocolate to the hot cream mixture and stir until it is melted, smooth and glossy. Stir in the vanilla. Pour over the brownies. Put the pan of brownies in the refrigerator for about an hour to set. Lift from pan and cut into squares.
Makes one 13x9 inch pan.
I had to use Hershey's Dark and my brownies came out a bit darker. Other Dutch process cocoas will probably give you a lighter brownie.