Today's gingerbread cake recipe is from my friend Katy who originally got it from Epicurious a D. Lebovitz book. Once I match this recipe with the original, I will provide a link so that you can read the Epicurious reviews as well.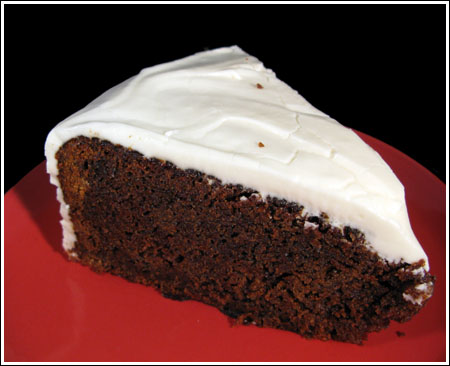 Here's Katy's version of the gingerbread cake, which she says is just as good with vanilla or cream cheese frosting as it is with crème anglaise. I opted for frosting and loved it, but the cake is would be excellent with just a dollop of fresh whipped cream.
This was extremely easy to make and were it not for the frosting, I could have prepared the entire recipe with just a bowl and mixing spoon. The ingredient list is simple, but the technique used is a bit different. For instance, baking soda is dissolved in water and eggs are added last. Also, I made mine without the fresh ginger or crystallized ginger and it was still excellent. Just be prepared for a very deep, dark cake. It almost looks like chocolate.
Gingerbread Cake
1/2 cup vegetable oil
1/2 cup unsalted butter, melted and warm
1 cup (200g) superfine sugar
1 cup light unsulphured molasses (Grandma's)
2 large eggs, cool room temp, lightly beaten
2 1/2 cups (350g) bleached all-purpose flour (unbleached is okay)
2 tablespoons freshly grated ginger (4-3 oz knob)( or 2 tsp dried ginger)
1 teaspoon cinnamon
1/2 teaspoon ground cloves
1/2 teaspoon salt
1 cup boiling water
2 teaspoons baking soda
2 tablespoons chopped crystallized ginger (optional)
Directions:
1: Line a deep 9" cake pan (9" springform is perfect) with parchment.
2: Preheat oven to 350'.
3: Mix oil, melted butter, sugar and molasses (and fresh ginger and/or crystallized ginger, if using).
4: Sift together flour, salt and dried spices. Reserve.
5: Combine boiling water and baking soda.
6: Whisk into molasses mixture.
7: Stir in dry ingredients gently until thoroughly mixed.
8: Stir in beaten eggs.
9: Bake for about 1 hour, until a tester comes out clean.
10: If cake browns too quickly, drape a piece of foil over it and continue baking.
Cream Cheese Frosting
4 ounces cream cheese, softened
4 tablespoons unsalted butter
1/8 teaspoon salt
2 cups confectioners sugar
1/2 tsp. vanilla
Beat cream cheese and butter until fluffy. Beat in salt. Stir in powdered sugar about ½ cup at a time, then beat until fluffy. Beat in vanilla.